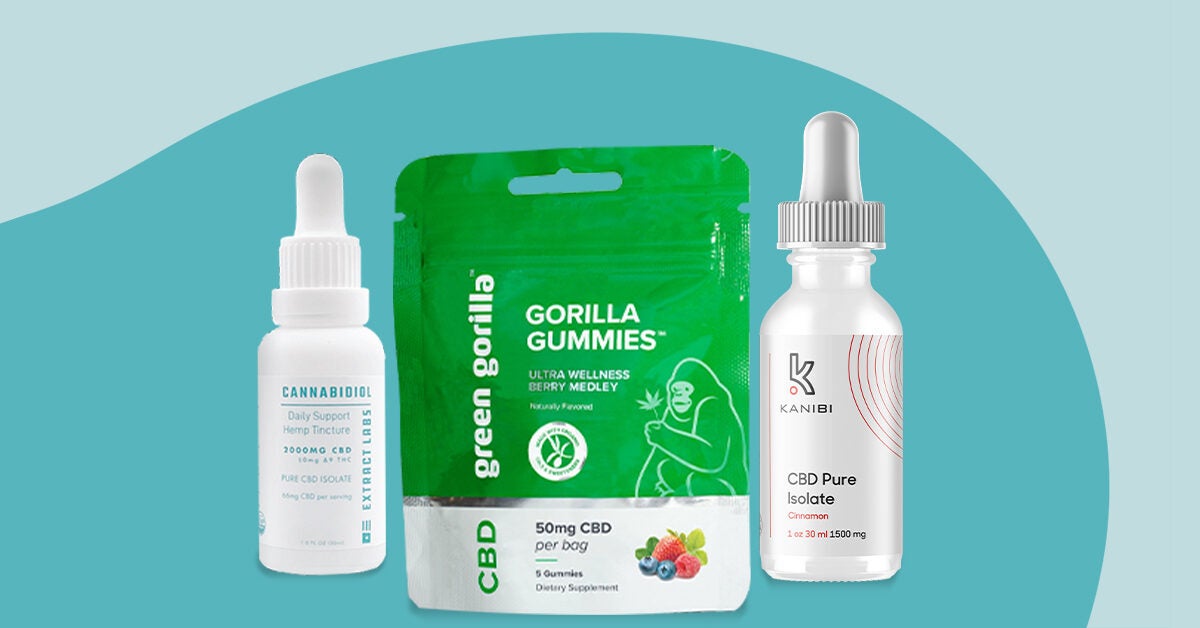 When it comes to cannabidiol (CBD), there's a lot to know.
Maybe you're already aware that CBD is one of the countless active compounds found in the cannabis plant. But did you know that CBD comes in different forms?
Keep reading to learn more about pure CBD, its possible health benefits, and potential side effects. We'll also recommend a few of the best pure CBD products.
The purest form of CBD is CBD isolate. To create CBD isolate, hemp goes through a number of purifying processes to strip away other cannabinoids, flavonoids, and terpenes, leaving behind only CBD.
The other types of CBD are full-spectrum CBD and broad-spectrum CBD.
Full-spectrum CBD products contain small amounts of other cannabinoids, like tetrahydrocannabinol (THC), cannabinol (CBN), and cannabigerol (CBG), along with flavonoids and terpenes.
Broad-spectrum CBD products are the same as full-spectrum, with one key difference: they don't include THC.
Because full-spectrum and broad-spectrum products contain other cannabis compounds, they're not considered pure CBD.
There are various ways to take CBD.
You can take CBD orally via:
You can apply CBD topically using:
You can also add CBD isolate powder to food or drinks.
Some people vape CBD, though this method isn't recommended due to safety concerns. The Centers for Disease Control and Prevention (CDC) advises against vaping.
Since there are so many ways to take CBD, choosing the right method for you comes down to personal preference and lifestyle needs.
For example, gummies are a fast way to take CBD on the go, whereas topicals may be better for targeting localized pain.
Research on CBD is still underway. There's much more to learn, but some research suggests CBD may be able to offer several benefits.
Anxiety relief
Numerous studies have pointed to CBD's anti-anxiety effects.
For instance, a 2019 study looked at whether CBD can enhance sleep, reduce anxiety, or do both.
During the study, 72 adults who experience anxiety or sleeping issues were given CBD capsules. Approximately 79 percent of the participants reported reduced anxiety, while nearly 67 percent of people noticed better sleep within the first month. However, the quality of their sleep varied over time.
A separate 2019 study indicated that CBD lowered anxiety among a pool of 37 young adults who experience social anxiety.
Anti-inflammatory properties
Some animal research points to CBD's potential to help lower inflammation. It may do this by affecting activity in the body's endocannabinoid receptors.
Seizure reduction
Epidiolex for seizures is the only prescription CBD product approved by the Food and Drug Administration (FDA). It can help reduce seizures caused by:
Missing entourage effect
Research suggests that CBD's therapeutic effects are greater when combined with other cannabis compounds, including terpenes, flavonoids, and lesser-known cannabinoids. This theory is called the entourage effect.
A 2015 study on mice suggested that although CBD isolate offers some health benefits, they may be less impactful than the benefits of using full-spectrum CBD products.
The study's results also suggested that CBD isolate is helpful with swelling and pain at a specific dose, while full-spectrum CBD products offer growing effects with increasing dosages.
Drug testing
Some people prefer CBD isolate over full-spectrum products because they want to avoid THC. However, it's worth mentioning that there's always the chance that even CBD isolate products may still include trace amounts of THC.
If you get drug tested, you may want to avoid CBD products entirely.
We chose these products based on criteria we think are good indicators of safety, quality, and transparency. Each product listed in this article:
is made by a company that provides proof of third-party testing by an ISO 17025-compliant lab
is made by a company that discloses the source of their hemp
contains no more than 0.3 percent THC, according to the certificate of analysis (COA)
passes tests for pesticides, heavy metals, and molds, according to the COA
During our selection process, we also considered:
the company's certifications and manufacturing processes
product potency
overall ingredients
indicators of user trust and brand reputation, such as:

customer reviews
whether the company has been subject to an FDA warning letter
whether the company makes any unsupported health claims
Pricing guide
$ = under $50
$$ = $50–$80
$$$ = over $80
Best flavored pure CBD oil
Price: $$$
CBD type: isolate
CBD potency: 1,500 mg 1-oz. bottle
COA: available on product page
This CBD oil is sourced from organic hemp grown in the United States. Kanibi says their pure isolate products are double-tested to ensure they don't contain other active compounds from the cannabis plant.
This tincture is available in three flavors: skittles, cinnamon, or unflavored.
Reviews on the company's product page say users are happy with the results and taste.
Although you have to dig a bit on the company website to find it, the brand offers discounts for veterans and active military duty personnel.
Use code "HEALTHLINE10" for 10% off.
Price: $$$
CBD type: isolate
CBD potency: 2,000 mg per 1-oz. bottle
COA: available on product page
This vegan oil is made with only two ingredients: organic coconut oil and pure CBD isolate.
Extract Labs points out that the formula is non-GMO and free from fillers, preservatives, and artificial colors.
Most reviews for this oil are positive, noting that it works well and has a mild flavor.
As a high potency option with more than 66 mg of CBD per dose, this product may be best used by those who are already familiar with CBD.
Best lower potency pure CBD gummies
Price: $
CBD type: isolate
CBD potency: 10 mg per gummy
Count: 5 gummies per package
COA: available online
These gummies are certified organic and come in three flavors: wild berry, strawberry, and gorilla berry.
One of the more affordable options on our list, the gummies come with five per package. The brand recommends taking two to four gummies per day.
So, you can think of one pack like a couple of doses, or buy a single pack as a gift or as a test to see if you like the flavors before buying more.
Since the gummies are only 10 mg each, these are also a good choice for those who are new to CBD. It's always best for beginners to start slowly, increasing your dose until you reach your desired effect.
Best pure CBD capsules
Price: $
CBD type: isolate
CBD potency: 25 mg per capsule
Count: 30 capsules per bottle
COA: available online
These CBD capsules are made with organic coconut oil and gelatin mixed with pure CBD. They're designed for day or night use.
The upside to capsules is the convenience factor. You can take them on the go without having to worry about measuring drops.
The majority of reviewers are happy with the results, with some reporting a calming effect, help with pain and sleep, but some say they didn't notice any effects.
Medterra offers assistance programs for veterans, active military duty personnel, and long-term disability customers.
Use code "health15" for 15% off.
Right now, the FDA doesn't guarantee the safety, effectiveness, or quality of over-the-counter (OTC) CBD products.
To avoid buying CBD products that are misrepresented or mislabeled, look for products that come with an up-to-date COA from a reputable third-party lab.
You'll want to take a look at the COA and make sure the amount of CBD and THC that's in the product matches what's advertised.
It's also important to check the contaminant testing results. These will vary by brand, but it's best to look for results for pesticides, heavy metals, and molds (at a minimum).
It's also a good idea to buy from a company that's transparent about where they grow their hemp and how they make their products. You should be able to find this information on the brand's website before you make a purchase.
Common mistakes when buying CBD products
Here are some easy to make mistakes when shopping for CBD products online:
Buying the cheapest products you can find. If the company is promoting their inexpensive price as the main reason to buy, they may not be offering good quality products. Significant effort is put into making good quality CBD products, which typically results in moderate to higher pricing.
Expecting instant results. Finding the right type of CBD product in the right formulation and dosage can take time. There are also many unknowns and gaps in research on effectiveness. CBD shouldn't be viewed as a cure-all or a quick fix.
Ignoring missing lab results. Transparency is key when researching CBD products to buy online. Make sure that the company has COAs available to confirm the quality and purity results. Also look for other indicators of quality, such as their farming practices and extraction methods.
Buying the wrong product. When looking for the benefits of CBD, make sure you're buying CBD and not hemp oil, which is different. Many types of oil products can be called "hempseed oil" and typically don't offer cannabinoids and other potentially therapeutic ingredients. To avoid this, be sure to buy CBD products from reputable companies to make sure you're getting high quality CBD. Note that Amazon doesn't allow the sale of CBD — instead, you'll likely find products made from hempseed or hemp oil there.
While research suggests that CBD is generally considered to be safe, some people may experience side effects, including:
fatigue
diarrhea
changes in appetite
changes in weight
It's a good idea to talk with a doctor before trying CBD, especially if you're taking any medications. CBD may interact with some medications, including those with a grapefruit warning.
If you're taking CBD orally, avoid taking it with a high fat meal. One study found that doing so may increase side effects.
What are the purest forms of CBD?
CBD isolate is the purest form of CBD. This type of CBD goes through a slew of purifying processes, removing all other cannabis compounds.
Is pure CBD full-spectrum?
No. Full-spectrum CBD can contain all cannabinoids found in the cannabis plant, including less than 0.3 percent of THC if it's federally legal. It also has naturally occurring flavonoids and terpenes.
CBD isolate, also called pure CBD, doesn't include THC or other cannabis compounds.
Does pure CBD work?
Although some research and anecdotal reports suggest that CBD is effective and beneficial on its own, other research suggests CBD's therapeutic effects are better when mixed with other cannabis compounds, like terpenes, flavonoids, and lesser-known cannabinoids. This concept is known as the entourage effect.
Pure CBD, or CBD isolate, may be a good choice if you're interested in CBD but want to avoid the other compounds found in the cannabis plant, including THC.
CBD isolate boasts a number of potential benefits, including relief of pain, inflammation, and anxiety.
Studies do suggest, however, that some of these benefits may be more noticeable when using full-spectrum CBD products.
When shopping for CBD products, be sure to choose from a reputable company, and read labeling and dosage recommendations carefully.
Remember to consult with a doctor before trying CBD.
Is CBD legal?The 2018 Farm Bill removed hemp from the legal definition of marijuana in the Controlled Substances Act. This made some hemp-derived CBD products with less than 0.3 percent THC federally legal. However, CBD products containing more than 0.3 percent THC still fall under the legal definition of marijuana, making them federally illegal but legal under some state laws. Be sure to check state laws, especially when traveling. Also, keep in mind that the FDA has not approved nonprescription CBD products, and some products may be inaccurately labeled.
---
Breanna Mona is a writer based in Cleveland, OH. She holds a master's degree in media and journalism and writes about health, lifestyle, and entertainment.