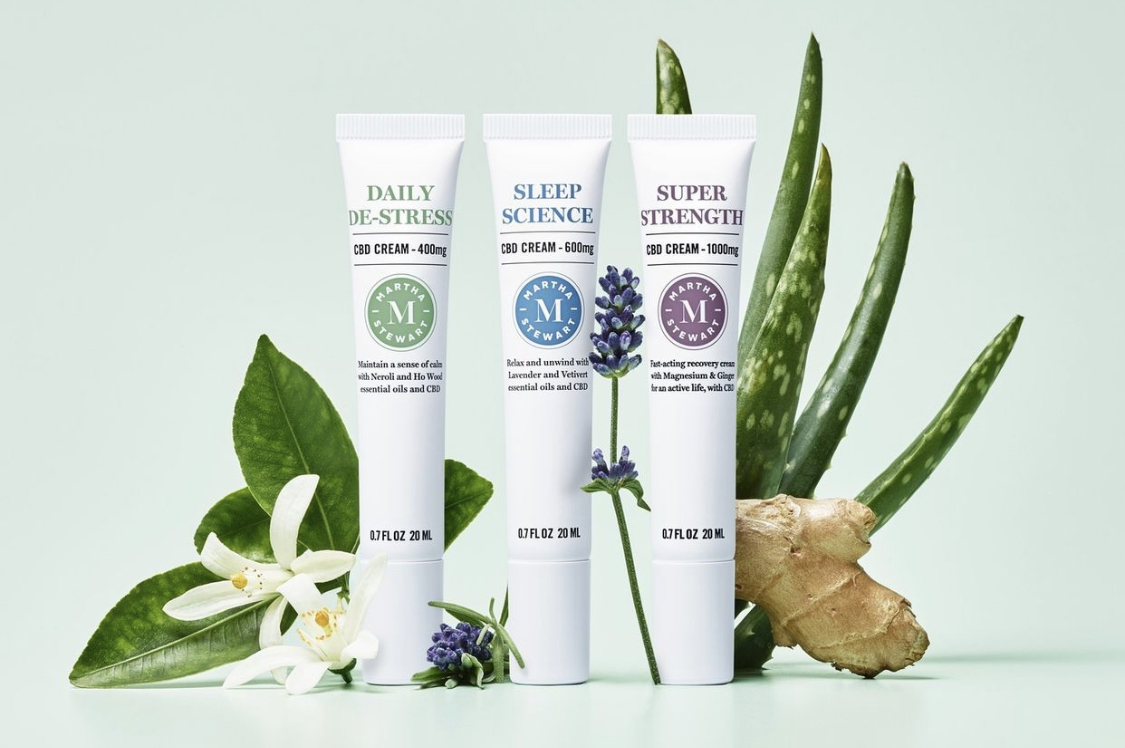 New Super Strength CBD Cream, Sleep Science CBD Cream and Daily De-Stress CBD Cream Add to Martha's Wellness Portfolio
Martha Stewart CBD has unveiled marking the brand's first-ever category expansion in its growing CBD portfolio. Martha Stewart CBD provides consumers with an easy way to manage their needs throughout the day with convenient and trusted CBD products – including gummies, oils, softgels and the new CBD Wellness Topicals. Martha Stewart CBD Wellness Topicals offer simple solutions that are easy to use, easy to love, and are a part of Martha's wellness portfolio.
Developed to improve daily wellbeing in specific ways, the topicals line consists of Super Strength CBD Cream designed for muscle recovery, Sleep Science CBD Cream designed for better sleep and Daily De-Stress CBD Cream designed for stress management. Each product is formulated with market leading levels of CBD, powerful co-actives and proven-to-work aroma-technology formulated specifically for each need, all carefully balanced for optimal results.
"I believe that living well can be simplified by focusing on practical and effective solutions, which is why I created this line of CBD Wellness Topicals with the Canopy Growth team," says Martha Stewart. "I am thrilled to help improve our customers' daily lives through proven formulations that make wellness accessible and convenient, with offerings that address muscle discomfort, sleep deprivation, and stress."
The effective formulas were created by Martha in partnership with Marquee Brands and Canopy Growth Corporation, a world-leading diversified cannabis and cannabinoid-based consumer product company. Leveraging Canopy Growth's unparalleled consumer insights and continued innovation in the space, the new line uses cutting edge aroma-technology proven to activate key areas of the brain to induce mood state change around the areas of relaxation, reduced anxiety, emotion and memory.
"Martha Stewart CBD offers consumers simple solutions to improve everyday wellness, and we're thrilled to expand into a new category with the launch of these CBD Wellness Topicals," said Dr. Anna Persaud, Vice President of Skincare & Topicals at Canopy Growth. "Proven to work and tested with consumers, these high-quality, effective topicals solutions are scientifically formulated and rigorously tested at the peak of industry standards, and the new line represents the latest innovation in Martha Stewart's growing portfolio of accessible CBD offerings."
Martha Stewart CBD Wellness Topicals are formulated with US-derived broad-spectrum CBD, with the line featuring market leading levels of CBD with the lowest price per mg of CBD versus competitors. At launch, each SKU will be available for purchase in 20mL, 50mL and 150mL sizes.
Martha Stewart CBD Wellness Topicals
Super Strength CBD Cream for muscle recovery, featuring powerful co-actives, including magnesium and ginger

150 mL (7500 mg CBD) – $99.99
50 mL (2500 mg CBD) – $44.99
20 mL (1000 mg CBD) – $24.99

Sleep Science CBD Cream for better sleep, featuring aroma-technology essential oils, including lavender & vetiver

150 mL (3000 mg CBD) – $89.99
50 mL (1000 mg CBD) – $39.99
20 mL (400 mg CBD) – $19.99

Daily De-Stress CBD Cream for stress management, featuring aroma-technology essential oils, including neroli & ho wood

150 mL (4500 mg CBD) – $79.99
50 mL (1500 mg CBD) – $34.99
20 mL (600 mg CBD) – $19.99
For more information on these new offerings, please visit marthastewartcbd.com, where the full lineup is available, or follow @marthastewartcbd on Instagram. Martha Stewart CBD is now available on an affiliate program. Sign up to participate via the link here: https://bit.ly/3jM0cTh.
Notice Regarding Forward Looking Statements 
This article contains "forward-looking statements" and "forward-looking information" within the meaning of applicable U.S. and Canadian securities laws (collectively, "forward-looking statements"), which involve certain known and unknown risks and uncertainties. Forward-looking statements predict or describe our future operations, business plans, business and investment strategies and the performance of our investments. These forward-looking statements are generally identified by their use of such terms and phrases as "intend," "goal," "strategy," "estimate," "expect," "project," "projections," "forecasts," "plans," "seeks," "anticipates," "potential," "proposed," "will," "should," "could," "would," "may," "likely," "designed to," "foreseeable future," "believe," "scheduled" and other similar expressions. You are cautioned not to place undue reliance on these forward-looking statements, which speak only as of the date the statement was made. Forward–looking statements are necessarily based upon a number of estimates and assumptions that, while considered reasonable by management, are inherently subject to significant business, economic and competitive risks, financial results, results, performance or achievements expressed or implied by those forward–looking statements and the forward–looking statements are not guarantees of future performance. Accordingly, there are or will be important factors that could cause actual outcomes or results to differ materially from those indicated in these statements. A discussion of some of the material factors applicable to Canopy Growth Corporation ("Canopy") can be found under the section entitled "Risk Factors" in Canopy's Annual Report on Form 10-K for the year ended March 31, 2021, filed with the Securities and Exchange Commission and with applicable Canadian securities regulators, as such factors may be further updated from time to time in its periodic filings with the Securities and Exchange Commission and with applicable Canadian securities regulators, which can be accessed at www.sec.gov/edgar and www.sedar.com, respectively. These factors should not be construed as exhaustive and should be read in conjunction with the other cautionary statements that are included in this press release and in the filings. Any forward–looking statement included in this press release is made as of the date of this press release and, except as required by law, Canopy disclaims any obligation to update or revise any forward–looking statement. Readers are cautioned not to put undue reliance on any forward–looking statement. Forward-looking statements contained in this press release are expressly qualified by this cautionary statement.