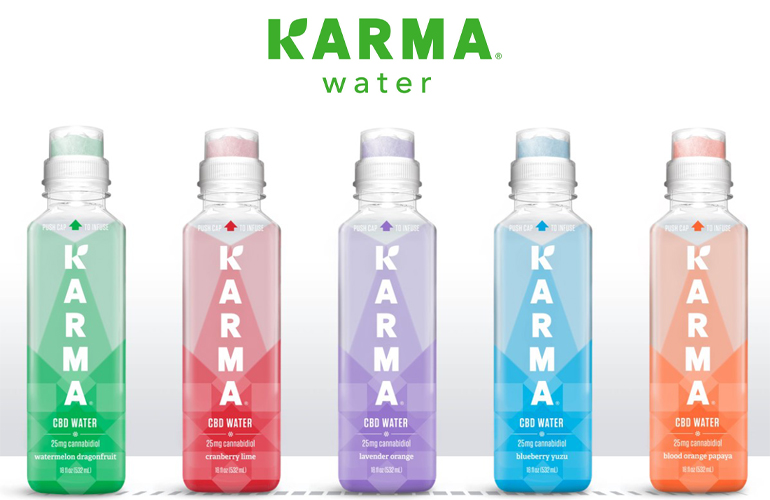 Rochester, NY – Karma Water is proud to announce that Karma CBD Water was named the 2022 Best New CBD Beverage in the 14th annual BrandSpark Best New Product Awards. The annual survey included over 11,000 participants who picked the winners across Food & Beverage.
Karma CBD Water is the first CBD beverage to launch under the Karma Water portfolio and has been developed in partnership with Canopy Growth Corporation, a world-leading diversified cannabis and hemp company. Karma CBD Water is crafted with Canopy Growth's Broad Spectrum CBD distillate made from US Hemp Biomass. With Constellation Brands' established investments in both Karma Water and Canopy Growth, the market entrance of Karma CBD Water highlights the power of collaboration between emerging businesses with distinct consumer value propositions within the ecosystem in which the three companies operate.
Karma CBD Water combines the wellness benefits of CBD with Karma's patented Push Cap technology to create a one-of-a-kind product for consumers. The Push Cap is designed to protect the active cannabinoid ingredients until seconds before consumption to ensure maximum potency and optimal nutrition. Karma CBD Water is infused with 25mg of antioxidant-rich broad spectrum CBD distillate, plus 4 nourishing adaptogens and 7 essential vitamins to deliver a full entourage effect to support holistic health.
The BrandSpark survey revealed that 6 out of 10 Americans look for new products that will make their life easier with a heightened focus on well-being and comfort. The survey also found that there is an additional emphasis on relaxation and wellness as CBD-infused products have gone mainstream across categories.
"As the newest offering created for Karma Water and in partnership with Canopy Growth Corporation, we are thrilled to have Karma CBD Water recognized as a leader in the CBD Beverage category," says Karma's President Jeff Platt. "With every bottle, we aim to deliver optimum wellness benefits using best-in-class CBD paired with our patented  Push Cap technology to bring consumers an innovative new product offering in the CBD-infused beverage space."
Karma CBD Water will be available in five natural flavors: Cranberry Lime, Blueberry Yuzu, Blood Orange Papaya, Lavender, Orange and Watermelon Dragonfruit.
Karma CBD Water is naturally sweetened, vegan, non-GMO and free of preservatives, gluten and lactose, and will be available in retail stores nationwide and online at www.drinkkarma.com <http://www.drinkkarma.com>.
About Karma Water:
Karma Culture LLC, based in Pittsford, N.Y., is a manufacturer of Karma® Water, a naturally enhanced, flavored water that uses patented Karma Push Cap Technology to store key active ingredients at optimal potency until seconds before consumption. Founded in 2011, the company's Karma® Water provides unprecedented levels of vitamins, probiotics and antioxidants and is #1 for immune support. The brand includes three distinct product lines-Karma Wellness Water, Karma Probiotic Water and Karma CBD Water- each meticulously formulated to deliver distinct wellness benefits. Karma® Water is distributed nationally in Walmart, Wegmans & Amazon. For more information on Karma, visit <https://drinkkarma.com/>drinkkarma.com <https://drinkkarma.com/>.
if ( window.fbAsyncInit === undefined ) {
window.fbAsyncInit = function() { FB.init({ appId : '228081358088776', xfbml : true, // version : 'v2.7' version : 'v9.0' }); };
(function(d, s, id){ var js, fjs = d.getElementsByTagName(s)[0]; if (d.getElementById(id)) {return;} js = d.createElement(s); js.id = id; js.src="https://connect.facebook.net/en_US/sdk.js"; fjs.parentNode.insertBefore(js, fjs); }(document, 'script', 'facebook-jssdk'));
}