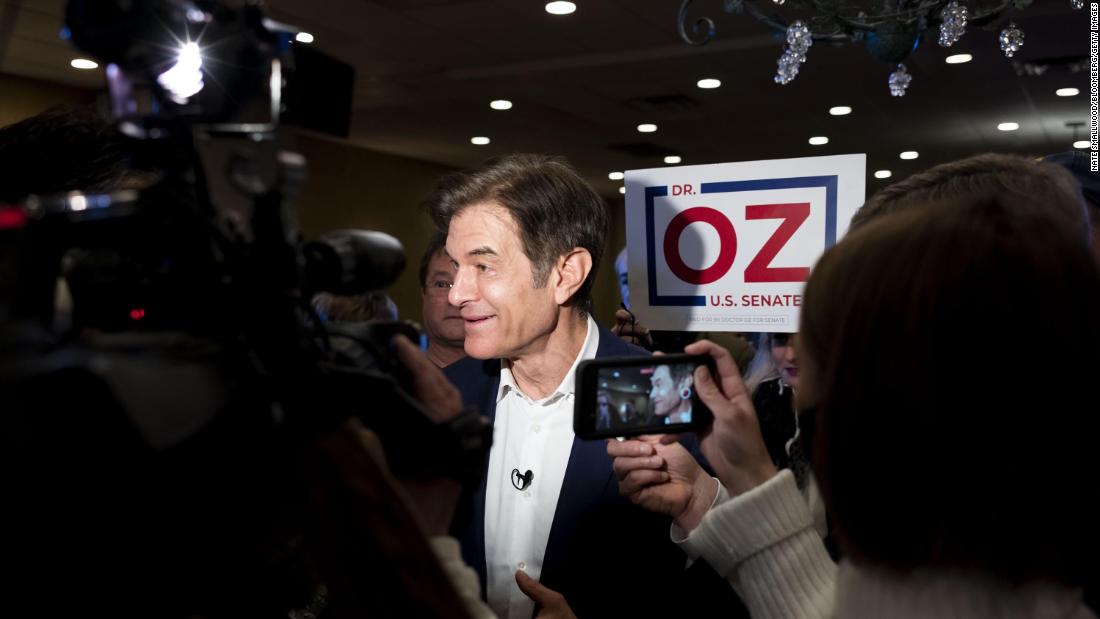 A review by CNN's KFile of hundreds of Oz's television, radio, print and social media appearances over more than a decade found that Oz has supported a health insurance mandate for "everyone … to be in the system" and backed government-provided health care coverage for poor Americans and for minors. Of the health care systems he liked most, Oz has cited Germany's and Switzerland's, which utilize mandatory universal systems administered by private companies.
Many of Oz's statements on health care align with some of the key tenets of the Affordable Care Act, otherwise known as Obamacare. In a review of his statements, CNN's KFile found that Oz praised how the law dramatically increased the number of insured Americans, while later criticizing it for not being well understood and not tackling the costs of health care. He also promoted Obamacare in a
2010 ad for the California Endowment
, a left-leaning organization that says on its website it's dedicated to improving the well-being of Californians.
Brittany Yanick, a spokeswoman for the Oz campaign, told CNN's KFile that Oz "does not support a big government takeover of the health insurance industry" and that he "would not have voted for Obamacare."
Oz "believes that the American healthcare system is in need of improvement" but that Obamacare was "the wrong one," Yanick said in an email.
Oz backed health insurance mandates
As a physician, Oz advocated that everyone in America have insurance and has said the government should provide health care coverage to Americans who cannot afford it
He also frequently described the moral dilemmas he faced to provide care to uninsured patients.
"There have been times when I have been tempted to break my Hippocratic oath, to put my patient first, because although I could save their life, they didn't have the ability to reimburse whoever had to pay for it. And what happens then is that the system goes bankrupt. You can't afford those services anymore. We can't have people who have given their life to healthcare being pulled in two directions because one party says you can't help that person. They're not in the system," Oz said in an appearance on CNN from July 2007.
He said it was "heartbreaking" that millions of children were uninsured, and that politicians should mandate insurance for everyone under 18.
"That's a good starting point for any candidate. You should — if you're under 18 years of age in this country — you should have insurance. Period. No questions. All you need is a birth certificate to prove that you're less than 18 years of age; it ought to be done," Oz said.
In an interview with CNN's Don Lemon from September 2009, Oz said he liked the health care systems in Germany and Switzerland, which have mandatory universal health care systems run by private companies, and that the government has an obligation to provide coverage.
"The systems that I like the most are actually the kind of systems they have in Germany or Switzerland, where they actually afford patients the opportunity to, to get insurance from many different companies, but they have to buy one type of insurance or another. You know, so we don't have the option as consumers to not have coverage, but the government has the obligation [to] and so do es [sic] the insurance companies providing coverage to us. I think we can make this happen in America," said Oz.
In a CNN interview from January 2012, Oz insisted that "everyone has to be in the system. You cannot drive a system that's gonna be aiming at preventing illness if everyone's not in it."
"The whole gaming of health insurance and, and health care in America is based on that fundamental principle: Insure people who aren't sick and you don't have to spend more money on them. But if everybody's in the system, then it pays for all of us," he said.
Oz promoted Obamacare and proposed a healthcare plan that would lead to universal coverage
"Doctor Oz also believes that Obamacare had bad parts, like the destabilization of the health insurance market, the mandates, and the taxes. Finally, Doctor Oz would not have voted for Obamacare," Yanick said.
That plan, which he does not name on his website, is known as "Medicare Advantage for All," which would expand the Medicare program that enables seniors to choose private plans to deliver their health coverage to all Americans not covered by Medicaid.
Yanick, Oz's spokeswoman, clarified that Oz calls his health care plan "Medicare Advantage Plus — which is an expansion of privately run health insurance plans that happened under the Trump administration and are one of the Trump administration's great successes. These plans are high-quality, low-cost, are beloved by seniors, and should be available to everyone who wants them."