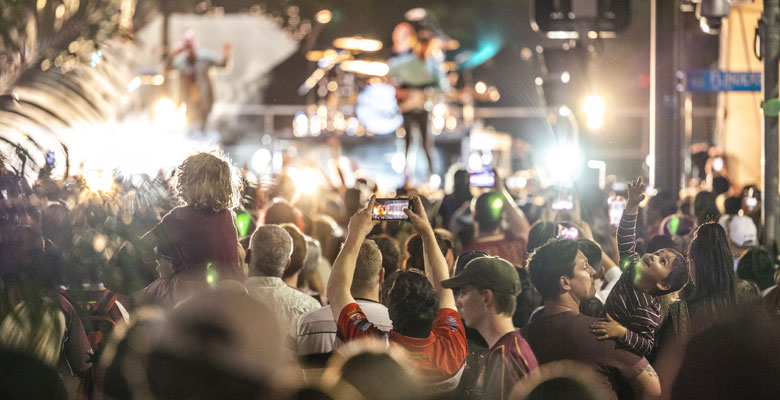 Townsville's city centre will burst to life with free rock concerts and food festivals during two blockbuster weekends celebrating sport and culture in the heart of the city.
More than 30,000 residents and visitors are expected to attend the Laurie Spina Shield and Cowboys v Roosters matches on Saturday 2 April and again ahead of the first international Matildas v Ferns match on Friday 8 April.
Central Park will come to life each weekend with Killing Heidi headlining on the Saturday event and Eskimo Joe taking the stage the following Friday. Both events will feature something for everyone including sports activities, roving performers, food trucks, amusements and more.
Mayor Jenny Hill said Council was proud to bring world-class acts to Townsville as part of the much loved Townsville Eats to bolster excitement ahead of two major weekends of sport.
"Townsville is a proud sporting city and Council is thrilled to support such highly-anticipated sports events at Queensland Country Bank Stadium," Cr Hill said.
"Townsville is the culture capital of Northern Australia and what better way to prove it than by bringing two huge acts to the city with free concerts ahead of A-grade football and soccer games next month.
"I know how many fans there are in Townsville who will love rocking out at the Killing Heidi and Eskimo Joe concerts. These free concerts will be part of Townsville Eats events along Central Park, starting at the iconic Townsville sign and reaching to the stadium.
"Each concert and Townsville Eats will be packed and will provide a much-needed boost for food trucks, local traders, restaurants, accommodation and attraction operators while ramping up the vibrancy of the city centre ahead of each event. Both weekends fall during the April school holidays, so it's the perfect time to take the family out for a great evening of world-class entertainment and invite friends and family to visit Townsville.
"During the past year Townsville has had plenty of practice showing support for world class sporting matches at Queensland Country Bank Stadium, with State of Origin and the Rugby Championship both hosted in our city. Council is always poised to activate the city around large events and will continue to back major cultural events coming to Townsville."
Saturday 2 April
Laurie Spina Shield
Cowboys v Roosters
Townsville Eats from 4pm to 9pm
Killing Heidi free live concert
Friday 8 April
Matildas v Ferns
Townsville Eats from 4pm to 9pm
Eskimo Joe free live concert