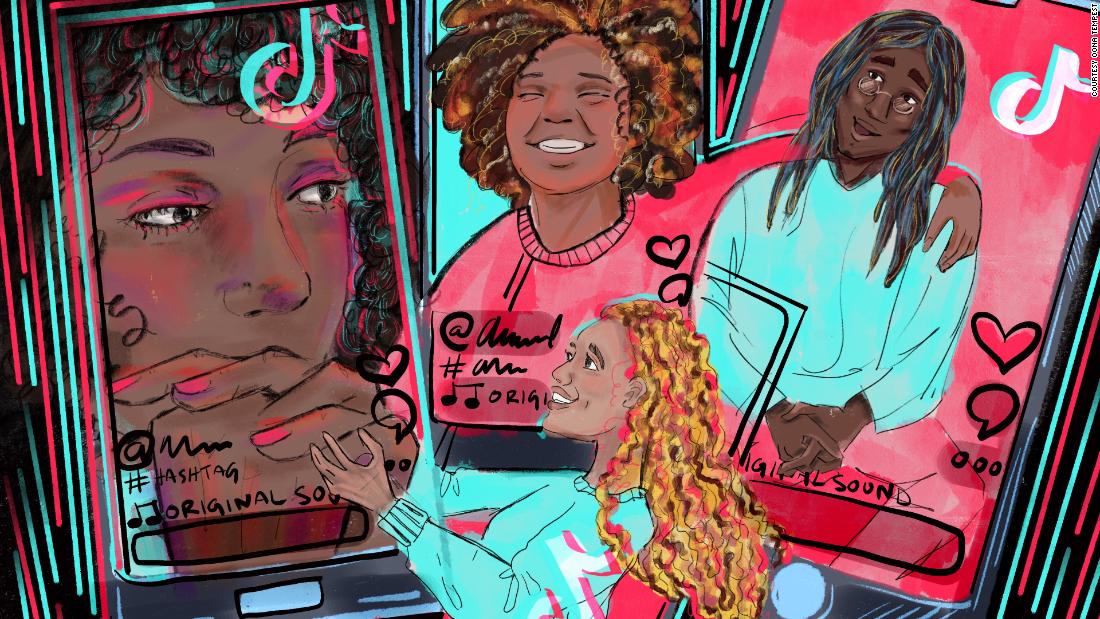 But this is not a classroom, nor is it a therapist's office. This is TikTok.
Through videos — some on topics like
grief
, "
race/race-ism
,"
trauma
and
healing
, others raw reactions or trending sounds,
like this call to action
to amplify people of color on TikTok — Mclaurin advocates for better representation in the mental health field. Mclaurin speaks to viewers who haven't found caregivers they connect with because of stigmas surrounding therapy and acknowledges that few practitioners look like them.
"I am a Black, queer therapist, and I want to showcase myself being fully that," Mclaurin said. "I always say, 'My durag is part of my uniform.'"
"I try to lighten topics that are very difficult for people to talk about," he said. "And to let people know that it's not as scary as you would think to go get help."
Her comments sections are an outpouring of largely appreciative notes and follow-up questions, with some videos getting more than a thousand replies.
A tightknit TikTok community has formed, and Berry spearheaded a Facebook group dedicated to Black, Indigenous and other people of color focused on mental health.
"I wanted to create a safe space for us to be able to have real conversations about our experiences on the app and to share tips and resources," she said.
When dealing with trolls, Cubbage said, the emotional support from creators she's met on TikTok is indispensable. "That's been one of the really neat things about the app is finding this community of Black therapists that have become like friends to me," she said.
Black therapists suspect racial bias, too. Berry said that, at times, TikTok users have questioned her credentials or tagged a White creator to confirm information.
Marquis Norton, a TikToker, licensed professional counselor, and assistant professor at Hampton University, tries to guide people toward more in-depth resources outside the app, but he worries people may sometimes try to self-diagnose from what they find on the internet and get it wrong.
"I think it's wonderful that it's opening a door for people," said Alfiee Breland-Noble, a psychologist and founder of the AAKOMA (African American Knowledge Optimized for Mindfully Healthy Adolescents) Project, a BIPOC mental health organization. At the same time, she added, it can be frustratingly like a "glass door" for some, where the mental health services remain out of reach.
"Black people still underutilize mental health care in proportion to what the need is," she said.
Shortages in mental health care providers and the costs associated with therapy are factors, but "more of it is, they're just not going to go," Breland-Noble said. "Conversations have not changed that much for Black communities of the diaspora."
Especially for older generations, Norton said, people have adapted a disease model of mental health, in which seeking help meant that there is "something wrong with you." But the mindset has shifted, propelled by millennials and Gen Z, toward a wellness model without the same stigma attached.
Norton hopes his videos will keep inching these conversations forward.
KHN (Kaiser Health News) is a national newsroom that produces in-depth journalism about health issues. Together with Policy Analysis and Polling, KHN is one of the three major operating programs at KFF (Kaiser Family Foundation). KFF is an endowed nonprofit organization providing information on health issues to the nation.