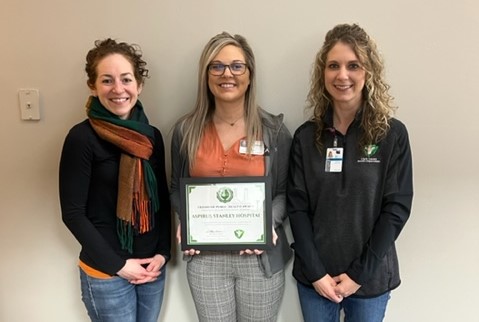 Public health protects and improves the health of entire populations in our communities through a variety of strategies. Populations can be as small as a family or as large as an entire county. Public health connects all people; everyone is impacted by the health of their community. A healthy county can only be achieved through the support, partnership, and involvement of its residents, businesses, elected officials, coalitions, health care organizations, schools, etc.
During the first week of April each year, the American Public Health Association invites communities across the United States to observe National Public Health Week. It is a time to recognize the contributions of public health, raise awareness about public health and prevention, and highlight issues that are important to improving our nation's health.
In support of Public Health Week, the Clark County Health Department (CCHD) recognized individuals and/or organizations as recipients of the "Friend of Public Health" award. This year, the CCHD is proud to recognize Aspirus Stanley Hospital for their contributions to public health and prevention.
Over the past year, Aspirus Stanley Hospital has demonstrated that they are deeply rooted in supporting all Clark County communities. Some of their contributions include:
• Providing a significant amount of funding for the hydroponic farms that were awarded to Owen-Withee Middle/High School, Abbotsford School District, Thorp Elementary School, and Loyal Elementary School
• Providing funding and support for the implementation of a Story Walk in the Owen area (to be completed in late spring of 2022)
• Providing medication lock boxes to the public at no cost (to reduce the risk for prescription overdose).
• Assisting in the development of the 2021 Community Health Survey.
• Active involvement in community-based coalitions that focus on healthy eating, physical activity, and mental health initiatives
Without their partnership and support, many community-based initiatives would not be possible. For their selflessness and dedication, the CCHD recognizes Aspirus Stanley Hospital as the 2022 Friend of Public Health