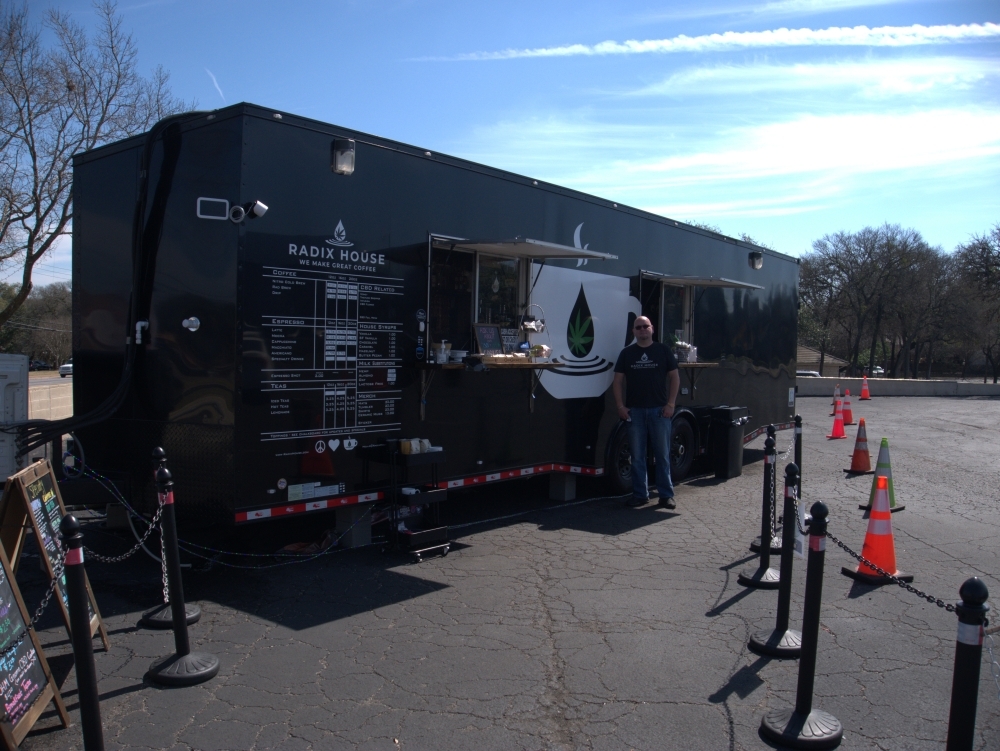 Founder Roger Pilney stands in front of the original Radix House location. (Glorie Martinez/Community Impact Newspaper)
Located in the Westgate Lanes bowling alley parking lot, the Radix House Coffee Shop trailer offers customers coffees, teas and locally sourced CBD products.
Everything from the colorful string lights to the hand-painted mural with iconic Austin images hidden inside of it was designed, according to founder Roger Pilney, "to make you feel good."
Pilney, a South Austin native, struggled for decades with substance abuse and post-traumatic stress disorder. He finally found an effective treatment in Eye Movement Desensitization and Reprocessing therapy, which combines a physical and emotional approach to resolving a patient's trauma. This breakthrough introduced Pilney to another tool—cannabidiol, or CBD, a non-psychoactive chemical derived from hemp plants. Pilney said it helped him process traumatic memories in therapy.
During the height of the COVID-19 pandemic in 2020, Pilney recognized the stress and fear his community was experiencing all too well.
"I'm watching the news, and I saw this nurse, and she takes her mask off—she's got deep lines in her face," Pilney said. "But in her eyes, I saw that look of despair that I felt when I wasn't getting help."
At a time when many businesses were struggling or forced to close, Pilney began brainstorming an idea that would allow him to offer stress relief and a sense of connectedness to his struggling community.
"I thought, 'coffee and CBD—those markets were pretty recession-resistant,'" Pilney said. "That told me that I have a good chance to stay in front of people."
Pilney brought on his high school friend Gabriel Medel as a business partner. Together, they opened the first Radix House Coffee Shop location in October 2020.
Since then, Pilney and Medel have remained focused on their mission to support their community. Every cardboard drink sleeve at Radix House is hand-stamped with the website of the American Association for Suicide Prevention, a nonprofit partner that connects people struggling with PTSD and other mental health issues to resources in their area. The business helped recruit volunteers for a University of Texas study on CBD and its effects on anxiety. The owners also concoct special drinks that raise money for charities when purchased, such as The Rudolph—a coffee drink topped with whipped cream and a maraschino cherry—for Austin Pets Alive. Radix House recently opened a second location at 1606 E. Sixth St. in East Austin. Two more are planned near North and South Lamar Boulevard. In the future, Pilney said he wants to sell his coffee and CBD products wholesale and use the funds to open a treatment center for survivors of PTSD.
"I want to get out there and tell people about our why," Pilney said. "Especially because all of us have been impacted by mental health."
Radix House Coffee Shop
2701 W. William Cannon Drive, Austin
737-256-9959
www.radixhouse.com
Hours: Mon.-Sun. 7 a.m.-8 p.m.