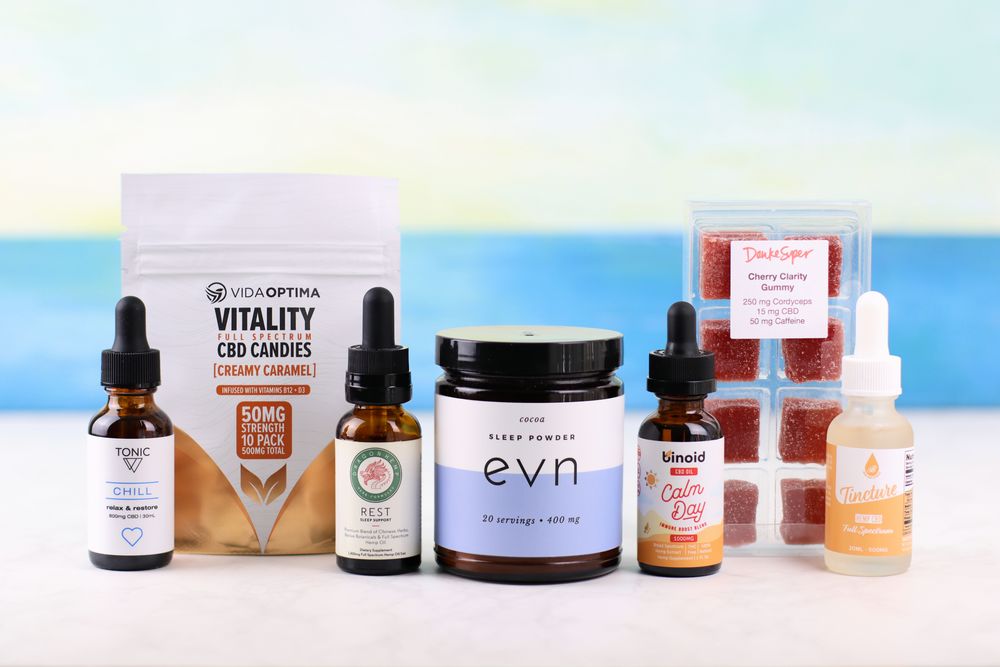 It can come on when you least expect it, like when you're chatting with someone at a party or when you're about to enter a store. Other times it can be triggered by stressful events like deadlines at work or fights with a loved one. You can't catch your breath and you're trembling, your heart is racing, you're tired, lightheaded and you feel like the worst is going to happen. Sound familiar? 
According to the ADAA, over 40 million adults in the U.S., or about 18% of us experience some form of anxiety. An emotional response to stress, anxiety can have you feeling anywhere from slightly on edge to absolutely consumed with racing thoughts of fear, worry and panic.  But while it stems from emotional distress, anxiety can have us feeling dozens of different very physical symptoms.
Anxiety can affect our moods, make concentrating on anything impossible and even cause muscle and joint pain. During an attack we can feel tingling, burning and numbness in parts of our bodies, find it difficult to swallow, feel hot or freezing, nauseous or have trouble with our vision. At night it can wreck our sleep, causing crazy dreams, jolting us awake or making it hard to fall asleep in the first place.
None of us experience anxiety exactly alike. And while an anxiety attack usually lasts anywhere from 10 to 30 minutes, the feelings associated with anxiety can persist for days, months or years. That's why finding relief is so important if you want to kick anxiety to the curb and begin to feel normal once again. 
The good news is that anxiety can be treated. Stress management techniques like meditation, diet and exercise are often recommended to start with. But when those don't seem to do the job, more and more people are turning to the stress and anxiety relieving power of CBD (cannabidiol) as a natural plant-based alternative to medication. 
Keep reading to see how CBD works and some of our favorite CBD products to help you kick anxiety to the curb.
What Is CBD?
CBD is 1 of over 100 types of plant compound called cannabinoids found in the Cannabis Sativa plant. What makes CBD unique though is that it's almost identical to the recently discovered system of neurotransmitters found in our own bodies called endocannabinoids.   
Released by our endocannabinoid system (ECS), a complex network of receptors and signals, this system acts as the control center in our bodies making sure we stay in balance, a state called homeostasis.  Vital to our health they regulate a number of functions in our body from pain, hunger, memory, learning and immunity to mood, sleep, as well as our response to stress including anxiety and fear. This is where CBD comes in.

How Does CBD Help With Anxiety?
Researchers are still unraveling the mysteries of how CBD interacts with our ECS system. But it's believed CBD may attach to our endocannabinoid receptors bringing our system into balance, calming and rejuvenating our systems. It can provide pain relief, while easing stress and anxiety as well as the accompanying symptoms like depression and insomnia.
A superhero for symptoms of anxiety many of us can feel the anxiety-relieving effects of CBD from anxiety within 20 to 30 minutes.  What's even more exciting is that CBD has a compounding effect in the body, which means the more you take it, the better it works and the less you need over time.
CBD can also help with different forms of anxiety including, social anxiety disorder (SAD) and post-traumatic stress disorder (PTSD). (1 , 2) One study even found it was helpful for relieving anxiety for public speaking.
Will CBD Make Me High?
No, CBD will not get you high. CBD is often confused with THC, another cannabinoid responsible for a feeling of high and found in much higher concentrations in marijuana (30-40%). Today all legally sold CBD is only derived from hemp which must have a concentration of less than .3% total THC. CBD, while relaxing, doesn't have the same effect.
Are There Any Studies To Show CBD Works For Anxiety?
Yes! The benefits of CBD for anxiety-relief are well-studied. A recent study in 2019, found CBD improved anxiety and related symptoms in 80% of the participants with 70% experiencing better sleep after the first month. (3)
A review published in Neurotherapeutics found promising evidence that CBD oil can be effective for disorders including generalized anxiety, social anxiety, and post-traumatic stress disorder.
What To Look For In A High-Quality CBD Product?
Since CBD is a plant-extract, we're recommending you look for organically sourced CBD to reduce the chance of contaminants like pesticides, herbicides and heavy metals getting in your CBD. Transparency in CBD is also important. Look for reputable companies that offer third-party lab testing and a certificate of analysis (COA) for all their products so you know what's in your CBD. Results should be readily displayed on the product's website.
While CBD products come in edibles, tinctures, oils, gummies and even skin-care the CBD itself is offered in 3 different forms: full-spectrum, broad-spectrum and isolate. 
Here's how to tell the difference:

 
Full-spectrum –

A CBD extract that includes other naturally occurring plant-compounds including other cannabinoids and nutrients in hemp that are believed to increase the effectiveness of CBD and is called the entourage effect. This includes trace amounts of THC.

Broad-spectrum –

Similar to full-spectrum but all THC is removed.

Isolate:

The CBD compound alone with no other plant compounds.
How Much CBD Should I Take For Anxiety?
The right dose of CBD is different for everyone. So while some of us may only need a drop or two to find relief, some of us may need more. Most people start out with a low dose of 10 to 20 mg a day and then gradually increase as needed. 
Here are some of our favorite must have CBD products for anxiety that can help you feel calm and collected, while promoting a deep restful sleep!
*All the products recommended below are either full-spectrum or broad spectrum and offer lab-testing results on the product pages.
AN ANXIETY RELIEVING CBD FORMULA WITH HERBS + ADAPTOGENS FOR ZEN DAY OR NIGHT
Type of CBD: Choice of either Full-Spectrum or Broad Spectrum Hemp Extract
CBD per package: 800 mg
CBD per 1 ml dropper: 26.7 mg 
Additional Beneficial Ingredients: Ashwagandha, Passion Flower, Lemon Balm, Black Seed Oil
When to take: Anytime of day to ease anxiety and promote calm
Flavor: Herbaceous with a hint of Maple
Tonic is a CBD company whose founder specifically sought out a solution to get rid of her horrible anxiety. Once she combined the relaxing and anxiety relieving CBD with Ashwagandha she found the result life changing, and the combination became the inspiration behind Tonic's original formula.
Ashwagandha is one of the most beneficial and important herbs in Ayurveda, the traditional Indian practice of medicine. As an adaptogen Ashwagandha may help the body cope with stress while relieving anxiety, reduce symptoms of depression, and improve concentration and increase energy levels.
Based on their original formula Tonic CHILL is their most zen blend yet. With CBD + Ashwagandha, it also has herbs including lemon balm and passion flower which can help ease anxiety and promote restful sleep.
Suspended in anti-inflammatory black seed oil known as the universal healer, this herbaceus formula is finished with a touch of natural and low-glycemic maple syrup which adds a touch of sweetness sourced locally from Tonic's hemp farm in upstate New York. 
For Tonic CHILL, choose from either a full-spectrum blend or a broad spectrum blend if you prefer no THC at all. Take this one any time of day for much needed anxiety relief and relaxation.
? Try Tonic CHILL Relax & Restore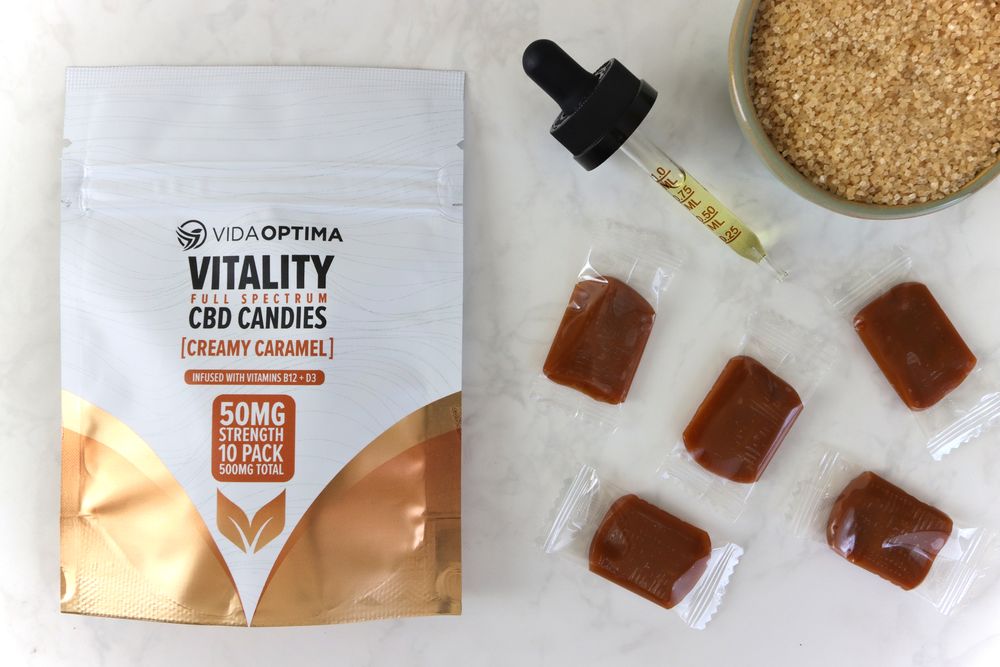 THESE RICH CBD CARAMELS BOOST ENERGY AND EASE ANXIETY FOR AN INDULGENT PICK-ME UP
Type of CBD: Full-Spectrum Hemp Extract
CBD per bag: 500 mg
CBD per caramel: 50 mg
Additional Beneficial Ingredients: B12 + D3
When to take: Anytime you want a sweet treat to ease anxiety
Flavor: Caramel
Caramel anything has my attention. These rich and creamy caramels from Vida Optima are a delicious way to tame your anxiety and your sweet tooth through the power of CBD. Each caramel provides 50 mg of full-spectrum USDA Certified organic CBD sourced in Kentucky and is fully tested to make sure it's contaminant free. 
Vegan and gluten-free, Vida Optima caramels, are also infused with B12 and D3 in addition to CBD.  With a variety of benefits, Vitamin B12 is known as an energy boosting essential and research has shown that when we're deficient it can cause depression, anxiety and poor sleep. It's also needed by the body to produce the "Happiness Hormone" serotonin which helps regulate mood.  
Vitamin D3, known as the Sunshine Vitamin, has a variety of important functions including building strong bones and immune support. But it also plays a vital role in mood, nerve and brain function. (4)  Several studies have shown evidence that supplementation of Vitamin D can help ease anxiety when your levels are low. (5)
Instead of devouring, these caramels are meant to be savored. Allowing them to melt in the mouth lets the CBD, B12 and D3 to absorb directly into the bloodstream in the same way sublingual tinctures do. The benefit is that they skip the digestive system which can decrease absorption and can help you feel the effects of the CBD more quickly.
 If you love caramel (who doesn't?) then these are a must try.
? Try Vida Optima Vitality 50mg CBD Caramels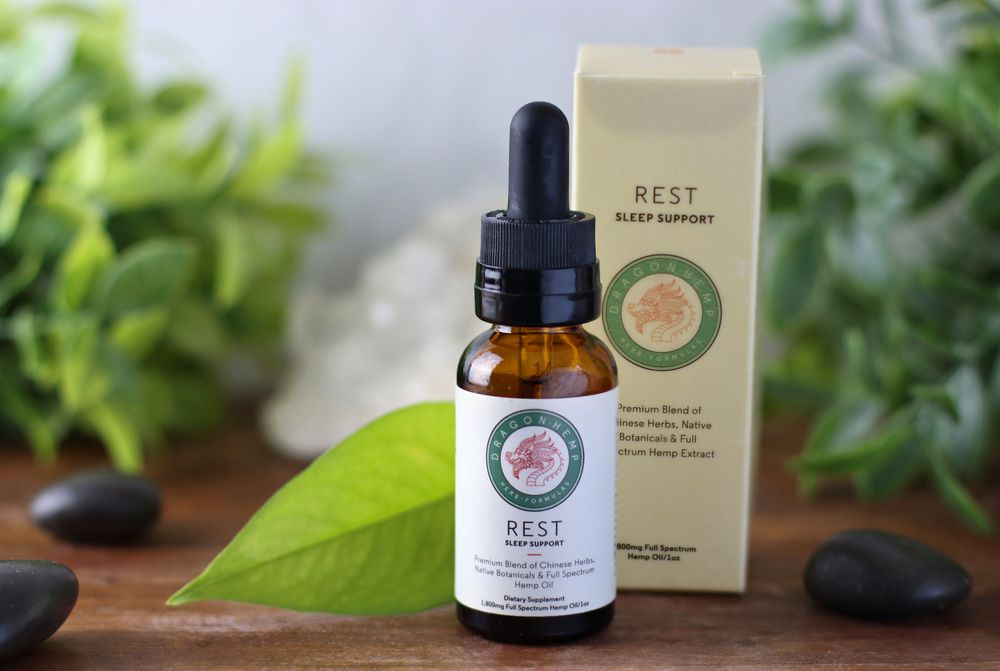 AN EFFECTIVE BEDTIME FORMULA WITH CBD+ CHINESE HERBS + CBN FOR DEEP RESTORATIVE SLEEP
Type of CBD: Organic Full-Spectrum Hemp Extract
CBD per bottle: 500 mg
CBD per 1 dropper (ml): 50mg
Additional Beneficial Ingredients: CBN, Passion Flower, Lavender, Linden flower, + Schisandra Fruit 
Flavor: Light and herbaceous
When to take: 30 minutes before bed
If stress and anxiety is interrupting your sleep, try Dragon Hemp Rest. Formulated by licensed acupuncturist Kevin Menard, Dragon Hemp Rest combines the anxiety reducing and sleep enhancing benefits of full-spectrum CBD Hemp formula with powerful herbs that have been used in Chinese medicine for over 2000 years. 
This formula includes organic and sustainably sourced full spectrum CBD hemp extract (50mg) which helps reduce pain and inflammation while calming the body and mind from stress, as well as 10 mg of CBN (cannabinol), another cannabinoid with sedative properties to enhance sleep even further.
Calming and sleep promoting herbs in this formula include lavender and passionflower while linden flower helps soothe digestion, calm anxiety and reduce blood pressure.
The "fruit of five tastes" Schisandra Fruit (Wu-Wei-Zi) is also added as an important herb in Chinese Medicine used for tonifying or balancing chi (qi) or energy force in our system and "calm the spirit" which can help when anxiety has a grip on you.
We love that each herb chosen is selected specifically to enhance and complement the benefits of each other. Amber in color with a slight herbaceous flavor, take this one held for 30 seconds under the tongue just before bed for an amazing night's rest.
? Try Dragon Hemp Rest | Sleep Support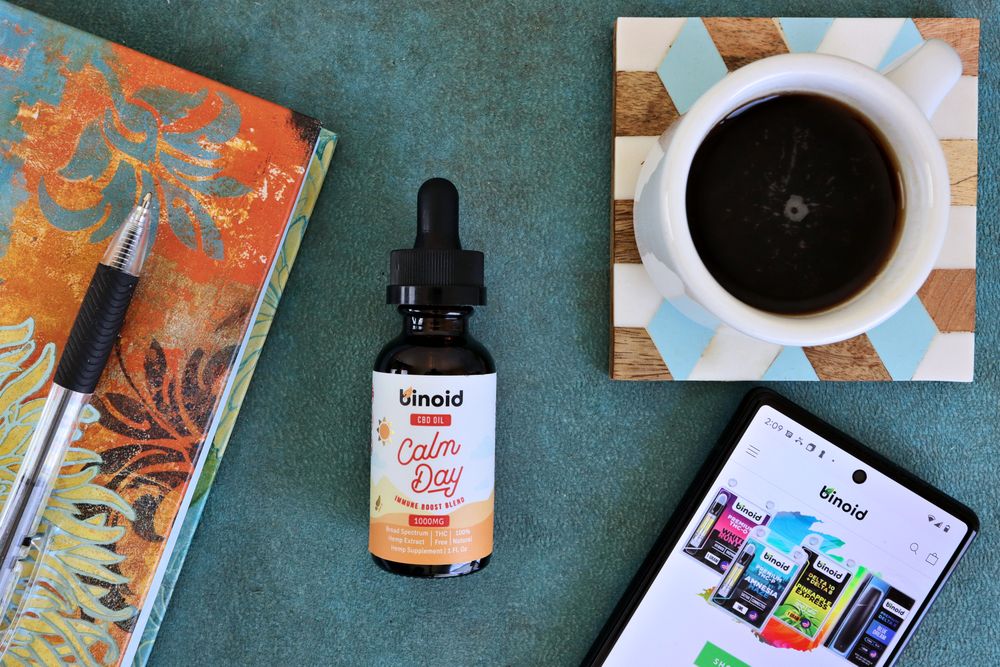 A CALMING EVERYDAY BROAD-SPECTRUM CBD TINCTURE BLENDED WITH HERBS TO REDUCE ANXIETY AND SUPPORT IMMUNITY
Type of CBD: Broad-Spectrum Hemp Extract (THC-Free)
CBD per bottle: 1000 mg
CBD per 1 ml dropper: 33.3 mg
When to take: Morning, Afternoon or Evening
Additional Beneficial Ingredients: Hibiscus, Ginkgo biloba, Ginseng, Ginger, Hibiscus, Maca Root, Lemon oil, Peppermint oil
Flavor: Mint + Lemon
Research has shown that our immune systems can suffer when we're dealing with chronic stress and depression. But it also means when we're constantly feeling anxious, our immune systems may not be at their best, leaving us in a weakened state where we're more susceptible to getting sick. 
That's where Binoid Calm Day CBD Oil with Immune Support comes to save the day. It's formulated to not only calm and energize, but also provide beneficial herbal extracts that promote relaxation while giving our immune systems some botanical support. 
With a naturally uplifting and relaxing peppermint lemon scent and flavor, 'Calm Day' blend starts with Binoid's own broad spectrum hemp extract sourced from an Oregon farm, which they carefully formulated over a 2 year period. It also has:
Ginkgo Biloba

to help reduce anxiety, improve brain function and well-being 

Ginseng

to boost the immune system, boost energy, improve calmness, improve mental fatigue. (

6

)

Hibiscus

which is antimicrobial and antioxidant-rich

Maca Root

which contains antioxidants thought to reduce anxiety and improve mood

Ginger

is antiviral and antibacterial and may reduce nausea. (

7

)
If you find yourself constantly stressed and getting sick, take this CBD oil first thing in the morning and throughout the day to help calm your system and give your immune system a boost.
Binoid Calm Day CBD Oil  is vegan-friendly, gluten-free, kosher, and THC-free and their CBD tested 5 times before by a third-party lab before bottling. 
? Try Binoid Calm Day CBD Oil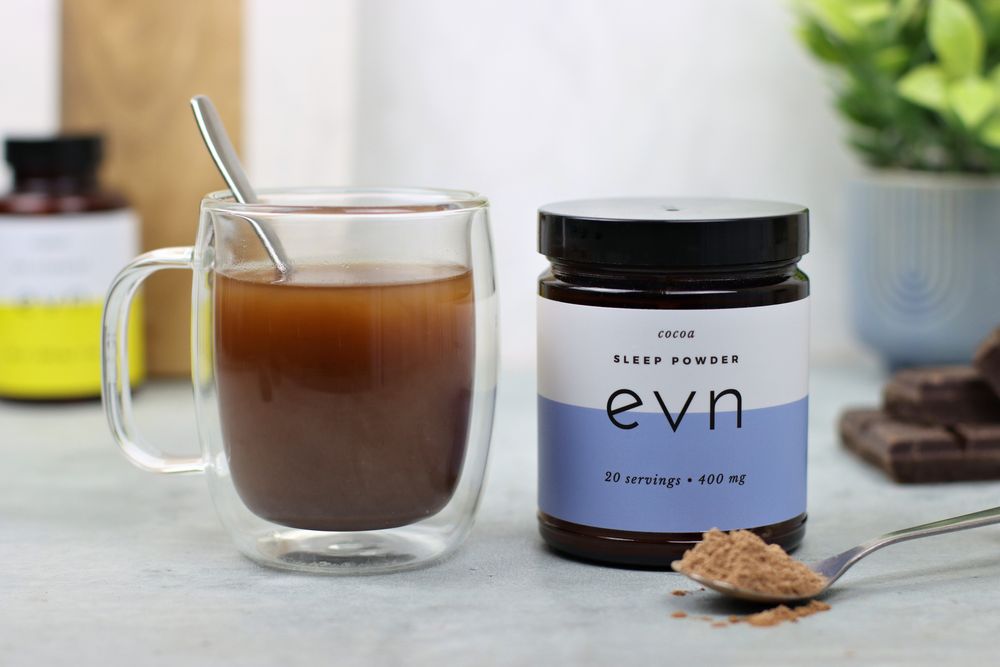 A RELAXING COCOA FLAVORED CBD SLEEP BLEND TO SIP FROM A MUG BEFORE BED
Type of CBD: Broad-Spectrum Hemp Extract from organically sourced hemp
CBD per jar: 400 mg
CBD per serving: 20mg
When to take: 30 minutes before bed
Additional Beneficial Ingredients: Magnesium , L-Theanine, Melatonin
Flavor: Cocoa + French Vanilla
For a calming, cocoa flavored CBD blend for your bedtime routine, we love evn CBD Sleep Powder. Different from a tincture you put under your tongue, evn Sleep Powder is meant to be savored and sipped from a hot mug on restless nights to help wind you down for bed. 
Each slumber-inducing jar of evn CBD Sleep Powder made with 400 mg Full Spectrum CBD extracted from organically grown hemp with zero THC. Their CBD is lab tested by an accredited lab for purity and quality with results available on their website. But there's more than just CBD in this blend.
For ultimate relaxation and deep sleep, this powder also has Passion Flower, which has shown in studies to relieve anxiety and promote deep restful sleep as well as L-Theanine, an amino acid found primarily in green and black tea, believed to help promote relaxation and sleep. Another well-studied promoter of sleep and regulator of neurotransmitters involved in sleep, magnesium has also shown to be beneficial when it comes to reducing and preventing symptoms of anxiety. If your anxiety tends to leave you up several nights in a row or you find yourself jet-lagged here's where the melatonin in this sleep powder can help. 
Gluten-free and non-GMO, evn Sleep Powder is made with organic cocoa and flavored with natural French vanilla extract. It's lightly sweetened with stevia, so no need to worry about any added sugar. 
To start unwinding with evn Sleep Powder, simply stir one teaspoon into hot water, milk, or tea and enjoy 30 minutes before bedtime. 
? Try Evn CBD Sleep Powder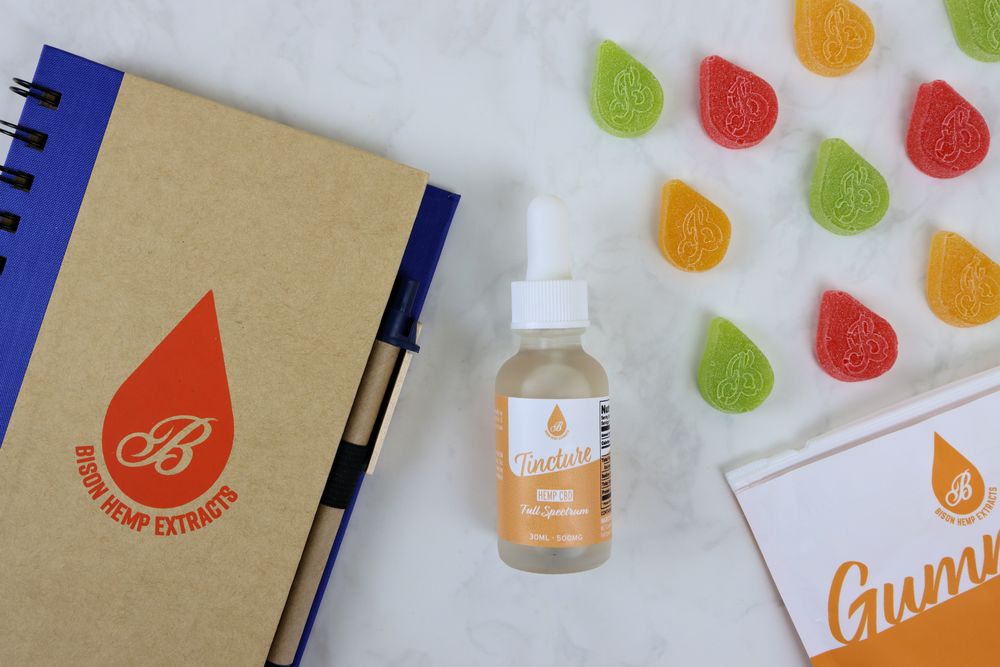 AN UNFLAVORED VERSATILE FULL-SPECTRUM CBD OIL THAT YOU CAN TAKE ANYTIME 
Type of CBD: Full-Spectrum Hemp Extract
CBD per bottle: 500 mg
CBD per 1 ml dropper: 16.6 mg
When to take: Anytime you want to ease anxiety
Flavor: Unflavored
For a versatile, full-spectrum CBD product you can take anytime your anxiety starts to rear its ugly head, Bison Hemp Extracts CBD is a great choice. This up and coming woman and veteran owned CBD company based out of Tulsa Oklahoma prides themselves on providing organically grown hemp extract sourced from a single grower and a single strain with a high concentration of CBD. That means you can expect a consistent, effective result with every batch.
Perfect for easing anxiety any time of day, Bison Hemp's high-quality full-spectrum CBD tincture is suspended in MCT oil for quick and easy absorption. Since it's flavorless, it's great for adding to your coffee, tea or shake without it affecting the taste. It's also sugar-free and low-calorie so it can fit into any diet or lifestyle.
For something a little sweet to take the edge off, we love their Full Spectrum Gummies too. Small-batch made using only clean ingredients and plant extracts, they come in delicious and yummy flavors like Sour Peach, Sour Apple, and Sour Watermelon. Each gummy provides 10mg of CBD full-spectrum extract per piece. 
Like all reputable CBD companies, Bison Hemp Extracts provides a COA (certificate of analysis) on all their products which are third-party lab tested for any contaminants like including pesticides, herbicides, mycotoxins, and heavy metals.
? Try Bison Hemp Extracts Full-Spectrum Tincture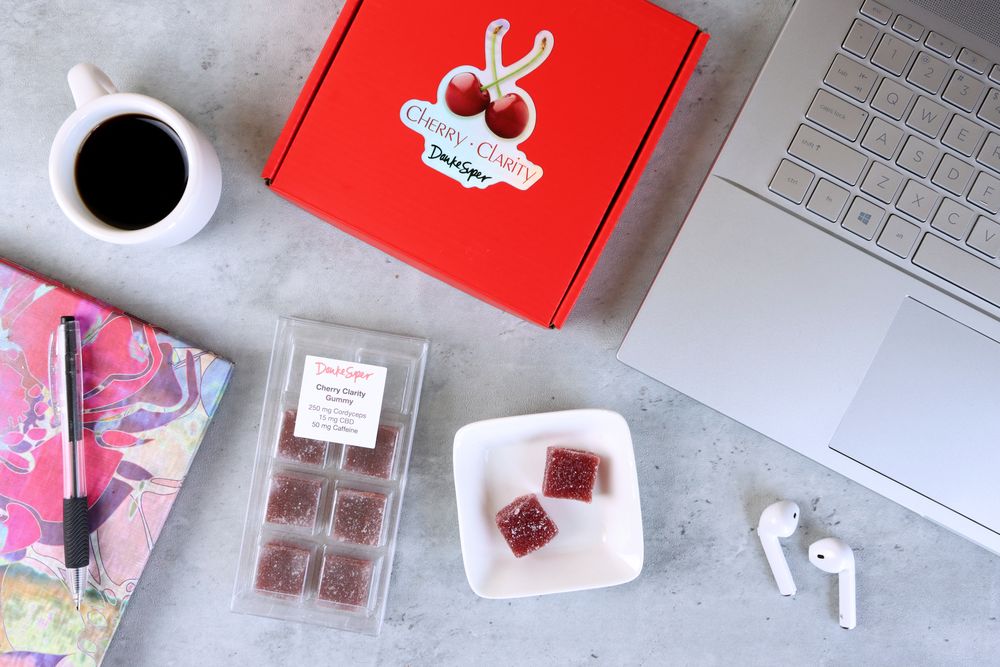 THIS INFUSED FUNCTIONAL CBD GUMMY WILL CUT THROUGH THE BRAIN FOG FOR PURE FOCUS AND MENTAL CLARITY
Type of CBD: Organic Full-Spectrum Hemp Extract
CBD per package: 
CBD per gummy square: 30 mg full-spectrum hemp extract + 5mg CBD
Additional Beneficial Ingredients: Cordyceps (250mg), caffeine (50mg) 
When to take: Morning or afternoon for calm focused energy and mental clarity
Flavor: Sweet Black Cherry
DankeSuper are experts at creating creative full-spectrum CBD and hemp products combined with the power of adaptogens for an enhanced CBD experience with extra body balancing benefits. For times when we need a dose of calm energy, combined with focus and clarity we reach for the DankeSuper Cordyceps CBD Clarity Gummies.
The organic and sustainably grown full-spectrum CBD in these gummies work to relax, calm and soothe anxiety while the small amount of caffeine (about the same as a shot of espresso), can lift your mood, give a gentle boost of energy and increase and improve cognitive performance. 
They also contain Cordyceps, an anti-aging adaptogen mushroom, used in Chinese medicine for centuries to treat fatigue and a variety of other conditions. It's often used to fight stress by lowering cortisol levels naturally while boosting cellular energy. It also encourages the balancing of blood sugar and hormones like estrogen and progesterone, which when out of balance can trigger anxiety.
Vegan friendly and made with delicious organic black cherries, we look forward to taking these gummies for that mid afternoon slump when you need to study, read, write or do any work that requires intense concentration and focus. They're also great to take right before exercising to increase performance and endurance.
Keep these little bites of calming focused energy in your bag or desk for when you feel like you're being pulled in a million directions and need to feel more clarity. All DankSuper super high-quality CBD is also non-GMO, cruelty-free, vegan, pesticide-free and third-party tested.
? Try DankeSuper Cordyceps CBD Clarity Gummy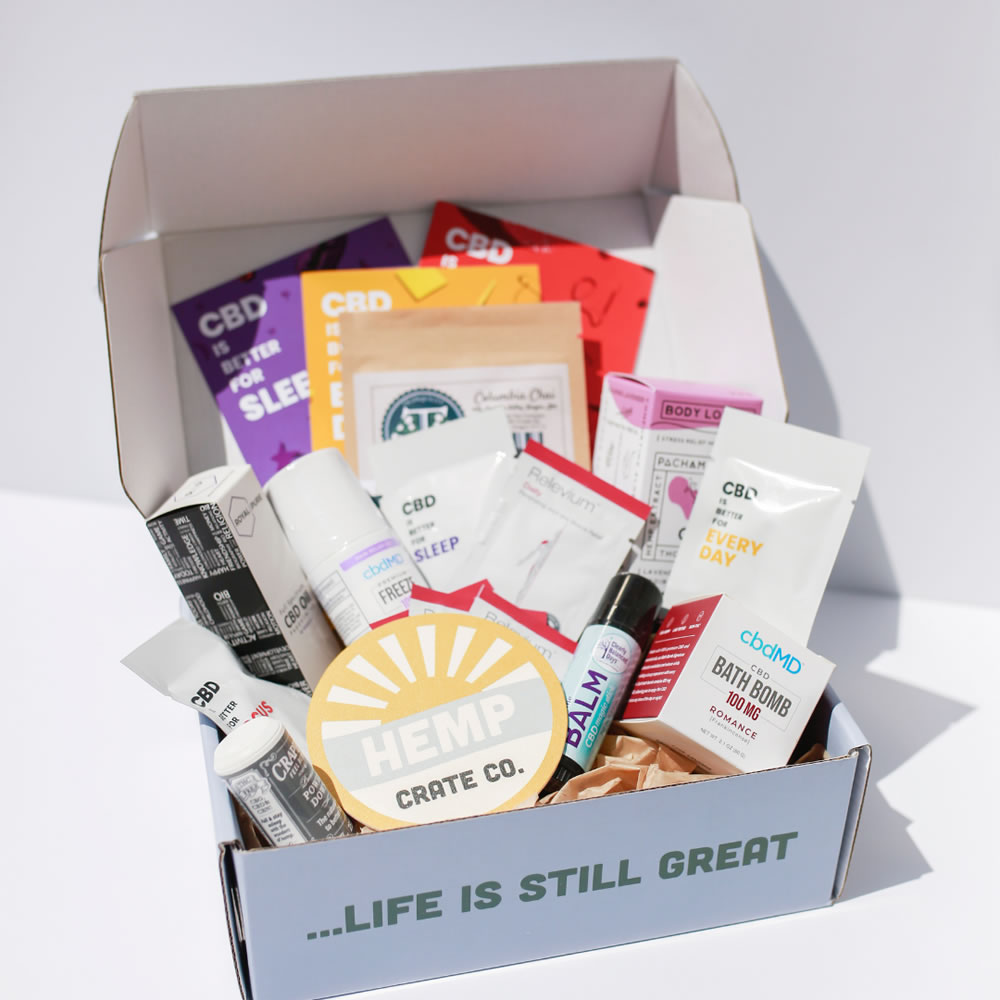 HEMP CRATE IS THE #1 CBD SUBSCRIPTION BOX AND THE MOST AFFORDABLE WAY TO TRY CBD. 
Navigating the CBD landscape can be confusing and expensive, but Hemp Crate makes it simple, affordable, and fun! Hemp Crate does the research on finding CBD brands with affordable prices and high quality products so that you can sit back, relax, and enjoy.
Let Hemp Crate take you on a CBD journey!  Each month, Hemp Crate provides a curated experience to help reduce anxiety, improve sleep, reduce pain and allow customers to discover the highest quality products and find their new favorites. There is no easier or more cost-effective way to experience CBD and find the products that work best for you. 
To keep anxiety at bay, we love the Hemp Crate Health & Wellness Subscription Box. 
In this day and age, we could all use some help with relaxing and restoring our minds and body. This monthly box features a wide assortment of tinctures, topicals, capsules, bath bombs, edibles and other items dedicated to your wellness. Sore muscles got you down? Looking for an overall boost to wellness and decrease in anxiety? This box is for you! There's over $125 value in every crate for just $49.99.
? Try Hemp Crate – Health & Wellness Monthly Subscription Box
Stay connected with us on social media platform for instant update click here to join our  Twitter, & Facebook