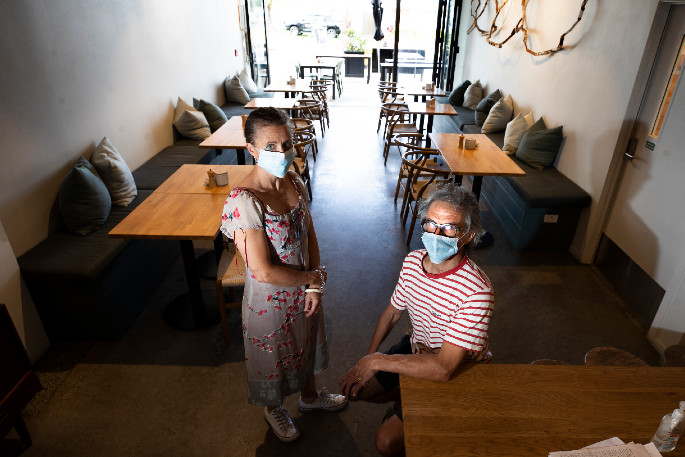 Tauranga City shops are feeling the effects of empty streets, with many people now working from home – not their usual CBD workplaces – due to the Omicron wave hitting the country.
"We're definitely feeling the impact," says Oscar and Otto co-owner Hamish Carter, of his Tauranga business located on The Strand, which offers café food from 8am daily and a restaurant from Wednesday to Saturday.
"We've been lucky enough to not have had staff need to isolate, but the people in the offices around our building are now working from home. They usually make up a lot of our customer base.
"The trouble for us isn't staff isolating, it's finding enough work for our staff with less customers around seeing businesses are working from home."
Other hospitality business owners are also feeling the impact.
The Barrel Room restaurant and bar on Wharf St has noticed a significant drop in activity since people have been working from home, says owner Stewart Gebbie. 
"Before the Omicron outbreak, we were running at about 80 per cent of what we had prior to Covid-19. Now after the current outbreak, we're running at about 60 per cent of what was our standard.
"I think things will return to normal pretty quick. My concern is what that 'new normal' looks like, and if policies regarding working from home will continue to affect the city.
"When it is sensible to do so, I would like to see businesses encouraging people to come back into the office to bring life back into the city."
Stewart also suggests it is not just the city's hospitality businesses that people need to look out for.
"It's affecting everyone, and it's no one's fault. People would go on their lunch break if they were working in town and buy things like a gift for someone. It wouldn't happen every day, but that adds up."
Western Bay of Plenty region's economic development organisation Priority One chief executive Nigel Tutt says the CBD as a whole has been impacted by people working from home or isolating during the surge of Omicron.
"We have certainly seen an impact. While I expect this to continue for a few weeks yet, businesses will be looking forward to getting staff back into offices as soon as they can.
"In the meantime, I'd encourage the general public to support our local hospitality and retail businesses."
Tauranga Chamber of Commerce CEO Matt Cowley echoes this sentiment.
"Corporates have been limiting the number of people working in their buildings and have been actively encouraging employees to work from home.
"This has impacted the number of customers in the CBD."
He also suggests how members of the community can help businesses during this challenging time.
"When the CBD workers flock back to their offices, they will want a good variety of shops, cafes and eateries to choose from. But they need to support them during this tough period.
"People can shop online, buy takeaways or pay deposits for welcome-back gatherings when everyone is allowed back in the offices after the Omicron peak passes."
Matt says now is a crucial time to support local businesses.
"We're a social community and people want to re-connect.
"We experienced strong bounce-backs after earlier lockdowns, but the rebound this time may not be as strong – particularly if it happens during the seasonally quieter winter months."