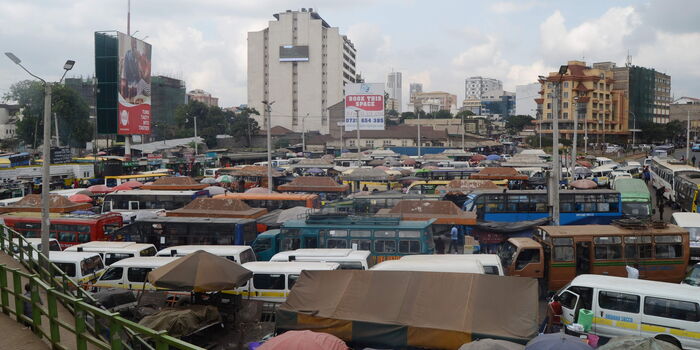 The first time I heard about Baba Otis was when I travelled to Nairobi for my first job interview.
As a young man keen to make a mark in the city, my ambitions were high. I was quite naive about the city and I walked clutching my envelope by my side. I don't even know why I carried documents yet I had sent soft copies.
I bet the brown A4 envelope is a trademark for every job seeker. Even when you are dropping a parcel in town, someone will look at you with eyes that say four things. 
"I pray for you to get that job." "We are all in this together." "It is what it is." "This government has finished us." 
Another trademark look is a clean-shaven head for the boys and new clothes for the ladies, save for these days when employers allow all kinds of looks. It's a free society nowadays. Back in the days, I heard you couldn't walk in with shaggy hair, unironed clothes and dusty shoes. 
With my dusty shoes,  I passed by the shoe shiner at the CBD terminus. But this was one kind of a different one. 
"You are new to the city," he said as I sat and put my envelope to the free seat next to me. I felt like the envelope felt relieved from my grip. I nearly squeezed the life out of it.
If it were alive, it would have screamed "Young man, I hold your future!"
"Yes, I just arrived and am heading for….
He cut me short, "…an interview." I nodded. He untied my shoes, pulled out the lases and folded my khaki trousers. Brand new, I forgot to add that. 
Traffic snarl-up at Uhuru Highway in Nairobi in March 2020.
Kenyans.co.ke
It was around 10 a.m. and traffic at the shoe shiner was low. A young amazing girl, I'd say in her mid-twenties passed by and I stared her way as she swayed into the public. "Dreams are valid," the voice in my head stated. 
Baba Otis was a storyteller. I don't know if this was his way of making newcomers feel comfortable in the city. 
In a moment, we were talking about how I saw the city, listening to his advice on how to survive and save, how to identify scammers and how to impress my boss. 
"Remember to send the chama money, jakom," his peer, I believe, shouted. Baba Otis nodded and added a few vernacular words I did not comprehend. 
"I have met a lot of job seekers and those who pass by my hands come back later to celebrate," he stated as he applied his mastery on my shoes. 
He swung the shoe brush right left to a certain rhythm, pausing to smile and state how he linked others with jobs he saw advertised on the newspaper and digital websites. 
"I have been here for seven months now. Many people do not read. They hate studying. They want to sit at home and be called in for a job. Some people have learnt of jobs here, others from Whatsapp and Telegram groups we opened to share links and adverts and apps that advertise jobs," he added. 
"For me, I sired my son when I was in my first year on campus and It opened my eyes. I got my Helb loan, bought two motorbikes that are generating income back in the village," he added.
That answered the question I wanted to ask before. He appeared young and knowledgeable. I'd say a year or two older than I. 
He was in college. "Yes, I am at a college in the CBD, wrapping my degree in Business Management. I started with a diploma and after I am done, I will be on my way to access my rich network of clients I met here. 
"My internship ended right before the pandemic broke out and I was to get an office job to balance my class, but we all know the aftermath. I assist my uncle here part-time, play soccer with the campus team and create content online," he added.
As we were wrapping up, a middle-aged guy walked and approached the seat where my 'future', the envelope was resting, before I squeezed it again. 
He sat, tossed his car keys and Baba Otis switched focus onto him as he allowed me to buy some minutes before I took a matatu to Upper Hill. 
The two spoke on how the guy's business was fairing but what caught my attention was the digital business he was struggling with. They were somewhat acquainted and I bet the guy brushed his shoes here and used to pick Baba Otis' brains on some issues. 
"But you always bank with Co-op Bank, Frank. For online payment for businesses, check if I recall a Chapa Pay service. I saw an advert on a new website I have subscribed to. Let me cross-check. Yes, here it is," he pulled his phone and I also rose to read. 
"It says that you can get more customers by accepting online card payments via Chapa Pay, which is Co-op Bank's eCommerce solution!" With Co-op Bank eCommerce you receive a unique link (Pay-By-Link) that you'll use to invoice their customers. 
A Co-op bank e-commerce advertisement
Co-op Bank
The shoe shiner explained that you will not incur any cost to get the Pay-By-Link solution as it is free to get on board. If a customer makes a wrong payment, you can reverse the payment without calling the bank for a reversal," he added, stating that he was also setting up an online website for his wife soon and he would consider Co-op Bank's Chapa-Pay.
Frank tipped him, as usual, I guessed and walked straight into his car heading to the nearest Co-op bank.
"Genius my guy, genius," he stated. 
I almost ran late till Baba Otis reminded me that I was set for a job interview. But I was still 1 hour early. I left for Upper Hill. 
Two months later, when I passed by the shoe shiner, I learnt that Baba Otis was due to graduate in December this year but was interning at a firm in CBD. 
His former colleagues spoke highly of him.
"Youths in university should learn from him. Let them lay their hands on any job offers they get, and any income opportunity before finishing their tertiary education and opting for something better," his uncle stated, adding that he was so proud of him.