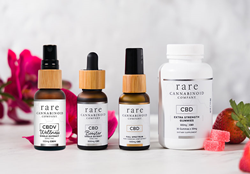 One in 44 American children has been identified to have autism spectrum disorder.

HONOLULU (PRWEB)
March 01, 2022
Rare Cannabinoid Company, a leading CBD and hemp cannabinoid company in the United States, has announced its support for the Autism Summit this April in the form of sponsorship and donation of CBD and CBDV oil products.
"One in 44 American children has been identified to have autism spectrum disorder," said company co-founder Jennifer Carlile, citing a recent CDC report. "Autism affects so many people; the expert speakers at this free virtual event can educate and help in so many ways," she said.
People with autism have different ways of thinking, communicating, understanding, being, and feeling. This spectrum of differences can make it more difficult for them to communicate and interact socially with others. Autistic people may also exhibit repetitive behaviors, agitation, irritability, and suffer from sleep deficits.
A number of recent studies on CBD for autism have shown positive results on symptoms. CBD oil is well known for promoting calm, balance, and stress resilience. Meanwhile, a less-known cannabinoid, CBDV (cannabidivarin), is also making headlines for research into CBDV and autism.
What is CBDV? Like CBD, CBDV is extracted from hemp and is not intoxicating, which means that it doesn't get people high. CBDV benefits include social, behavioral, and memory support. Other potential CBDV effects have been documented in animal and human research on seizures, autism and Rett syndrome (which also falls under the autism umbrella).
This 2019 rodent study on CBDV and autism reports "the data provide preclinical evidence in support of the ability of CBDV to ameliorate behavioral abnormalities resembling core and associated symptoms of ASD."
Several other studies on CBDV and autism look at how CBDV may normalize brain function and affect brain excitation and inhibition. Rodent studies on Rett syndrome (a form of autism) found CBDV improved sociability, memory, cognitive, neurological, and motor function. This study says "Cannabidivarin completely rescues cognitive deficits and delays neurological and motor defects" in a mouse model of autism. CBDV is also currently being studied in 100 children with autism spectrum disorder.
Meanwhile, studies on CBD for autism continue to show positive results. In this 2018 study on CBD and autism, 80% of children given CBD oil saw a decrease in problematic behaviors, according to their parents. In a separate 2018 study, about 70% of autistic participants taking CBD oil had fewer instances of self-injury and rage attacks and a similar amount slept better.
For links to ten recent preclinical and clinical studies on CBDV and CBD oil for autism, see this article: CBD Oil for Autism: Can CBD or rare cannabinoid CBDV help?
While people can easily buy CBD online and in stores, it is much harder to find CBDV for sale. In fact, Rare Cannabinoid Company is the first and only company manufacturing and selling a finished CBDV oil product.
"Customers were asking for pure CBDV as all the CBDV for sale was either full spectrum CBD oil with slightly higher trace amounts of CBDV or a CBDV isolate powder that they would need to heat, mix with a carrier oil, and formulate themselves," said Carlile.
"Our CBDV oil tincture contains 500 mg CBDV in certified organic MCT coconut oil," she said. "This is a high concentration of CBDV without anything else."
In addition to its sponsorship commitment to the Autism Summit, Rare Cannabinoid Company is donating multiple bottles of the following products to the summit's Giveaway of more than $10,500 worth of prizes:

Please note that these products are not intended to diagnose, treat, cure or prevent any disease, or for use by people under the age of 18. Always consult a doctor before taking any new supplements.
Sign up for the Giveaway here.
The Autism Summit takes place April 1 through 4, 2022. Held virtually, the event will bring together psychologists, researchers, speech and occupational therapists, nutritionists, educators, advocates and more autism experts. They offer free talks on topics including sensory solutions, social skills, executive function and motor skills, mental health and anxiety, and much more.
Get your free pass to the Autism Summit here.
Rare Cannabinoid Company is an American company based in Hawaii. It is the premier rare cannabinoid product manufacturer, producing tinctures and gummies of cannabinoids CBDA, CBD, CBDV, CBC, CBG, CBN and THCV as well as terpene-only tinctures for relaxation and discomfort relief.
The company's mission is to help people create their own personalized cannabinoid and terpenes blends for their specific needs. For example, THCV (tetrahydrocannabivarin) acts like a stimulant and appetite suppressant. THCV oils and gummies are best taken in the morning for energy, exercise support and may aid weight loss. Effects can be heightened with a full spectrum CBD or CBD booster. Meanwhile, CBG (cannabigerol) is the best cannabinoid for relieving discomfort, soreness, and inflammation after exercise and supports healthy joints. This makes CBG oils and gummies ideal for post-work out aches and pains. They can be taken with CBD gummies or oils or Relief terpenes for added comfort. At night, CBN gummies and oils promote relaxation and sleep. CBN effects can be heightened with Relax terpenes and CBD.
The brand's entire apothecary line of cannabinoid gummies and oils can be mixed-and-matched in this way for customized care as each cannabinoid offers unique health and wellness benefits. Cannabichromene, or CBC oil, elevates mood by raising levels of the brain's "bliss" molecule anandamide. Cannabidiolic acid, or CBDA oil, is good for nausea and immune support.
Rare Cannabinoid Company creates new products as more rare cannabinoids become available and customers show interest in them. They will soon be launching a Support+ oil containing CBDA, CBGA (cannabigerolic acid), and full spectrum Hawaiian CBD. For safety and transparency, all products are made in a cGMP-certified facility and are third-party lab tested with results online and via QR code.
The specialist brand grew out of its sister company, Hawaiian Choice, a luxury lifestyle Hawaiian CBD brand established in 2017. Hawaiian Choice uses broad spectrum Hawaiian CBD and infuses its products with organic terpenes and Hawaiian fruits, essential oils or honey.
Both brands' oils, topicals and gummies can be found in more than 250 locations across the United States, by prescription in Brazil, and Hawaiian Choice is sold in Japan. Brick-and-mortar stores interested in stocking either brand can receive information and request a wholesale account at wellnessorders.com.