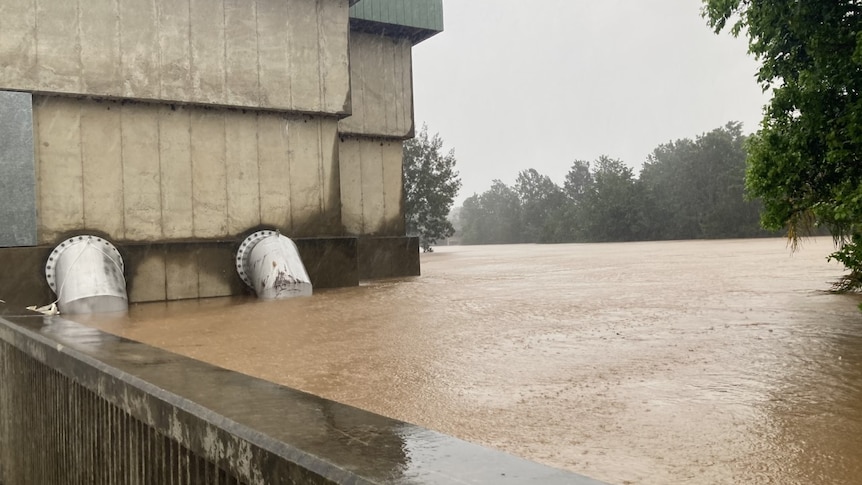 The breach of Lismore's flood levee is imminent, as fresh evacuation orders are issued further south for parts of the Mid North Coast amid heavy rain in the already sodden region.
Key points:
Lismore's levee is set to over top as the Wilsons River continues to rise
Several areas up and down the North and Mid North Coast are underwater due to flash flooding
Fresh evacuation orders have been issued for east Bellingen, Newry Island, Urunga CBD and Bellinger Keys
Wilsons River has now risen to 10.89m. The levee top is at 10.6m but authorities say it hasn't been breached yet.
Intense rain led the State Emergency Service (SES) to urge residents of the town's CBD, as well as Lismore Basin, East Lismore and Girards Hill to leave overnight.
It was the second evacuation order for the town in 24 hours after the all-clear was given to return with caution yesterday afternoon.
Residents in parts of east Bellingen, Newry Island, Urunga CBD and Bellinger Keys have also been told to leave immediately, and the Bellinger River Caravan Park was evacuated last night amid major flood warnings.
Several towns have been inundated by flash floods, including Byron Bay's CBD and parts of Ballina.
Bureau of Meteorology senior meteorologist Neil Bennett said there could be further rises to the Wilsons River this afternoon.
"Within the system there will be bands of very localised heavier rainfall which will also affect the catchment," he said.
"It is being monitored very closely and we will be reacting quickly to new information that comes in."
An evacuation centre has been set up at Lismore's Southern Cross University.
'Life threatening'
Loading
Mr Bennett said he could not overstate how dangerous the situation across the North and Mid North Coast was. 
"We are expecting to see some wide-ranging areas with six-hourly rainfall totals between 80mm and 140mm, but they could reach up to 200mm over the coastal areas.
"Embedded in those thunderstorms will be extremely heavy rain," he said.
Over the past 20 hours, Alstonville has seen 370mm of rain fall and Byron Bay 245mm.
Road closures
John Pearson from the Transport Management Centre says multiple roads around the region are closed due to water over roads.
These include the Pacific Highway, one of two major transport routes into the northern rivers.
"The Pacific Highway is closed in both directions between Wardell and Tintenbar due to flooding. Around Lismore, the major road, Bangalow road is closed in both directions between Zaidoc Street and Coleman Street.
"The Summerland way between Grafton and Casino is closed near Leeville due to water over the road," he said.
Loading
PM says flood scenes 'distressing'
Speaking on ABC News Breakfast this morning, Prime Minister Scott Morrison described the scenes of Lismore's flooding as "distressing". 
"The trauma of these events, it must be unbearable for people up there in and around Lismore today," Mr Morrison said.
He said it was heartwarming to again see images of Australians helping each other, "which is good character".
The PM said that 3,200 defence force have been deployed to help in the area, working alongside the state's SES.
Threat on the Mid North Coast
The Mid North Coast has also experienced heavy falls overnight, prompting evacuation orders and warnings.
The BoM said conditions should ease for the northern rivers region during this morning, as the low moves slowly south, concentrating around the Coffs Harbour area, which has already seen 223mm of rain since 9am yesterday morning.
Elsewhere, 289mm of rain has been recorded in Bellingen and 267mm in Dorrigo.
"This is like a little bullseye peak [of] severe weather but there is more of a general area that is going to experience some heavy rainfall and that stretches from the north district in towards the Northern Tablelands and down into the Mid North Coast," Mr Bennett said.
Bec Newcombe from the Urunga SES said the park, right at the mouth of the river was evacuated quickly, while doorknocking has been carried out on Newry Island at Urunga where there is an evacuation warning.
"The Urunga township should be OK, our concern will be high tide this morning," she said.
The high tide is due to hit at 9:45am.
Late yesterday, Lavender's Bridge at Bellingen was under water and motorists are advised to avoid Waterfall Way, which is closed in both directions between Thora and Dorrigo Mountain due to a landslide.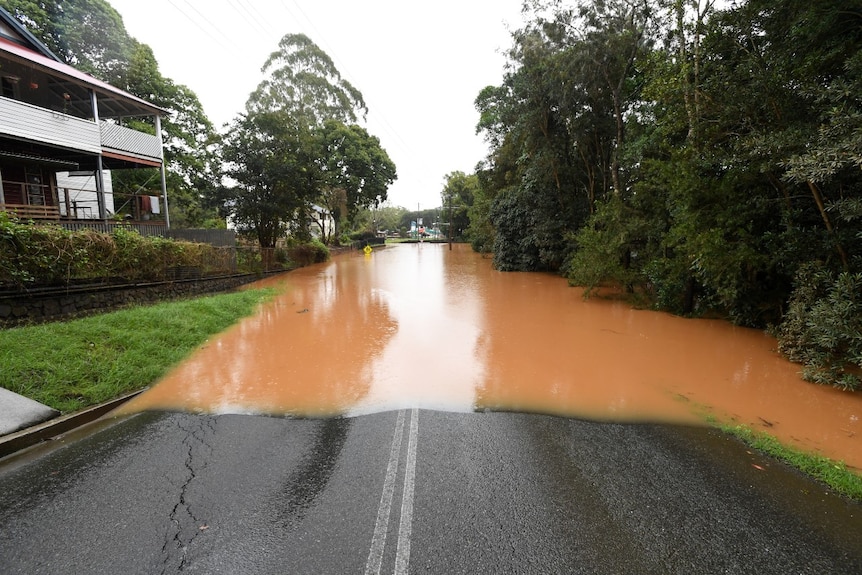 Flood rescues
The intense rainfalls and flash flooding has seen 14 flood rescues overnight and 28 over the past 24 hours.
Northern NSW SES Incident Controller Barry Griffiths said four people were rescued in Suffolk Park with the remainder of rescues around Coffs Harbour, Casino, Coraki and Ballina.
"It was a pretty good number for the amount of rainfall … most were legitimate rescues of people needing to be evacuated from their homes because of flash flooding in the area that they were in, and not so many vehicle rescues which is quite good," he said.
More to come.
Loading
Loading form…