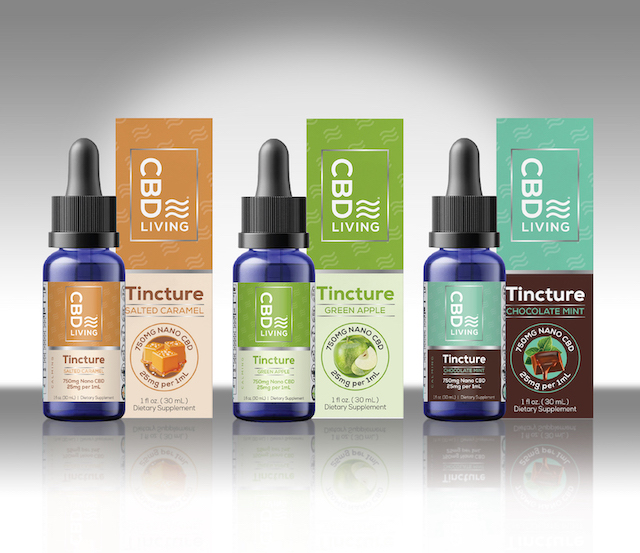 CBD Living today announces three new flavored tinctures to its already robust line – Salted Caramel, Green Apple and Chocolate Mint. Each bottle contains 750 mg of Broad Spectrum Nano CBD and is Vegan, Gluten-Free, Certified Kosher, Non-GMO and 100% THC-free.
CBD Living Tinctures are manufactured using the company's Proprietary Self-Emulsifying Technology, which allows oil soluble nutrients to be delivered in an oil formulation. As soon as the oil hits the stomach's aqueous media, a water soluble micelle structure is formed with a particle size of <100 nanometers. The droplets are carried from the lymphatic system directly to the bloodstream for fast, sustained relief.
"We had great feedback from our Mixed Berry Energy Tincture and Citrus-flavored Immunity Tincture, as well as our seasonal flavors like Pumpkin Spice and Candy Cane," says CBD Living COO Sean McDonald. "These three new flavored tinctures are the result of a lengthy product development process to create the most delicious flavors on the market."
All CBD Living products are manufactured using 100% organic hemp grown on state-licensed hemp farms in Oregon and Colorado, and are triple-tested by third-party independent labs, with the results posted online. All CBD Living products contain absolutely zero THC, and are made in the USA.
CBD Living products are sold nationwide in over 5,000 stores. Click here to find a retail location near you. All products are also sold online, with free shipping to all US states on orders over $75.
For more information on CBD Living, please visit www.cbdliving.com. For sample requests, please contact [email protected].
About CBD Living:
CBD Living is one of the fastest-growing global cannabidiol (CBD) manufacturers and distributors, with more than 100 products in 5,000 stores and shipping to consumers worldwide. CBD Living's prestigious in-house scientists break down CBD into nanoparticles, allowing the CBD to pass through the blood membrane for enhanced absorption. This proprietary technique leads to up to 90 percent bioavailability, compared to 10-15 percent bioavailability when consumed in a traditional CBD product. From the original CBD Living Water product to CBD gummies, chocolates, freezes, tinctures, bath bombs, teas, coffees and more, CBD Living is constantly innovating to bring the future of CBD to consumers today. For more information, please visit www.cbdliving.com.