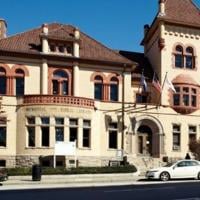 When you think of the library, words like "running" or "fitness" may not immediately enter your mind, but perhaps they should. After all, for 57 years our beautiful building was also home to a popular gymnasium … not to mention the bowling alley! The gymnasium was closed in 1952 when the YMCA was built, but we're still interested in finding new ways to encourage health and wellness through library resources and programs. This brings me to the Westerly Library and Wilcox Park Run Club, which is about to start up for its third year.
If the mere mention of the word "run" gives you heart palpitations, hear me out! The club is meant for beginners, and inspired by the immensely popular "Couch to 5k" (C25K®) exercise plan that was developed in 1996 by Josh Clark. As the name suggests, the plan helps participants go from self-identifying couch potatoes to 5k distance runners in a couple of months … and it has been very successful doing just that. Clark's plan requires just three workouts a week for eight weeks. During each workout, participants alternate between running and walking, slowly building stamina and increasing the time spent running while decreasing the walking periods. In no time at all, you find yourself running a full mile straight … and then two, and then three!
The C25K® plan on its own is great, but starting (and maintaining) a new exercise regime by yourself can be hard. Here's where the library Run Club comes in! Members will start the plan together and meet once a week for group runs, during which we motivate one another, hold each other accountable, and — yes — do plenty of commiserating together, too. We meet every Monday in April and May from 4-4:45 p.m. at the fountain in Wilcox Park for our run, which also takes place in the lovely park. There is no registration required, no fee for participating, and no previous running experience necessary. All you have to do it show up in comfortable clothes/sneakers, and we can get started.
If you want to know more, I'll be holding a brief information session via Zoom on March 25, or you can contact me at cskobrak@westerlylibrary.org. I hope you'll join me for our first group run on April 4, where I'm happy to share some running tips and tricks, act as cheerleader, and talk ad nauseam about food, cats, or the various running-related materials here at the library — anything to distract you from the actual act of running and get you to the finish line. I'm here for you!
Top Requested Books
1. "The Lincoln Highway" by Amor Towles
2. "The Paris Apartment" by Lucy Foley
3. "The Maid" by Nita Prose
4. "Wish You Were Here" by Jodi Picoult
5. "Run Rose Run" by James Patterson
6. "One Step Too Far" by Lisa Gardner
7. "The Match" by Harlan Coben
8. "The Recovery Agent" by Janet Evanovich
9. "22 Seconds" by James Patterson
10. "Dream Town" by David Baldacci
Top Requested DVDs
1. "Belfast"
2. "House of Gucci"
3. "Encanto"
4. "Sing 2"
5. "All Creatures Great and Small: Season 2"
6. "The Beatles: Get Back"
7. "Matrix Resurrections"
8. "West Side Story"
9. "Nightmare Alley"
10. "The 355"
This Week at the Library
MONDAY — 10 a.m.-7:30 p.m., Crafternoon To-Go – This month, we're making beautiful button art! Pick up your kit in Reference while supplies last; 6-7:30 p.m., Monday Movie Night – Join us once a month in the auditorium for a free movie screening! This month, we're showing an Oscar nominated film starring Caitriona Balfe, Judi Dench, and Jamie Dornan. No registration is required.
TUESDAY — 10-10:30 a.m., Family Storytime – Join us on Tuesdays in the Terrace Room for a family storytime! The program will be geared towards ages birth through 11 years when accompanied by a caregiver; 1-4 p.m., Community Resource Advocate – Our volunteer Community Resource Advocate is available via email to help connect you with local services/resources. Contact her at advocate@westerlylibrary.org; 2-3:30 p.m., Virtual Tech Social – We meet on Zoom every Tuesday to address your tech questions. Preregistration is required; 5:30-7:30 p.m., Knit and Crochet Club – The Knit and Crochet Group is meeting on the 2nd floor of the library. Masks are highly recommended; 6-7:30 p.m., Active Bystander Training – Join Managing Partner of Organizational Ignition, James McKim, for an interactive training that will give you the tools to help you respond effectively when you witness bullying or discrimination. This is a hybrid program, which you can participate in online via Zoom, or in person in the library auditorium. Please register online at www.westerlylibrary.org.
WEDNESDAY — 6-7 p.m., Community Book Discussion | The Sum of Us – Join the Westerly Anti-Racism Coalition (ARC) and Westerly Library & Wilcox Park on Zoom as we discuss "The Sum of Us: What Racism Costs Everyone and How We Can Prosper Together" by Heather McGhee. Copies of the book will be on hold at the circulation desk. Register at www.westerlylibary.org..
THURSDAY — 4-4:30 p.m., Teen Book Club – Join our Teen Book Club to chat about a book you are currently reading, and get recommendations from fellow teens on what to read next! Please email teens@westerlylibrary.org at least one day in advance to register; 5:30-6:30 p.m., Zumba in the Park and Library | Turn It Up and Tone – Please join us for a free Zumba class with Yvonne Brown and Tina Pagliusi; 5:30-7:30 p.m., Chess Club – Want a chance to hone your skills against a variety of players, including two state champions? Drop by the library's Old Main Reading Room for our weekly Chess Club. Players of all skill levels are welcome; 6-7 p.m., Health and Wellness Book Group – Join us on Zoom for our newest book club! This month, we're discussing "52 Small Changes for the Mind" by Brett Blumenthal. Email cbadowski@westerlylibrary.org for meeting details.
FRIDAY — 4-5 p.m., Couch to 5k Run Club: Information Session – Our Couch to 5k Run Club is starting up for the 3rd year on April 4th! Join us for a brief information session on Zoom, which should answer any questions you have. Registration is required, and can be done at www.westerlylibrary.org.
SATURDAY — 10:30-11:30 a.m., Zumba in the Park and Library – Try out Zumba for a fun workout! Classes are FREE and will be held on the grassy area near the gazebo (weather permitting) or in the 3rd floor Terrace Room (in undesirable weather).
Cassie Skobrak is a reference librarian at the Westerly Library & Wilcox Park.