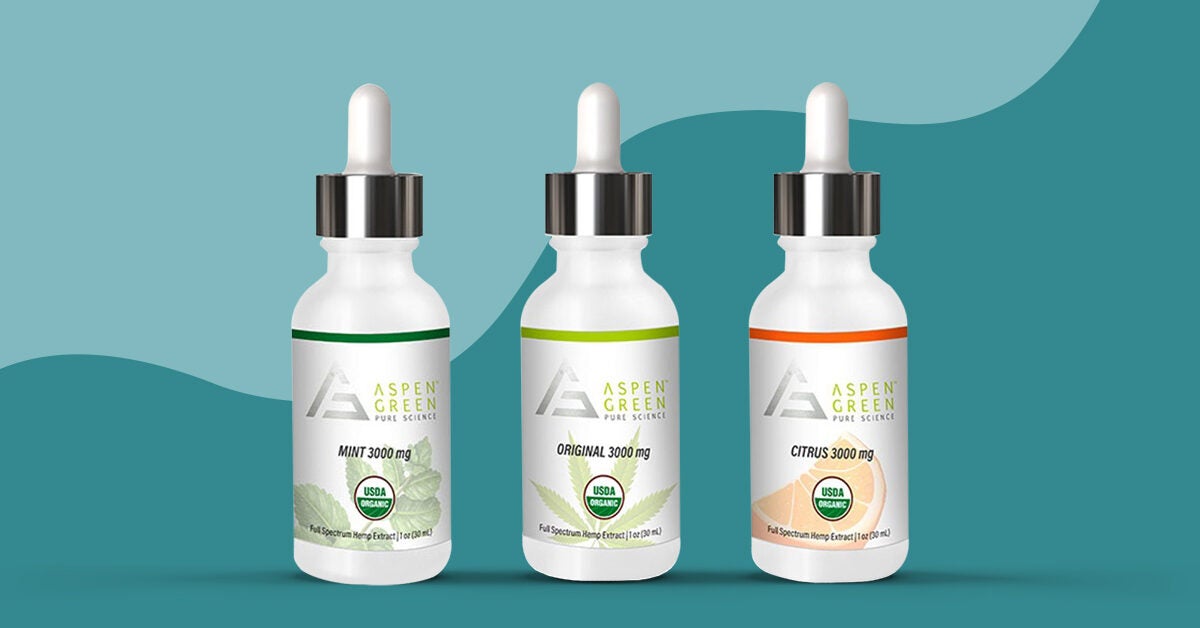 Cannabidiol (CBD) is one of the natural compounds found in the Cannabis genus of plants. CBD does not produce a "high" like tetrahydrocannabinol (THC) does. CBD can be extracted from hemp or cannabis and is federally legal.
Aspen Green is an award-winning, American-made CBD and hemp producer based in Colorado and certified with the U.S. Department of Agriculture (USDA). They have products ranging from CBD oil to pain relief topical creams. Aspen Green offers third-party tested CBD products without genetically modified organisms (GMOs).
Let's dive into the brand and their products, which our editor tested hands-on.
We chose these products based on criteria we think are good indicators of safety, quality, and transparency. Each product in this article contains no more than 0.3 percent THC, according to the certificate of analysis (COA). Each product also passes tests for pesticides, heavy metals, and molds, according to the COA.
We also considered Aspen Green's certifications and manufacturing process, product potency, overall ingredients, and customer reviews.
Pricing guide
$ = under $85
$$ = $85–$145
$$$ = over $145
Price: $$$
COA: available here
Sold in original, citrus, and mint, this Aspen Green full-spectrum CBD oil is USDA certified organic. CBD oil is known for its multiple benefits. It may relieve pain, help reduce mental health symptoms, and improve sleep, although more research is needed in all areas.
Healthline editor Christy Snyder tested all three flavors available from Aspen Green. Her favorite of the three was citrus — she enjoyed the orange flavor. All three flavors have a slight hemp aftertaste to them.
The dropper has a handy measurement marker on it, so you know how much CBD you are taking. Their website has a great dosing guide to guide you through the first 12 days of taking CBD. To take it, shake the bottle first.
Aspen Green says to take the product twice per day to build up the CBD in your system, or as recommended by your doctor. They recommend holding the oil at the back of your gum line, near where your wisdom teeth would be. Do this for 2 minutes and then swirl in your mouth before swallowing.
Snyder found that all three flavors helped her relax and fall asleep well. Aspen Green also offers their Full Spectrum CBD Oil at 2,000 milligrams per bottle ($$) and 1,000 milligrams per bottle ($).
Price: $$
COA: available here
The balm feels light and is not greasy. It has the texture of a lip balm or beeswax. Snyder found it a little difficult to get out of the container, but much easier to work with once she warmed it with her fingers. Aspen Green recommends massaging a pea-size amount firmly into your skin and adding more if needed.
Price: $
COA: available here
This cooling cream is soft and luxurious, and you can massage it into sore muscles or tight spots on your body for almost instant relief. Our editor used this muscle relief cooling cream on her lower back to ease some sciatica pain. Snyder highly recommends this product!
Aspen Green has a great reputation among their buyers.
Right now, the company doesn't have a Better Business Bureau (BBB) rating. But they also don't have any Food and Drug Administration (FDA) warning letters and haven't been involved in any lawsuits. That's a good sign compared with other brands that have been warned by the FDA or are subject to lawsuits related to safety or quality.
Each Aspen Green item has a list of ingredients and terpenes on its product page. Lab purity tests are also available for each product, which are done by a third-party laboratory, Botanacor Laboratories. The COAs include a cannabinoid and terpene profile, as well as tests for pesticides, metals, and residual solvents for all products.
When choosing an Aspen Green CBD product, consider:
How you want to take CBD. If you're looking for something versatile, go with an oil. You can take oils sublingually (under your tongue) or add them to food or drinks. If you want something easy and convenient, a gummy might be your best bet.
What issues you're hoping to target. If you're dealing with localized pain or inflammation, opt for a topical product, like Aspen Green muscle relief cooling cream. If you're looking for something to help with a whole-body issue, like anxiety or sleep, you might be better off with an oil or gummy.
Whether the taste of hemp bothers you. "Natural" or unflavored products can have an earthy taste. While some people enjoy this, others don't. Flavored products use essential oils or other flavorings to mask the taste of the hemp.
Before you start using any CBD product, make sure you understand how to get the right amount for you. Effective dosages can vary a lot from person to person.
Often, the packaging will say how to use the product and what the recommended serving size is. But if you're ever unsure, start with a low dose. From there, you can see how your body reacts and adjust based on your desired results.
Topicals can be tricky to dose. A good rule of thumb is to use about as much as you would with a non-CBD topical product.
While 2017 research suggests CBD is generally safe to use, it also has side effects that you want to look out for:
fatigue
diarrhea
changes in appetite
changes in weight
Talk with your doctor before trying CBD, especially if you're taking any medications. CBD may interact with some medications.
Another thing to consider when consuming CBD is ingesting it alongside high fat meals. In a small 2020 study, high fat meals severely increased CBD blood concentrations, which can increase the risk of side effects.
Who owns Aspen Green?
Aspen Green is a family-owned company. It was founded by two couples: Brandon and Heather Lewis, and Kyle and Valerie Chong. Brandon and Kyle grew up and went to college together, and have owned and operated businesses together for 20 years.
Are their products organic?
Yes, all Aspen Green products are organically grown under clean and strict farming conditions.
Where is Aspen Green grown and processed?
Aspen Green hemp is grown and processed in the Rocky Mountains of Colorado.
Do they offer a military discount?
Aspen Green offers a 35 to 60 percent discount to the military, first responders, medical personnel, teachers, students, and disadvantaged people. Check out their assistance programs page for more specific information and codes.
What is their return policy?
All Aspen Green products have a 60-day customer satisfaction guarantee. Their return policy states that if you want to make a return, you need to contact them to return the unused portion of the product. A full refund will be issued to you once they receive the product.
Where does Aspen Green ship?
Currently, Aspen Green ships to inside the United States only. Shipping is free for orders over $74. They are unable to ship to PO boxes. All orders placed by 5 p.m. MT (not including holidays) will be shipped by UPS ground from Colorado and will take 3 to 7 business days depending upon your location in the United States. They also offer priority shipping, which is 2 days via UPS shipping.
Is CBD legal? The 2018 Farm Bill removed hemp from the legal definition of marijuana in the Controlled Substances Act. This made some hemp-derived CBD products with less than 0.3 percent THC federally legal. However, CBD products containing more than 0.3 percent THC still fall under the legal definition of marijuana, making them federally illegal but legal under some state laws. Be sure to check state laws, especially when traveling. Also, keep in mind that the FDA has not approved nonprescription CBD products, and some products may be inaccurately labeled.