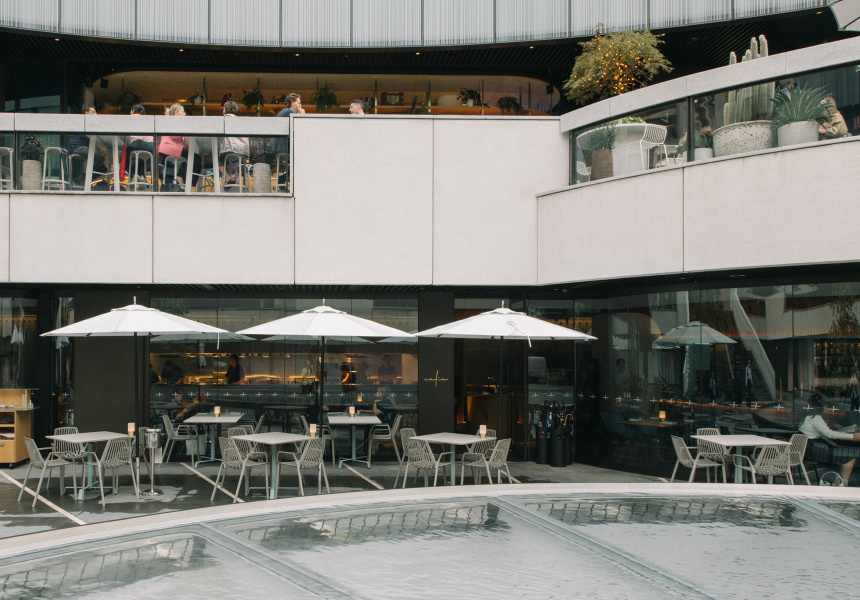 For a city with such a large Middle Eastern population, there are only a handful of Middle Eastern restaurants in Sydney – most still found in the western suburbs. So when the group behind Nour, Henrietta and Lilymu were approached by Dexus, the property group that owns and operates Harry Seidler's iconic MLC Centre, they decided to open a new Middle Eastern restaurant as part of the building's $170 million transformation.
What they've come up with is Aalia (Arabic for "highest point"), a restaurant that highlights techniques, ingredients and dishes from lesser-known regions of the Middle East and North Africa, including Lebanon, Iraq, Egypt, Turkey and the Emirates. At the helm is chef Paul Farag (executive chef at Nour, ex-Fish Butchery and Monopole), who uncovered some of the dishes by studying cookbooks dating back to the 10th century.
"We thought it's about time someone brings and showcases Middle Eastern food into the city in an exciting way," says co-founder Ibby Moubadder. "When everyone thinks of Middle Eastern food, they think of tabouli, falafel, meat skewers, hummus and baba ganoush, but Middle Eastern food is so much more than that … So Paul Farag, who is Egyptian by heritage, thought if we want to do this then we want to push boundaries and do something that's never been done before – not just in Sydney, but anywhere."
Take, for instance, the masgouf which is considered the national dish of Iraq. Typically, the dish is cooked using a freshwater fish (with scales on) over a charcoal grill. At Aalia, the fish of choice is a Murray cod, which is cooked with the scales on to "pay respect to the traditions", before it's glazed in garlic, turmeric, tamarind, and the juices of apples and pineapples to create a sweet and sour flavour.
Foie gras served with pickled grapes and broad beans is another dish on the menu, which Moubadder says was discovered to have origins in the Middle East. "When you think of foie gras, you think French. But if you read the cookbooks, it actually mentions that foie gras originated from the Nile in Egypt."
The kitchen has also recreated a popular 10th century Iraqi condiment called murri that is traditionally made from fermented barley using anchovy molasses served with raw tuna.
A sophisticated cocktail list uses ingredients from the kitchen such as halva, turmeric and tamarind to complement the restaurant's dishes. There are also wines from Syria, Jordan, Turkey and Morocco, as well as a bunch from Australian female wine producers including South Australia's Petaluma and Bellwether, and Western Australia's Dormilona.
Like its menu, the fit-out is purposefully unlike any other Middle Eastern restaurant. Instead, designer Matt Darwon (Automata) has created the 150-seater venue in a way that seamlessly emulates the architecture of the iconic Seidler "mushroom" building, which the restaurant overlooks. This has been created with a curvaceous timber ceiling and bar and using the same grey concave concrete pattern for the kitchen walls.