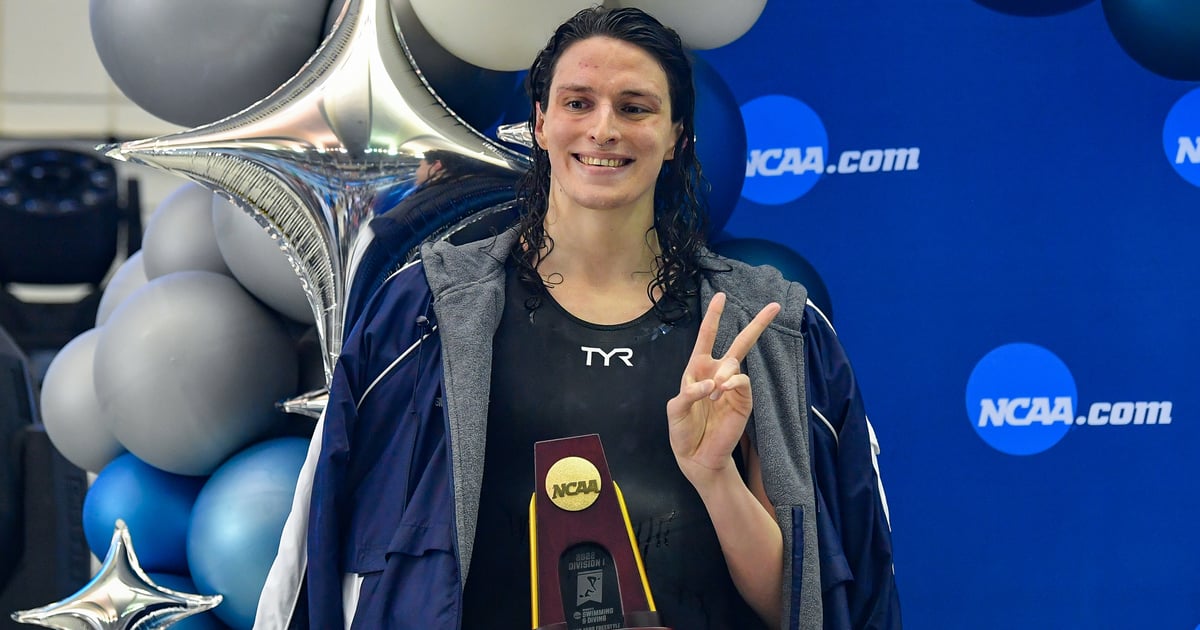 Image Source: Getty / Icon Sportswire
On March 17, swimmer Lia Thomas, a fifth-year senior at the University of Pennsylvania, became the first transgender athlete to win an NCAA Division I title in any sport. She clinched victory in the women's 500-yard freestyle at the 2022 NCAA DI Women's Swimming and Diving Championships. She was also the first woman swimmer from her university to win an NCAA individual title and had a program-record time of 4:33.24, Penn reports.
"I didn't have a whole lot of expectations for this meet. I was just happy to be here trying to race and compete as best as I could," Thomas said after her win.
Thomas told Sports Illustrated that her coaches were always supportive of her when she came out as trans her junior year. So were many of her teammates. Earlier this year, several released a statement in support of Thomas, according to ESPN.
But she's also dealt with backlash. In the US today, transphobia and misinformation have led to the passing of anti-trans sports bans in 11 states. USA Today reported that some attendees at the March 17 swim meet held "Save Women's Sports" signs. In February, 16 members of the Penn women's swimming team sent a letter to their school and Ivy League officials that implied they believed Thomas should not compete alongside them, reported The Washington Post.
In an interview after the meet, Thomas noted, "I try to ignore it as much as I can. I try to focus on my swimming, what I need to do to get ready for my races, and just try to block out everything else."
Watch Thomas's championship 500-yard race ahead:
Thomas said earlier this month in a Sports Illustrated cover-story interview, "I don't know exactly what the future of my swimming will look like after this year, but I would love to continue doing it. I want to swim and compete as who I am." One goal of hers? The 2024 Olympic Trials.
Thomas told the publication that being trans is "an amazing and beautiful experience." She added, "I've been reinvigorated. I've been swimming for 17 years, but for [only] a short part of that time have I felt fully engaged." Thomas also expressed how grateful she is for the support she's received along the way. "After coming out and being my authentic self, I could really start to see a future," she said. "Before I came out, I couldn't visualize a future."