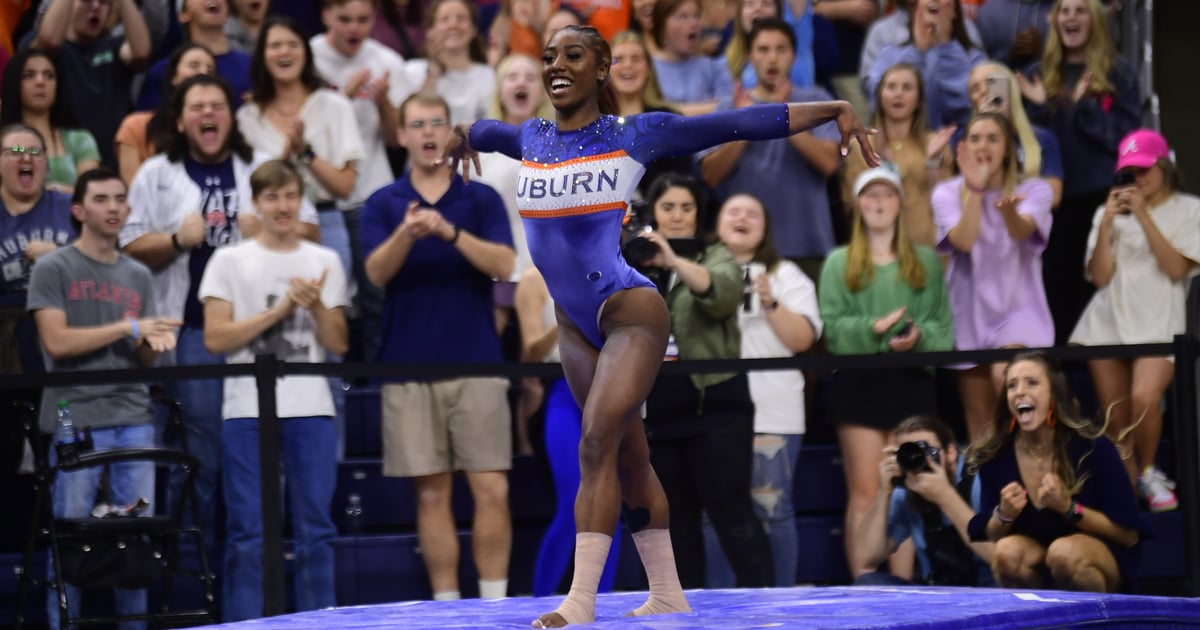 Image Source: Courtesy of Matthew Shannon / Auburn Athletics
Derrian Gobourne, a senior out of Sarasota, FL, scored her first collegiate-career perfect 10 for the Auburn Tigers gymnastics team on March 4. It was senior night, but Gobourne said in a post-meet press conference that she tried not to go into the competition thinking about that; instead, she thought, "I'm blessed, and I'm ready to get this done."
Gobourne brought down the house with a dynamic floor routine packed with powerful tumbling (her opening double tuck and closing double pike were particularly impressive) and Missy Elliott songs — the routine was set to hits such as "Shake Your Pom Pom," "Work It," "Gossip Folks," and "Lose Control." Add in Gobourne's fun choreography, including her signature crown, and you bet the routine shone.
Gobourne was the school's anchor on floor, and they needed her to score a perfect mark in order to tie it up with the Florida Gators. She delivered big time with a 10.00 — see her performance below:
ICYMI: The QUEEN got her 10!

?????#WarEagle | @DGobourne pic.twitter.com/ysFMaq02lW

— Auburn Gymnastics (@AuburnGym) March 5, 2022
"We really just wanted to let my personality shine," Gobourne tells POPSUGAR of her Missy Elliott routine. "It's playful, flirty, dramatic, and silly — everything that is me." She says that while her goal was to score well, she never expected a 10.00 — "I've hit routines exactly like that and didn't get it. So it was just the icing on the cake on a really big night."
Want more of Gobourne? Check out her Beyoncé floor routine from 2020 and last year's '90s floor routine.
The Florida Gators and Auburn Tigers' matching final team scores of 198.575 were the highest marks scored by any NCAA gymnastics team so far this season, the Montgomery Advertiser reported. This outcome ultimately solidified the Gators' reign as 2022 Southeastern Conference regular-season champions, and it was the program's fourth consecutive regular-season conference title.
Gobourne wasn't the only gymnast to earn a perfect 10 during the March 4 competition. Olympic gold medalist Suni Lee showcased a stunning beam routine that scored a second career 10.00 for her on that event (her first happened a week prior). Florida's Trinity Thomas and Sloane Blakely received 10.00s of their own on vault and floor, respectively. It was Blakely's first collegiate 10.00 and Thomas's 14th of her career (and second total on vault). Thomas completed a "Gym Slam" — a perfect 10 on all four events — at the start of the season.