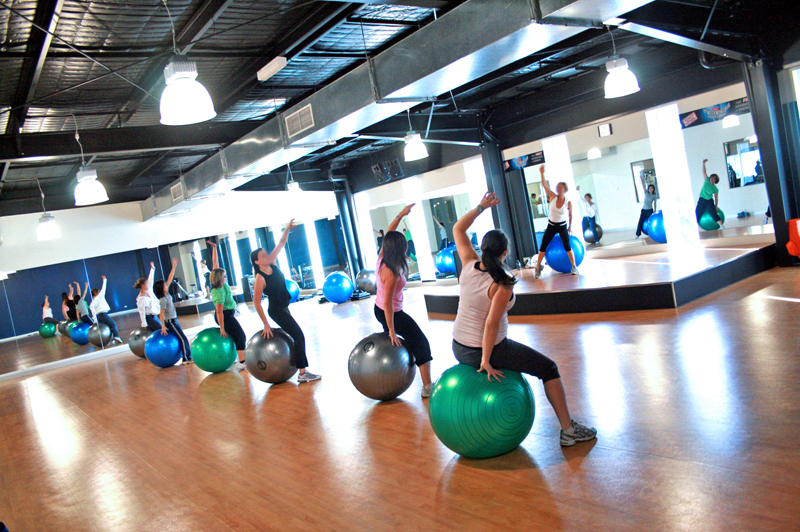 Fitness classes appear to be the complete opposite of the Recreation Center's overwhelming environment
The Recreation Center at the University of Massachusetts Amherst holds a reputation for its overcrowded and overwhelming environment. I used to enjoy exercising to calm down, but the gym here is not calming. However, I recently discovered that there is more to the Recreation Center than meets the eye.
"Especially in a college atmosphere, working on your own can be really intimidating," said yoga instructor Lauren Masse. She encourages students to take a fitness class at the Recreation Center for a multitude of reasons. 
"I grew up my whole life doing yoga and it's really changed my life in so many ways," said Masse.  Masse enjoys the mental aspect of yoga as it helped her to get through difficult times when she was growing up.  
"It might seem scary but it's mostly students teaching," said UMass junior Marin Allen. "They're your age." Many students start off as beginners and according to Allen's roommate, instructors will offer modifications for beginners.
 Allen said that she did not go to many classes since the pandemic started, but recently started going and has enjoyed it. 
Another student in the class, senior Neil Sunil, said that the yoga class and all forms of exercise help to center his mind while improving his mental health. Like many other students, he had been struggling since the start of the pandemic and used the classes at the Recreation Center to calm down.
He also urged other students to sign up for a fitness class. "They are part of your tuition and you're already paying for it," said Sunil.
As a sophomore here at UMass who loves to work out, I go to the Recreation Center often, but the crowded environment can feel overwhelming, and finding the right time to visit can be difficult. However, the fitness classes allow for a less overwhelming environment since there's a limited amount of space. The yoga class I visited didn't reach the class limit, making it feel more approachable than the gym. 
"For people that, like, don't really know what to do in the gym, it's a good way to get them in here and doing something they have instruction on," said Masse. 
After going to the yoga class with my friend Lydia Harrison, who is not a fan of the gym, she was eager to go again. "We gotta make this a weekly thing," she said. 
Many of the group fitness classes are held at the same time every week, allowing students to stick to a routine. For those just starting out and looking to get into the gym, it may be best to start with yoga or a stretching class. For more experienced gym-goers looking for that extra push to get back into a routine, a spin or strength class may work best.  
Sunil talked about joining Changing Health, Attitudes + Actions to Recreate Girls, a female-led fitness community on campus that accepts everyone while promoting fun and unconventional exercise. The CHAARG website promotes classes ranging from "barre to boxing to Zumba to lifting weights."  
For more information regarding fitness classes and the semester's schedule, the UMass website can be a great resource for students. Classes range from yoga, stretching, spin, pilates, strength training, dance and even meditation. 
While the pandemic has disrupted many lives and has personally made it hard for me to take care of myself, exercising and creating a mind-body connection allowed me to get out of my head with some self-care.
Participating in a fitness class may offer students a similar experience. Classes can motivate you to try something new while making you feel less alone.