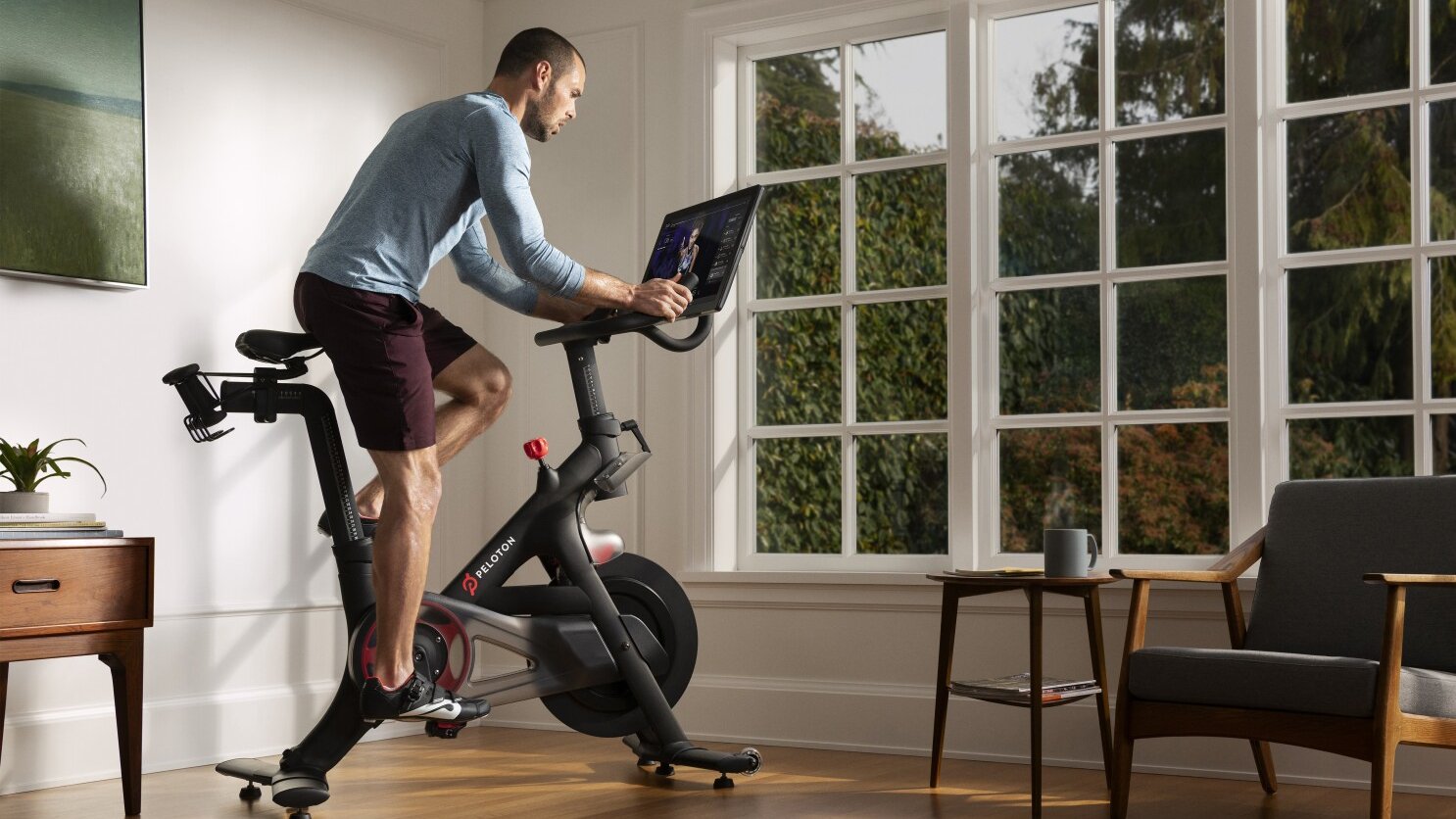 If the last couple of years has taught us anything, it's that having a way to exercise at home is a health necessity, not just a nice-to-have for those who can afford a complete home gym. If you, like almost everyone, are keen on getting the most out of your time, space and money, a good home exercise bike is hard to beat as a single piece of exercise equipment to get you to your fitness goals.
Why are exercise bikes so good? Using a stationary bike to build your fitness is a great option for lots of reasons, from the fact that it's suitable for any experience or fitness level and doesn't take up too much space, to the range of different workouts that an exercise bike can offer. It's a versatile, spatially efficient form of exercise that really doesn't require much experience to enjoy the full effects.
In addition to being simple and convenient, there is a whole range of quality exercise bikes that are making the most out of modern fitness technology to track your heart rate, calories and overall fitness level as you work out. The most sophisticated exercise bikes can even take you through guided training sessions, let you watch Netflix as you spin it out and even act as a fitness coach that tracks your performance to help you improve as much as possible.
---
---
RELATED: The 20 Best Mountain Bikes Money Can Buy Right Now
Within the world of exercise bikes, there is a range of different options, so it's important to know what the best exercise bikes might be for you. The main different types of exercise bikes we'll be looking at here are traditional upright exercise bikes, recumbent exercise bikes, spin bikes and air bikes.
Upright Exercise Bikes: are most similar to the two-wheeled pushbikes you see on the streets, where you sit like a normal bicycle with handlebars in front of you and the pedals below you. The upright exercise bike might not actually have any spinning wheels, and instead give you a workout thanks to a range of different resistance levels in the pedals you can set using its internal computer. Because these are most similar to a normal bike, they are often the choice of triathletes and cyclists, as well as being the option the majority of people are most comfortable with.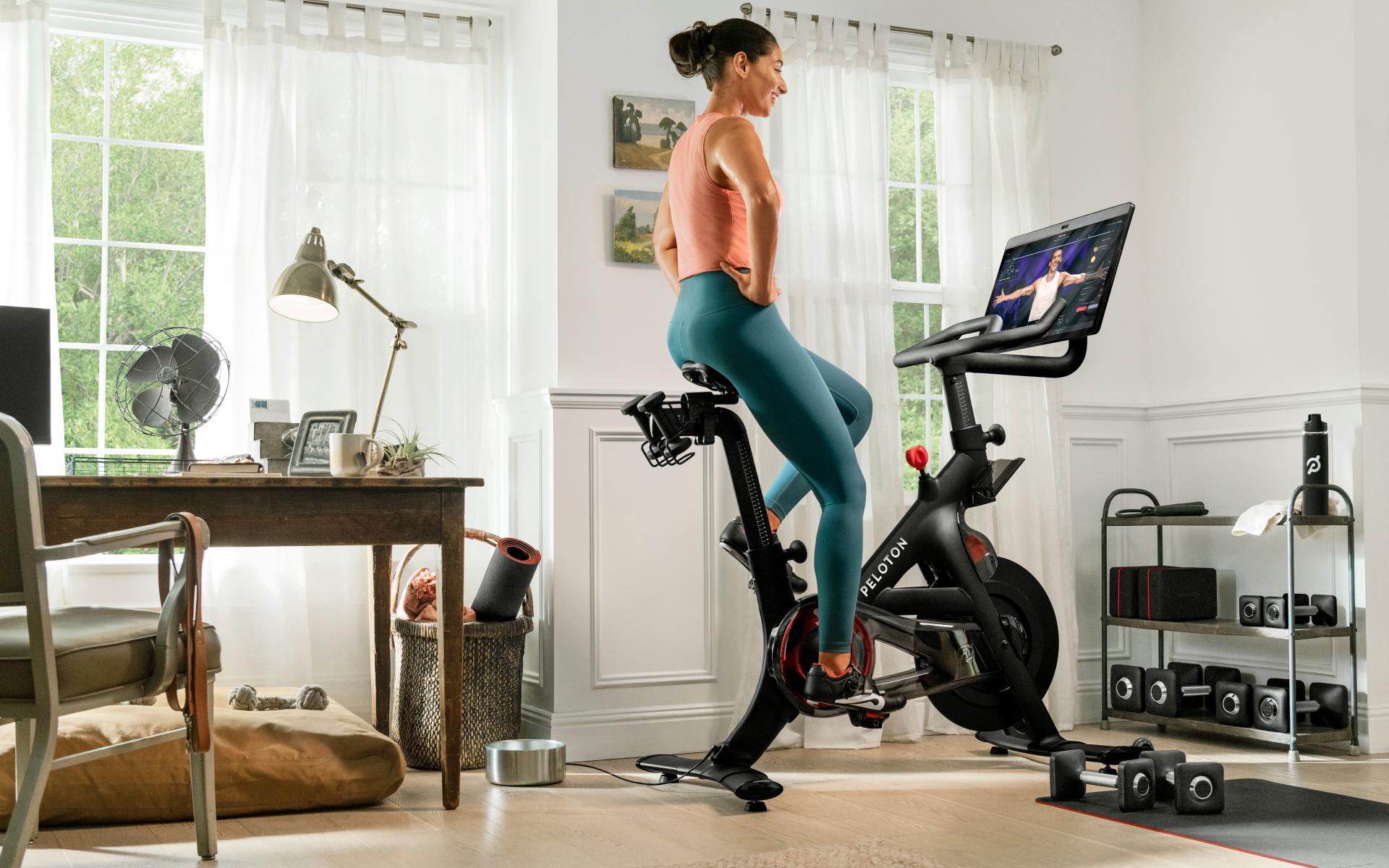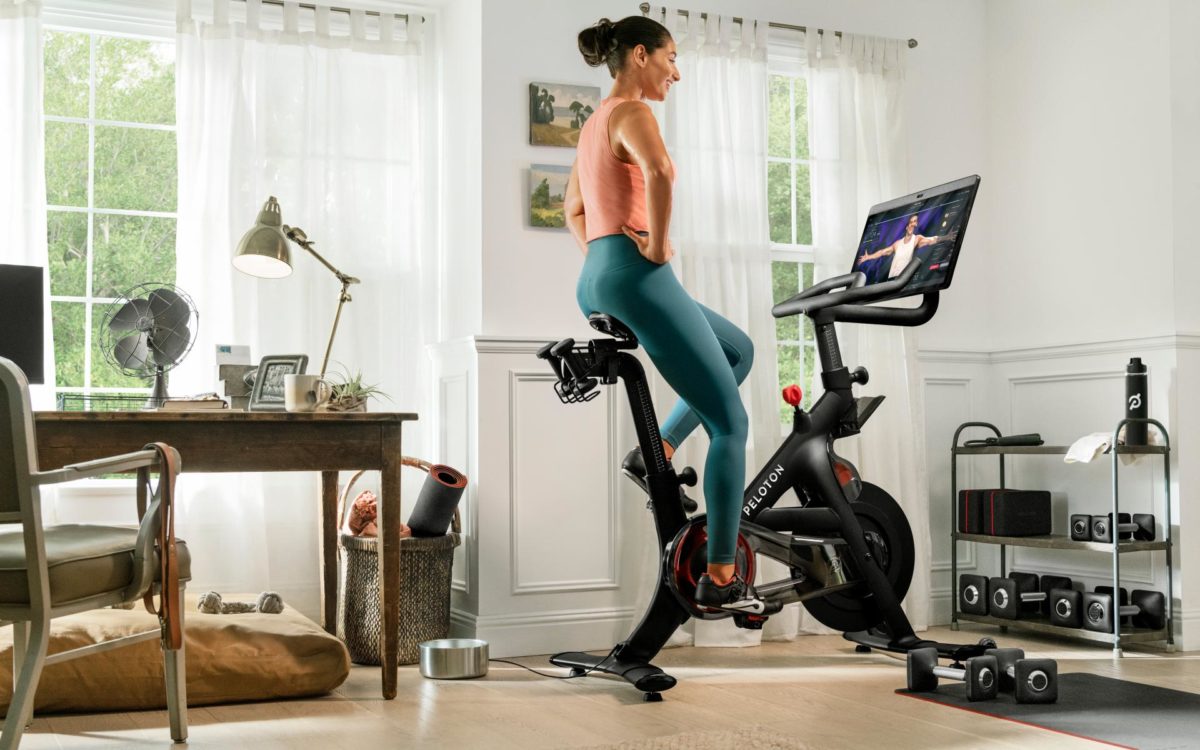 Recumbent Exercise Bikes: in contrast, have a sitting position that is closer to a paddleboat, where your legs are pedalling out in front of you as you sit back in a more relaxed position with your arms by your sides. Recumbent bikes also use different resistance levels in the pedals, often adjusted the same way as an upright exercise bike. These are generally considered to be more comfortable if you aren't used to riding a bicycle, while still delivering a killer workout quality.
Spin bikes: are similar to upright exercise bikes, except instead of the pedal resistance levels set by a computer, a spin bike actually has a rear wheel that spins and resistance levels are changed via the wheel. Another difference in a spin bike is that the pedals are fixed in relation to the wheel, meaning that if the wheel is spinning, so too are the pedals, much like a "fixie" pushbike. The reason for these differences is that the spinning wheel starts to build its own momentum once you start pedalling, making it easier to keep pedalling and more difficult to stop. As a result, the bike encourages you to maintain your pace, preventing you from frequently starting and stopping pedalling, which is a great form of cardio exercise and helps build your fitness.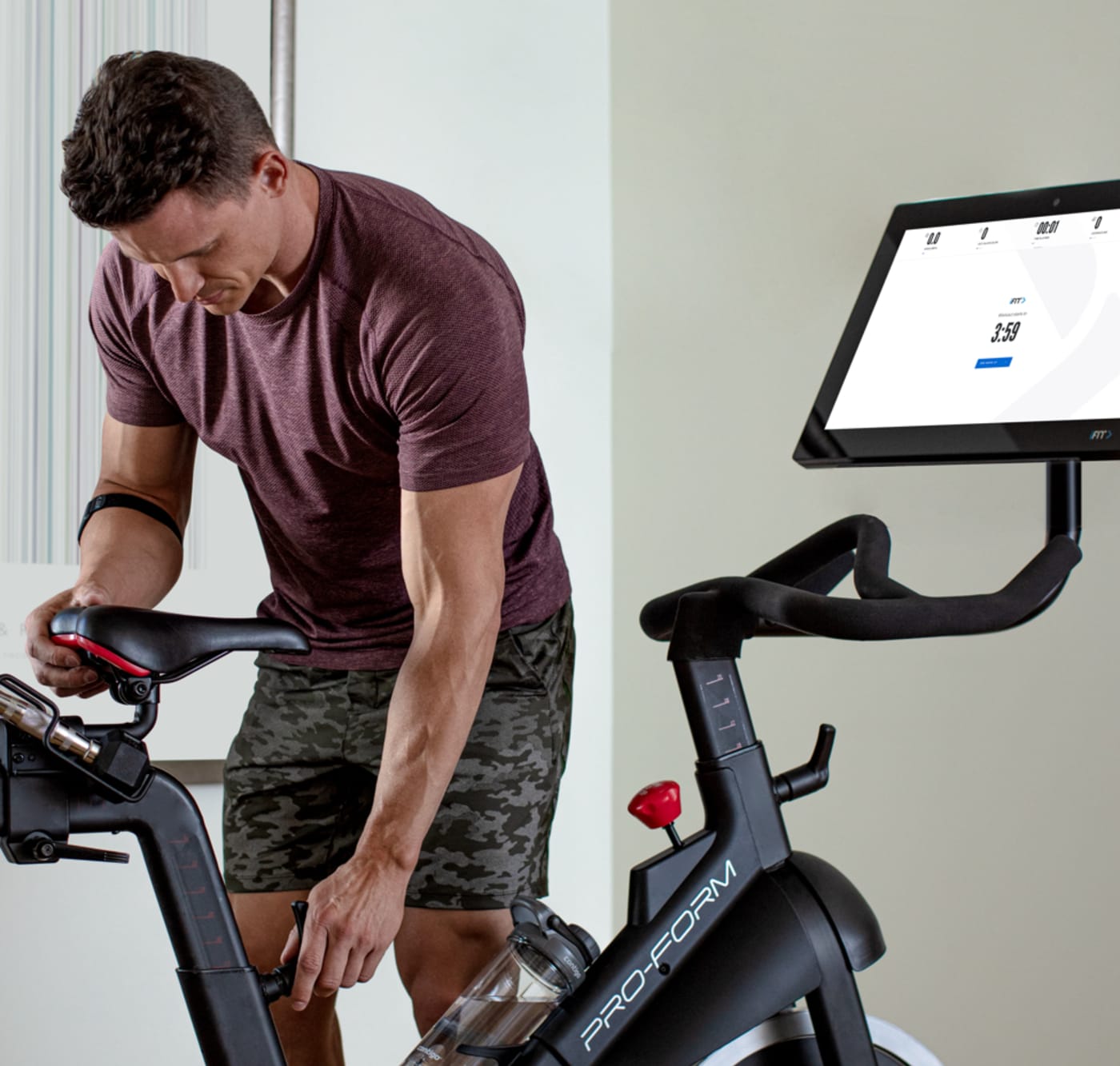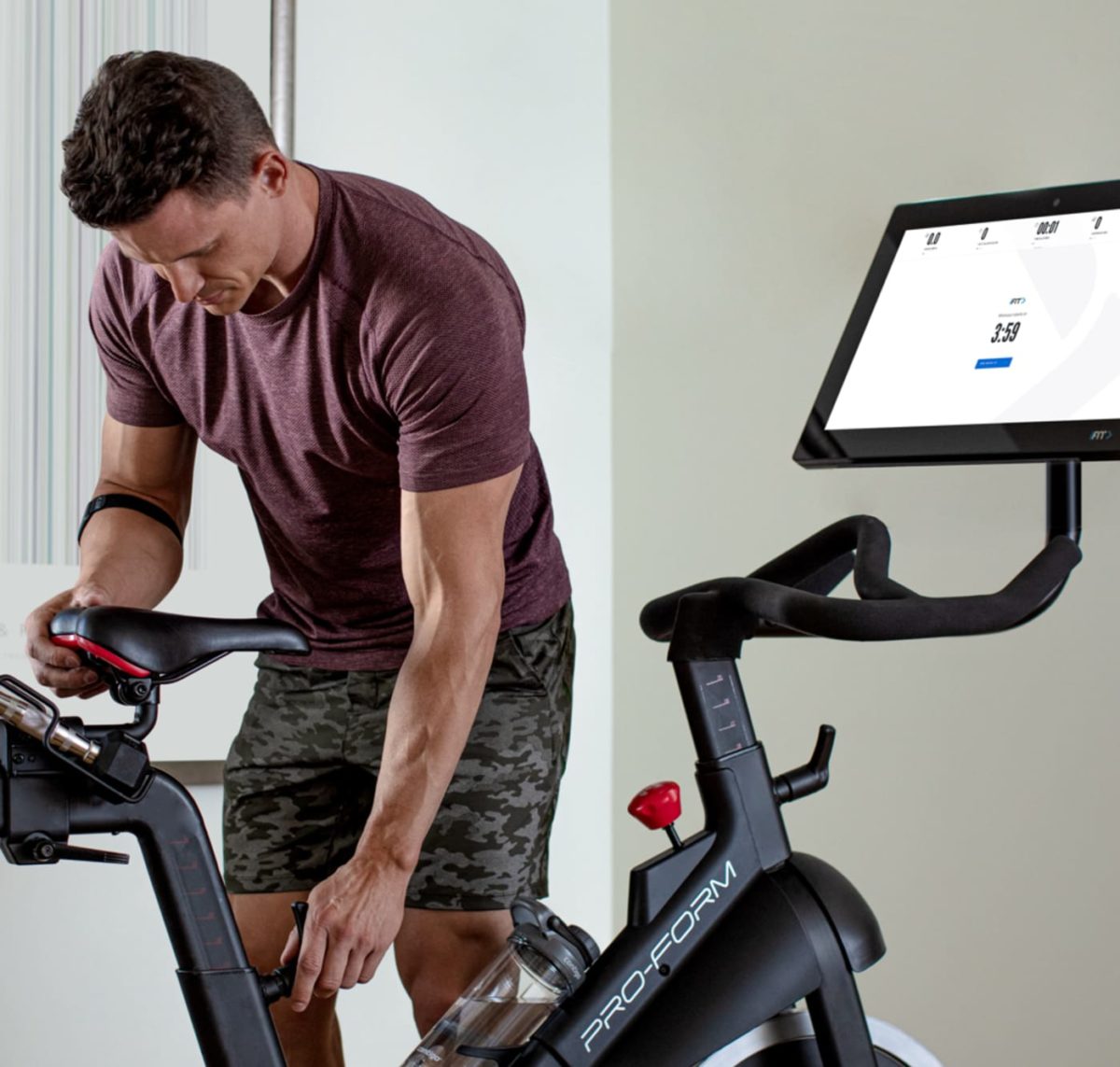 Air Bikes: are immediately recognisable thanks to the large fan at the front. Air bikes are a favourite machine of CrossFit champions, as they arguably offer the best overall body workout of any exercise bike. Instead of simply having foot pedals to push, the air bike also has a pair of handles you can push, allowing you to work out both your arms and your legs. The beauty of the air bike is while there are levels of resistance you can select, the fan is effectively an air resistance system, meaning the harder your push and faster you go, the more difficult it gets. Air bikes are typically used as a part of a larger workout circuit, as spending more than a few minutes on an air bike is a real challenge.
Now that we've covered what the different types of exercise bikes are, we can start looking into what the best exercise bikes are for you. We'll be breaking them down by their different types, but within each type, we'll do our best to include the best exercise bikes for different prices too.
---
---
Upright Excercise Bikes
Celsius BK1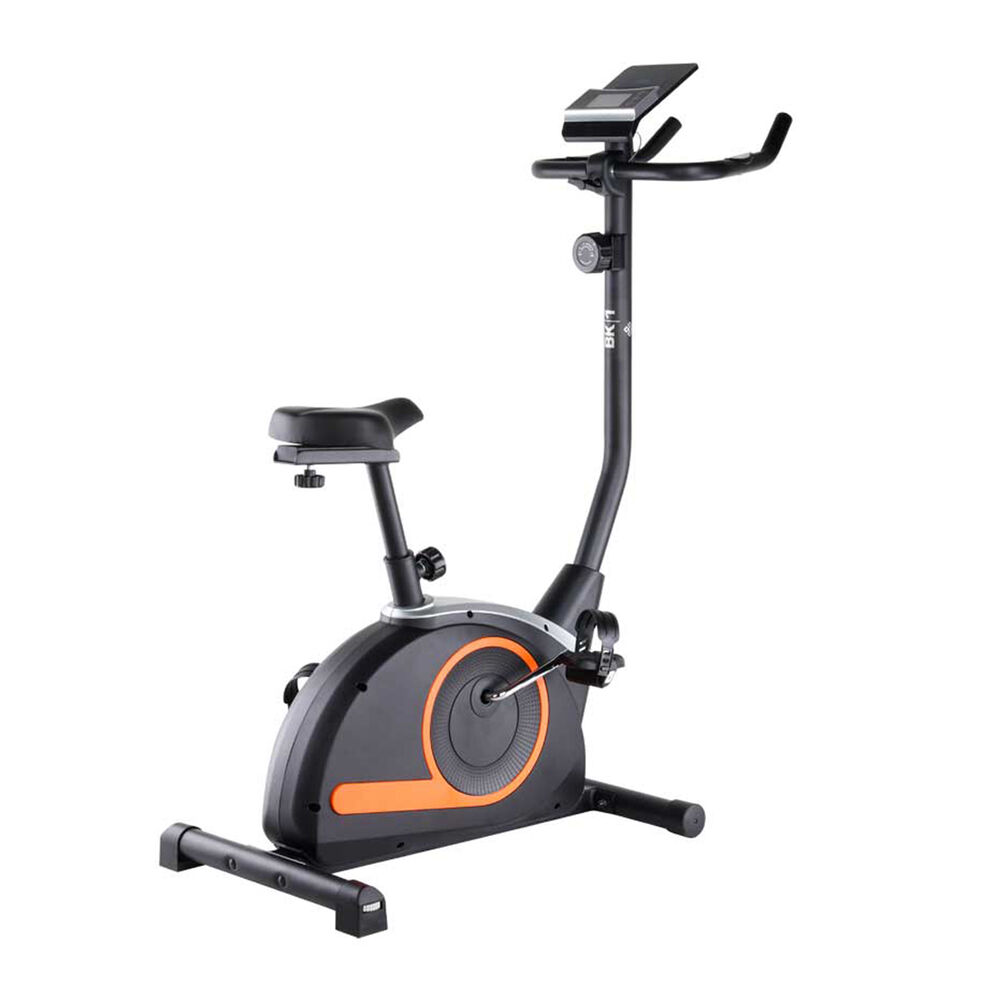 When picking out an exercise bike, it's important to pick something that isn't going to break the bank and the Celsius BK1 offers exactly that. As one of the more affordable exercise bike options on the market, but will still be more than capable of giving you an effective cardio workout to improve your cardiovascular fitness.
With a seat designed for a comfortable ride, no less than eight different levels of manual resistance and a digital display that will tell you both your speed and distance, there's a lot to like about the Celsius BK1. Like most stationary cycling bikes, it is fully adjustable to the size of your frame, with options to move the seat, as well as adjustable pedals so you'll be able to avoid unwanted knee stress.
The Celsius BK1 also offers the convenience of built-in wheels, so you can easily finish your indoor cycle workout and move it out of the way for the rest of your day. If affordability is a priority, without sacrificing the quality of your workout, this could be the exercise bike for you.
---
Proflex XB2 Folding Magnetic X-Bike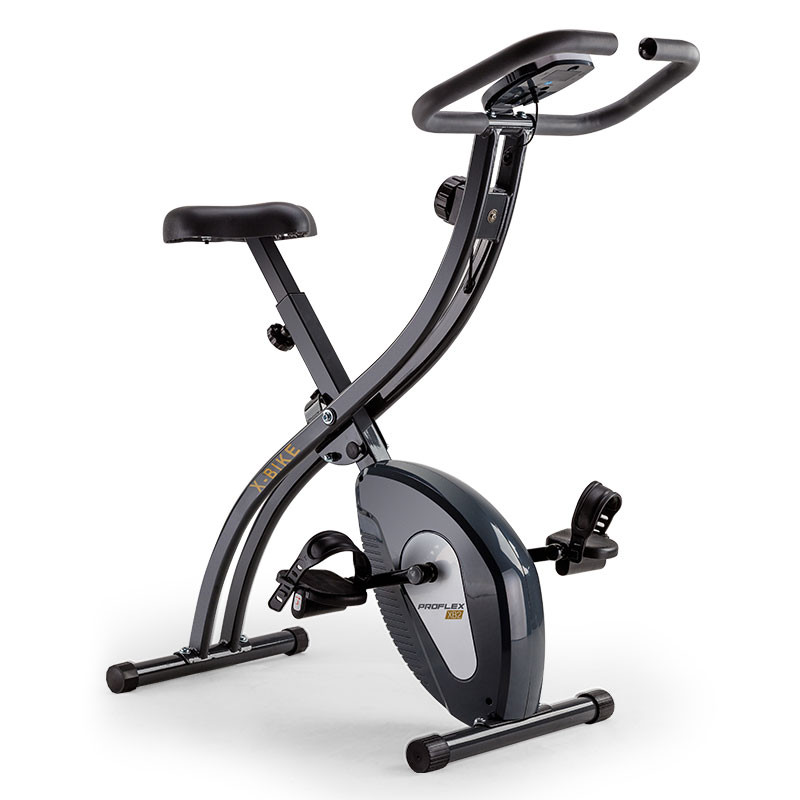 For some folks, the main reason they've avoided looking into the best home exercise bikes is simply not having enough space at home to set it up. If that's you, then the Proflex XB2 Folding Magnetic X-Bike might just be your ticket to enjoying a regular cardio workout and weight loss.
Boasting a compact folding design, eight different levels of resistance and a simple screen that communicates time, distance, speed and calories, it's one of the best exercise bikes in the game if space-saving is critical. In addition to folding away much like an ironing board, and being easy to lift into a cupboard weighing only 14kgs, it's also one of the more affordable exercise bikes for what it offers.
It might not be the fanciest exercise bike on the market, but if you're looking to save space and even a bit of money, Proflex XB2 Folding Magnetic X-Bike is a great home exercise option.
---
Proform 320CSX Bike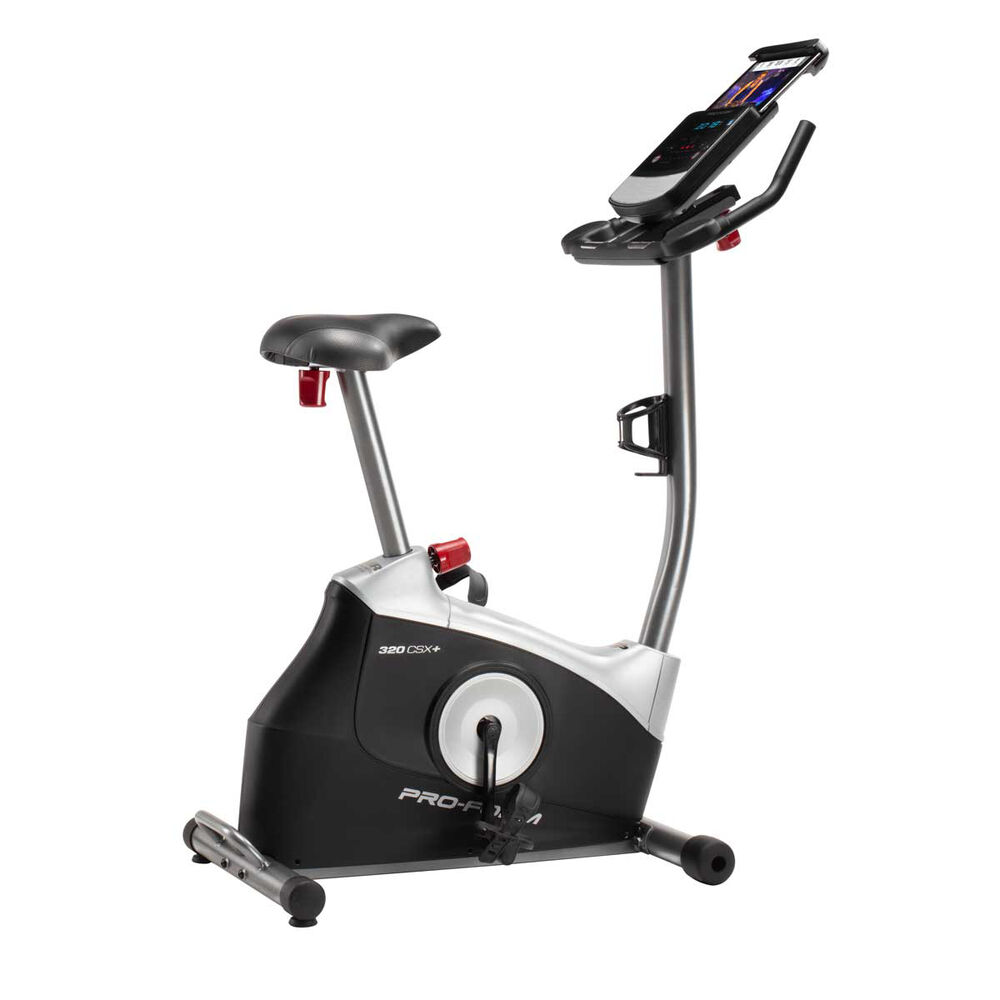 The Proform 320CSX Bike is a popular exercise bike, one which is commonly found in gyms and fitness studios thanks to it being solid value, robust and easy to move around (with integrated transport wheels). While it isn't a spin bike, it does have a 9kg inertia enhanced flywheel that can offer adjustable resistance through its Silent Magnetic Resistance system.
With a comfortably padded seat, you can simply ride at your leisure, or if you're looking for some more calories burned at the end of your workout, the Proform 320CSX Bike also offers 12 pre-set workout programs that were created in collaboration with trainers. Its system is easy to use and intuitive, tracking your exercise time and distance, calories and heart rate.
---
---
If you're after a smooth ride while you're burning calories, and don't want to break the bank, the Proform 320CSX Bike is a solid choice to help you on your fitness journey.
---
Peloton Bike+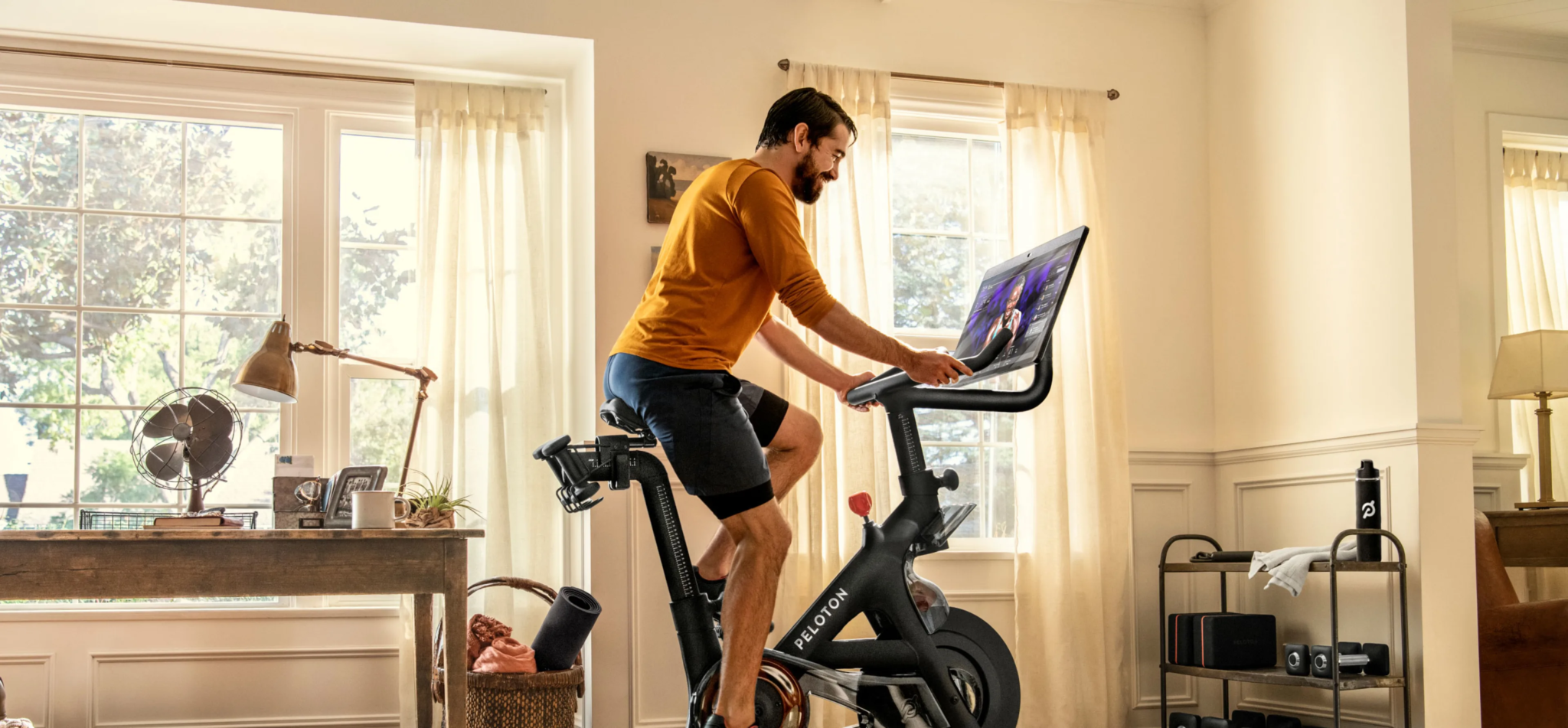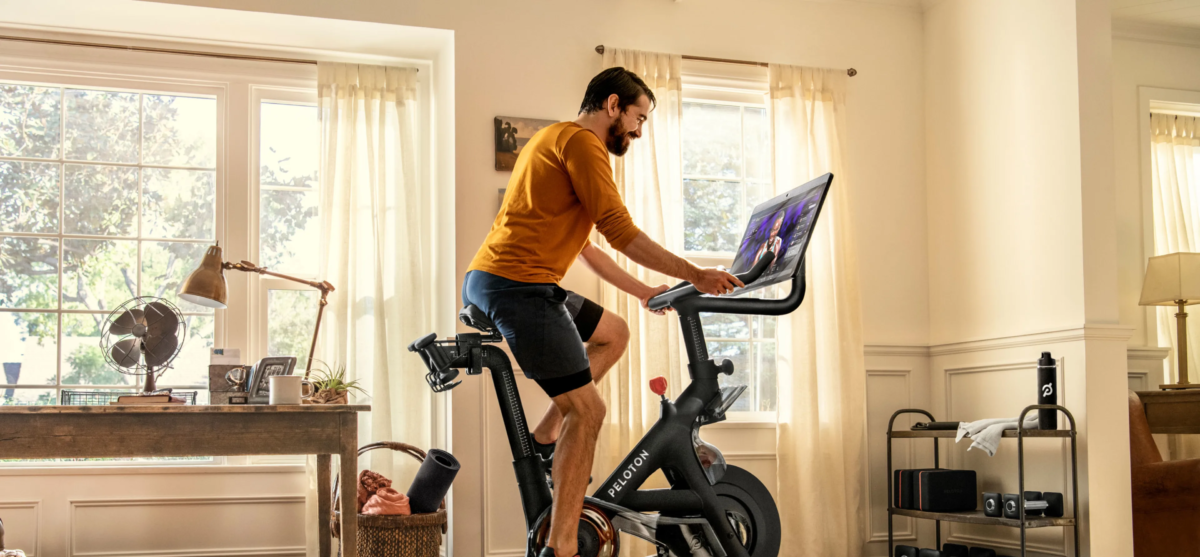 Peloton is a name you're probably familiar with, as one of the most well-marketed and popular high-end exercise bikes. The Peloton Bike+ is the most premium offering from the New York-based company, with a central screen for workout information and coaching that can rotate to offer exercise classes off the bike too. If you're into yoga or HIIT classes as well as riding, you'll be able to enjoy live training classes streamed from Peloton's NYC studio.
In addition to training and program guidance, the bike also offers a treasure trove of training data that can link to your smartwatch, so all of your training information can be found in one place. As well as having some of the best tech in the game, the build quality of the Peloton Bike+ is very good, with a whisper-quiet belt drive and easily adjustable seat and handlebar options.
While you're getting a lot with the Peloton Bike+, it certainly is one of the most expensive options on the market, so it's something to consider if you're working to a budget.
---
Recumbent Excercise Bikes
Endurance Elite Fit Recumbent Exercise Bike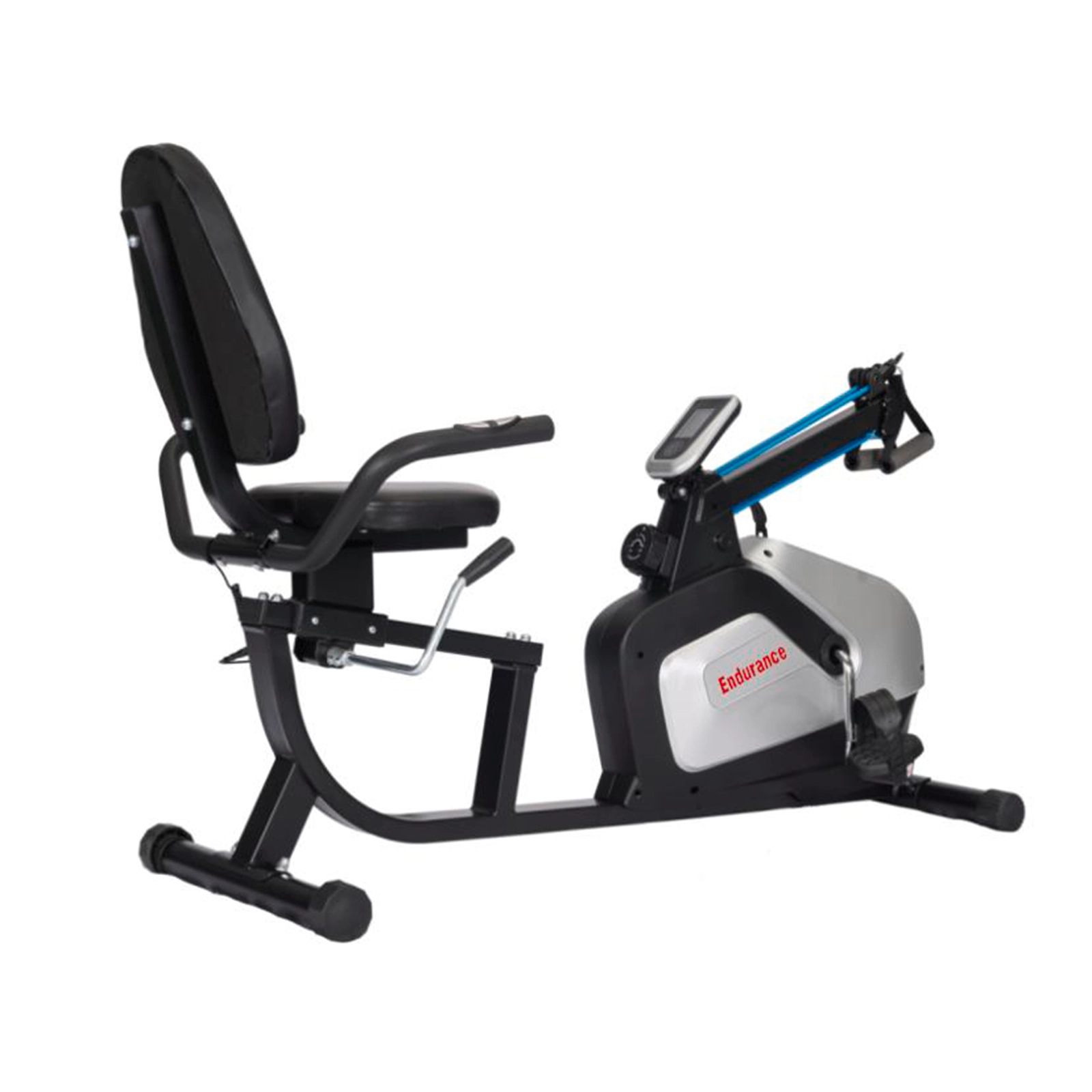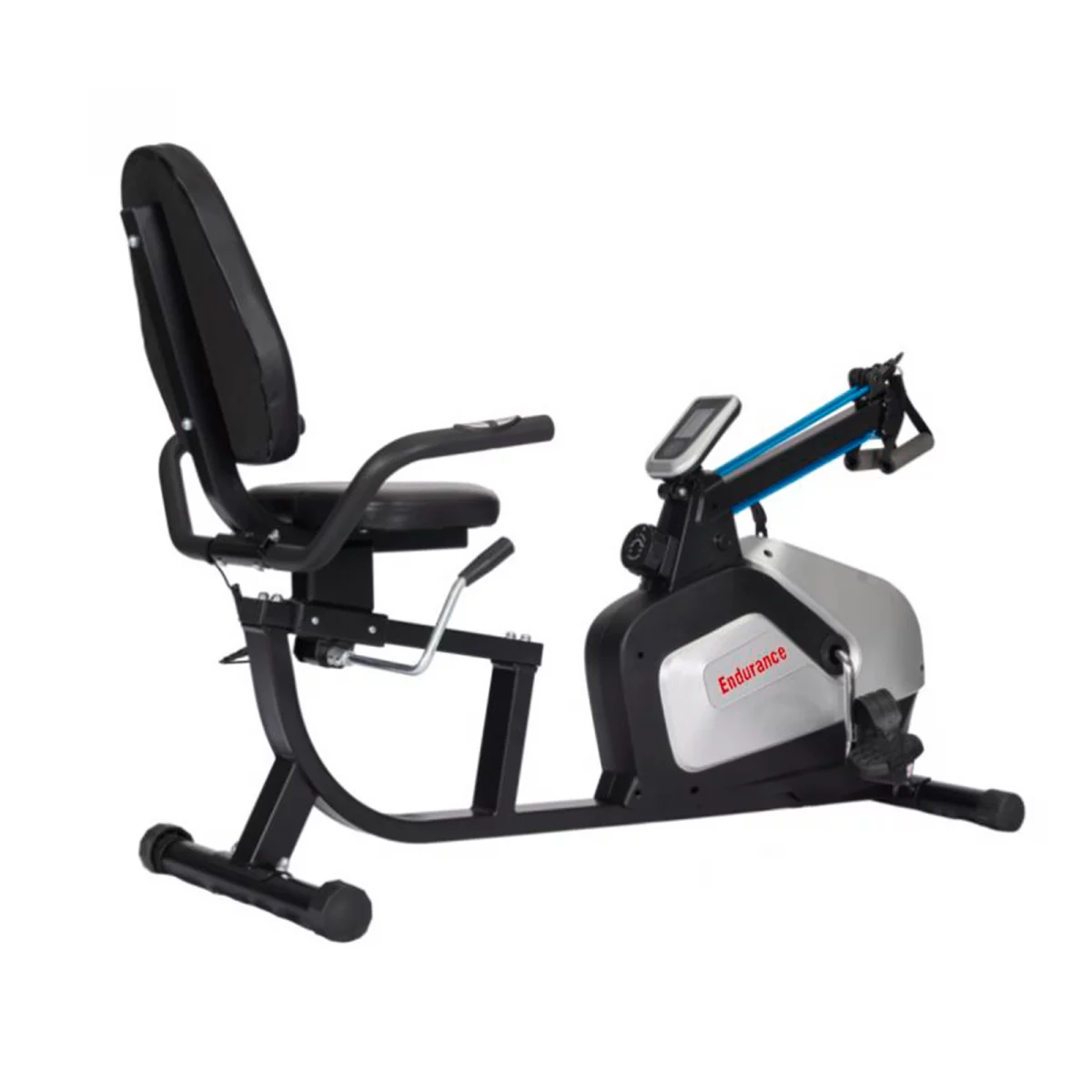 If you're after a solidly constructed recumbent bike that is straightforward to use and set up, while still delivering a solid workout, then the Endurance Elite Fit Recumbent Exercise Bike will do the job without costing you a fortune.
Featuring a 10kg flywheel between the pedals, you'll be able to enjoy eight different levels of easily changeable magnetic resistance, all of which is communicated to you via a digital display. With a maximum user weight of 200kgs, as well as arriving with a set of resistance training bands for a full-body workout, it'll certainly help you on your way if your goal is to lose weight.
Sure, it's not the most sophisticated piece of home gym equipment, but it won't cost you a fortune and doesn't require much space.
---
NordicTrack R35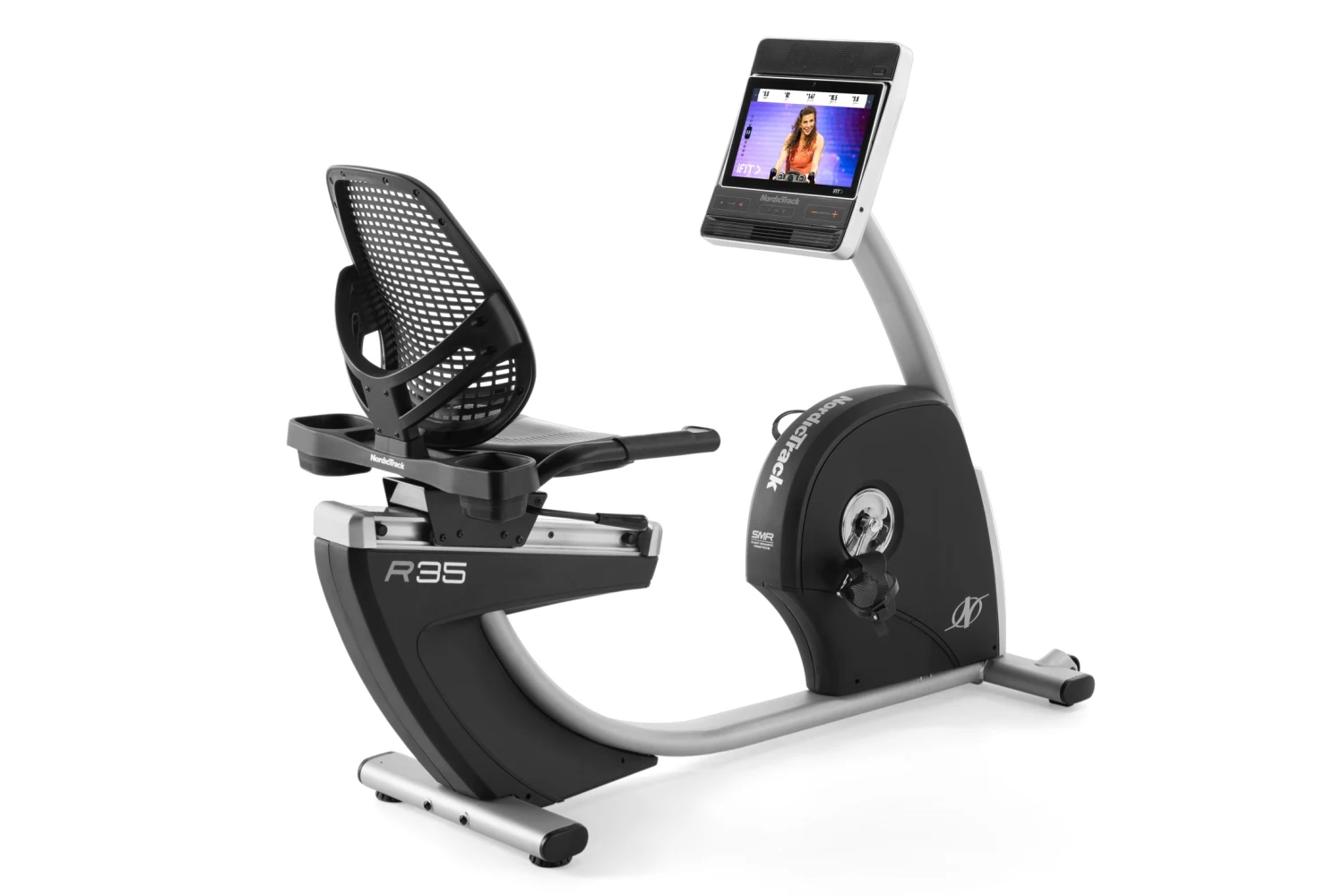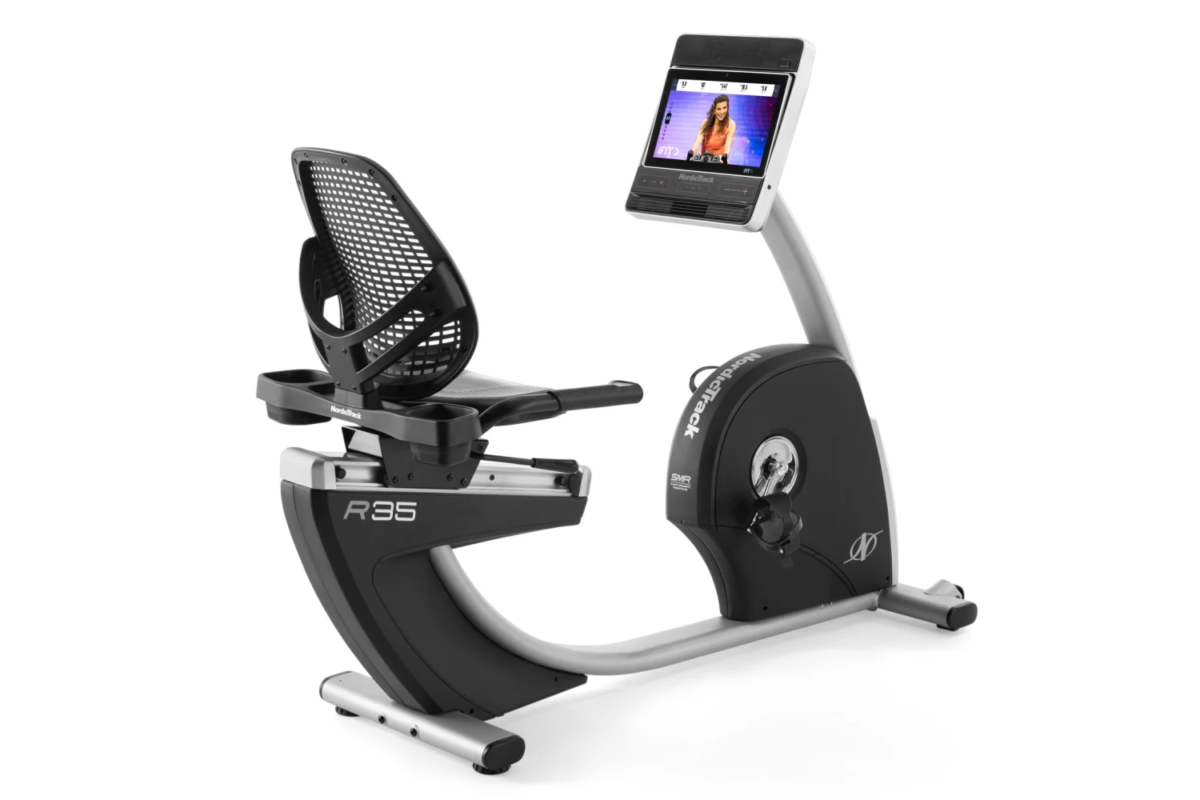 Within the world of recumbent bikes, the NordicTrack R35 is up there with the best of them. As one of their most recent models within the recumbent bike range, it boasts a large digital touch screen, dozens of different workout resistance settings and a specifically designed sitting position that offers great lumbar support.
---
---
At the core of the NordicTrack R35 is an 11kg inertia-enhanced flywheel, which can be adapted to suit your workout with a total of 26 digital resistance settings. Another big drawcard is the 14-inch display at the front of the bike, which is where you'll be able to enjoy simulated outdoor workouts and customized fitness plans via the iFit Coach program. While this does require a membership to access, you get 12 months for free upon purchase.
In addition to the large touchscreen, the NordicTrack R35 features extra-wide pedals, hand pulse sensors for heart rate monitoring and is easy to store thanks to a set of built-in transportation wheels. With a maximum user weight limit of nearly 160kgs, it's also a robust machine suitable for most fitness enthusiasts.
---
Spin Bikes
Everfit Spin Exercise Bike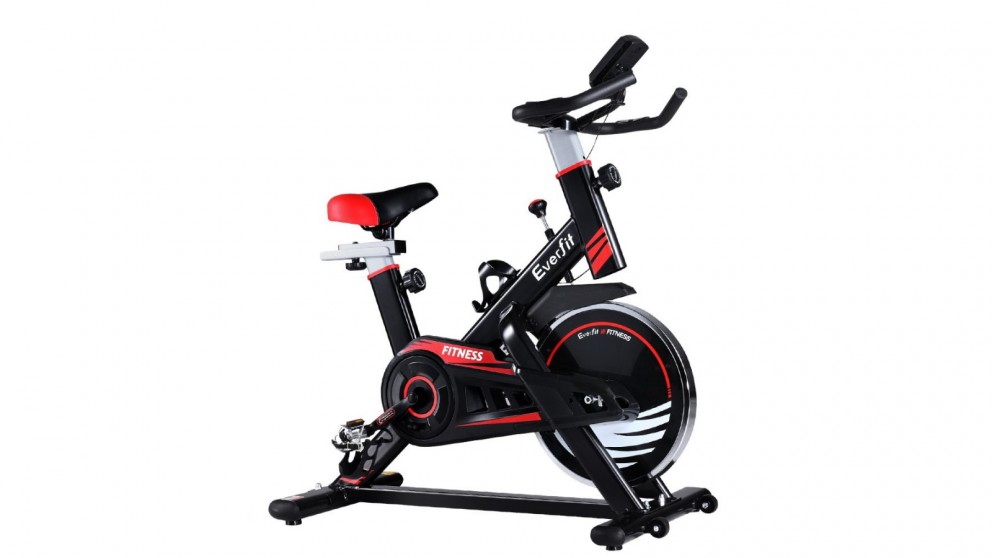 As your first stationary spin bike, or perhaps your spare at the office, the Everfit Spin Exercise Bike offers pretty much everything you could need, at an affordable price too.
While its rustproof steel frame is only guaranteed to 110kgs, the geometry of this spin bike is easily adjustable for different heights, including an adjustable seat in both height and length, as well customisable handlebars. The quiet belt-driven stainless-steel flywheel has a number of different resistance settings, which are communicated through an onboard computer with an LCD monitor.
As one of the more affordable spin bikes on the market, what it lacks in customised workout programs is gained in no-fuss simplicity.
---
Vortex V1000 Exercise Bike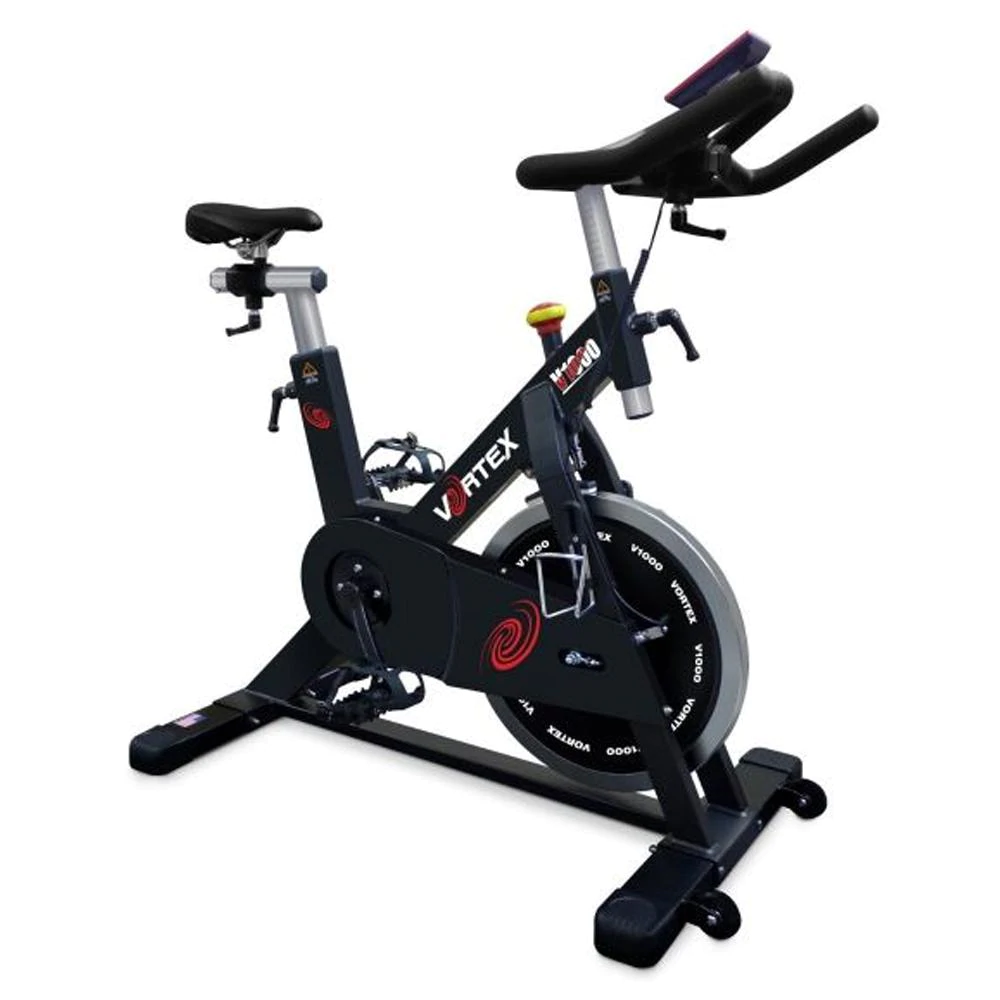 While the Vortex V1000 Exercise Bike isn't able to take you through a yoga class, it's a bike that was designed with aerobic fitness and cycling performance in mind. In fact, you might have seen a room of these spin bikes at your local gym, as they're often selected by commercial fitness businesses for their reliability and simplicity.
The Vortex V1000 Exercise Bike is constructed around a large 20kg flywheel, while the powder-coated black high-grade steel frame has a maximum weight capacity of 136kg. The belt-driven flywheel can be adjusted via the manually applied friction brake, giving you a huge range of resistance options. All of the data gathered by the bike's computer is displayed through a simple digital display that will tell you your workout time, speed, distance and heart rate (requires a chest strap).
Regardless if weight loss or specific cardiovascular improvement is the aim of your fitness journey, the Vortex V1000 Exercise Bike will get you closer to your goals with fewer distractions.
---
---
---
Proform Studio Bike Pro 22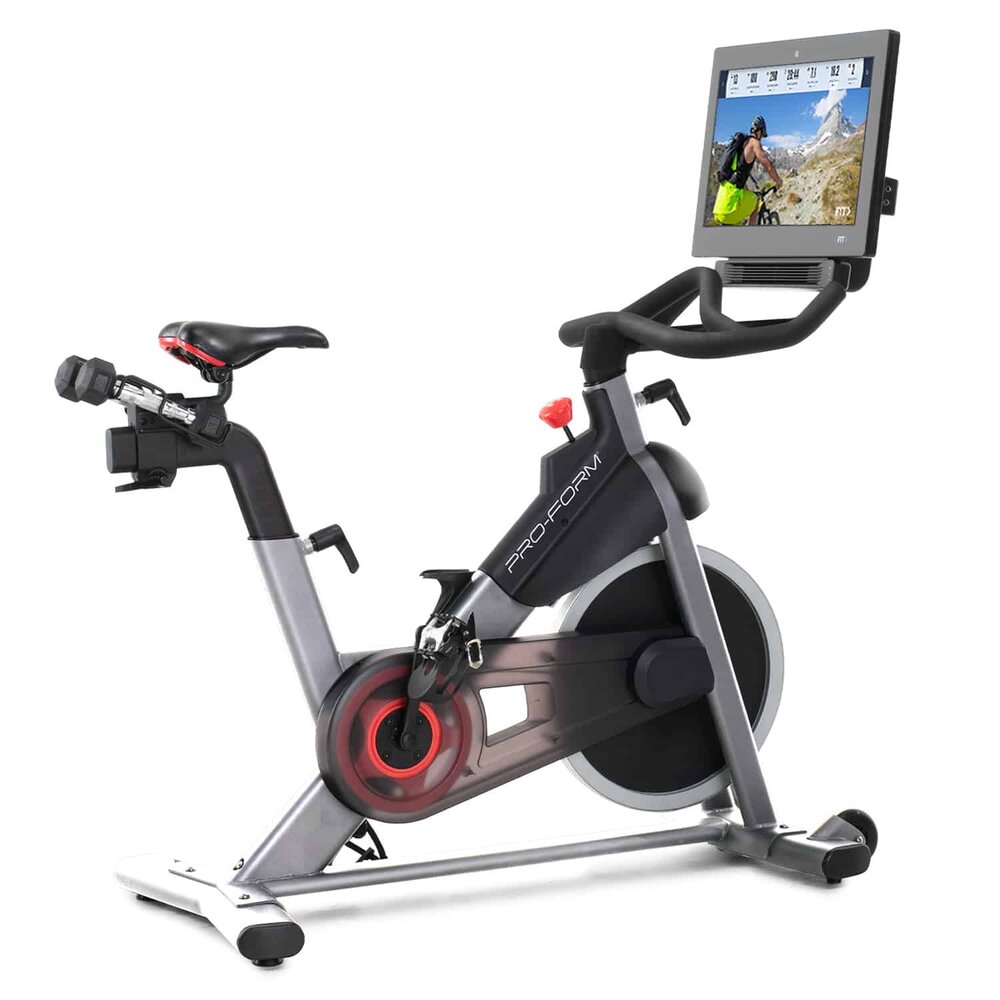 One of the more impressive spin bike options available today is the Proform Studio Bike Pro 22, which delivers all of the features you would expect from a serious piece of home gym kit.
With a swivelling 22-inch touch screen display, it not only offers some of the best spin class workouts in the game, but also workouts for high-intensity interval training for a total body workout. Thanks to its interactive training program via iFit, you'll be able to enjoy bodyweight workouts, yoga classes and more. With fully adjustable fit options, as well as the whisper-quiet Silent Magnetic Resistance system and SmartBeat Forearm Heart Rate Monitor, the Proform Studio Bike Pro 22 can pretty much do it all.
As a premium piece of equipment, it isn't the most affordable bike out there, but as far as good value is concerned, there's a lot to enjoy.
---
Air Bikes
AssaultBike Classic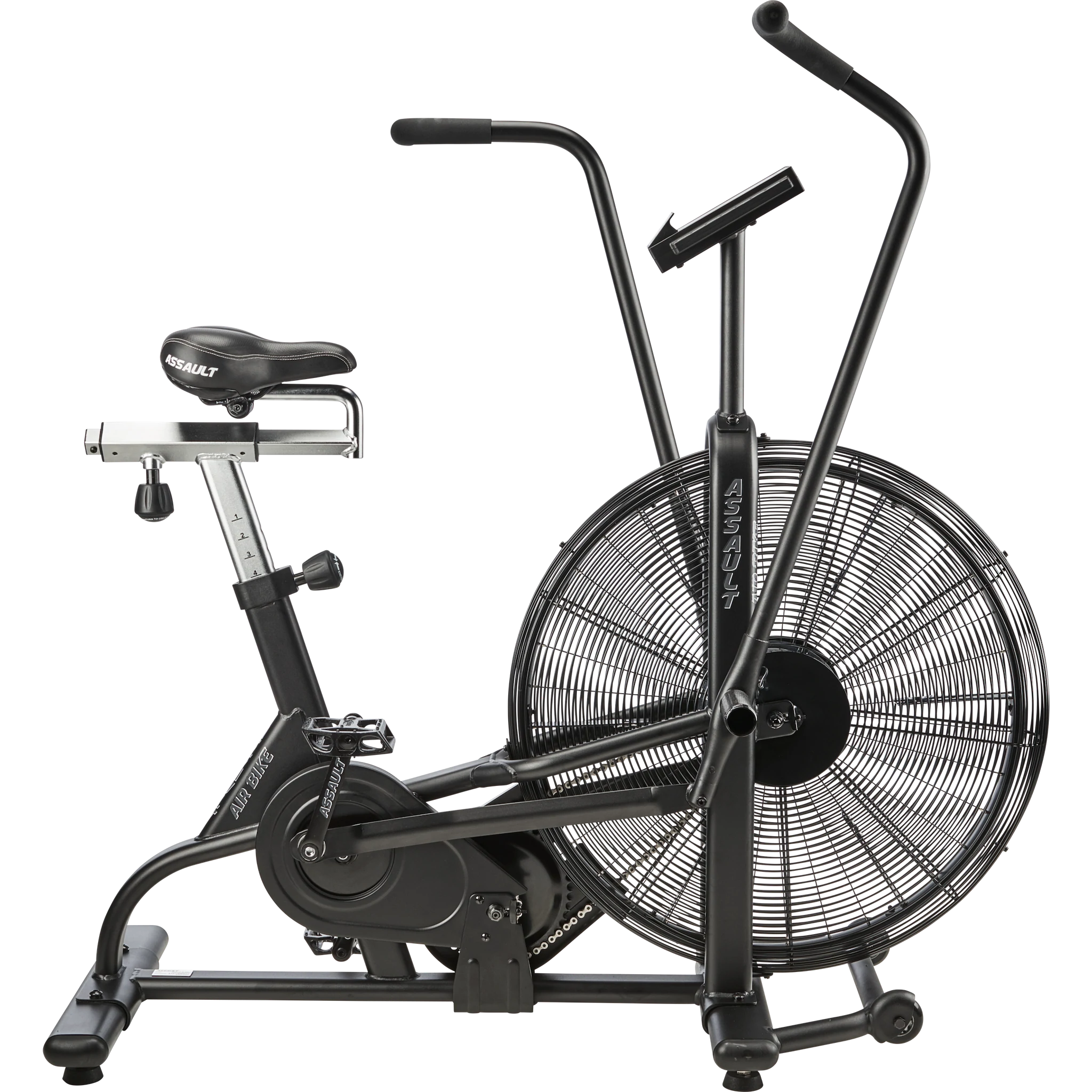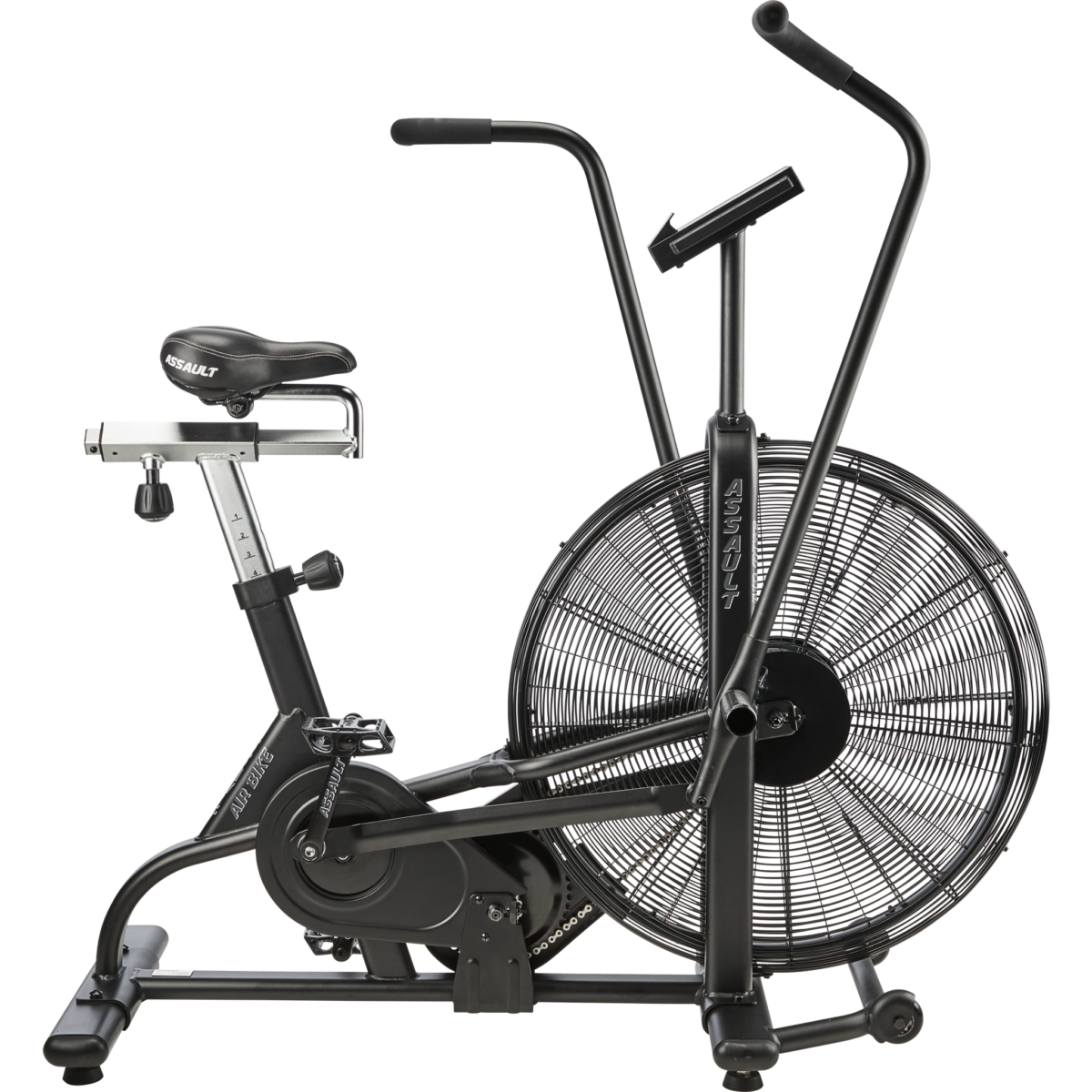 The AssaultBike Classic is another favourite of fitness industry professionals, thanks to a specifically low maintenance design that can go as long as you can. No matter if you're at a boxing or CrossFit gym, there's plenty of respect for what the AssaultBike Classic can offer.
Featuring a heavy-duty steel frame, reinforced pedals and a stealthy powder-coated paint job, it looks as mean as the workout it delivers. With limitless different resistance settings, you'll be able to track your workout via the digital display, as well as enjoy the option of one of seven different preprogrammed workouts.
As well as being easy to set up and use, the AssaultBike Classic is also one of the more affordable options on the market, making it ideal to hit your fitness goals.
---
Lifespan Fitness Exer-90H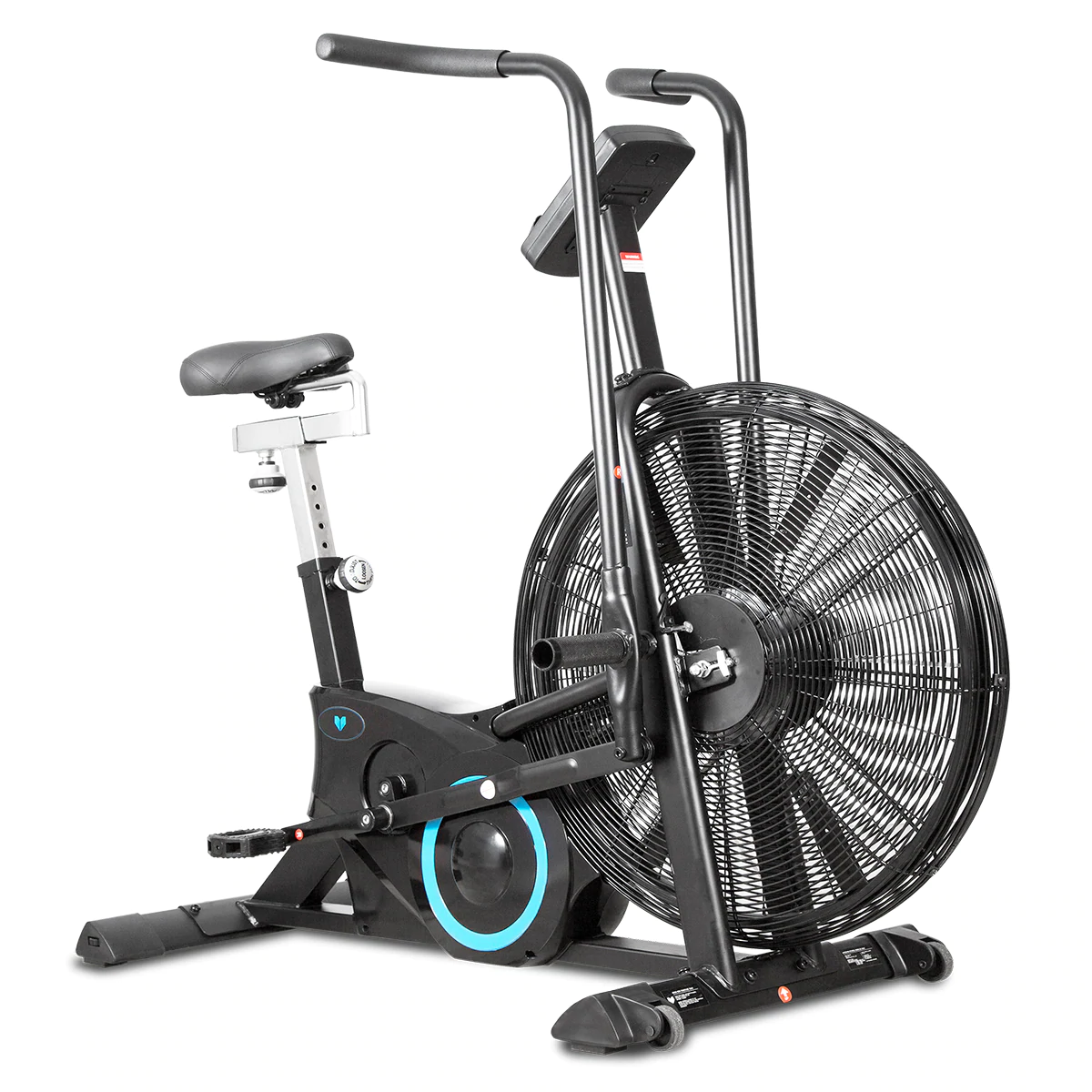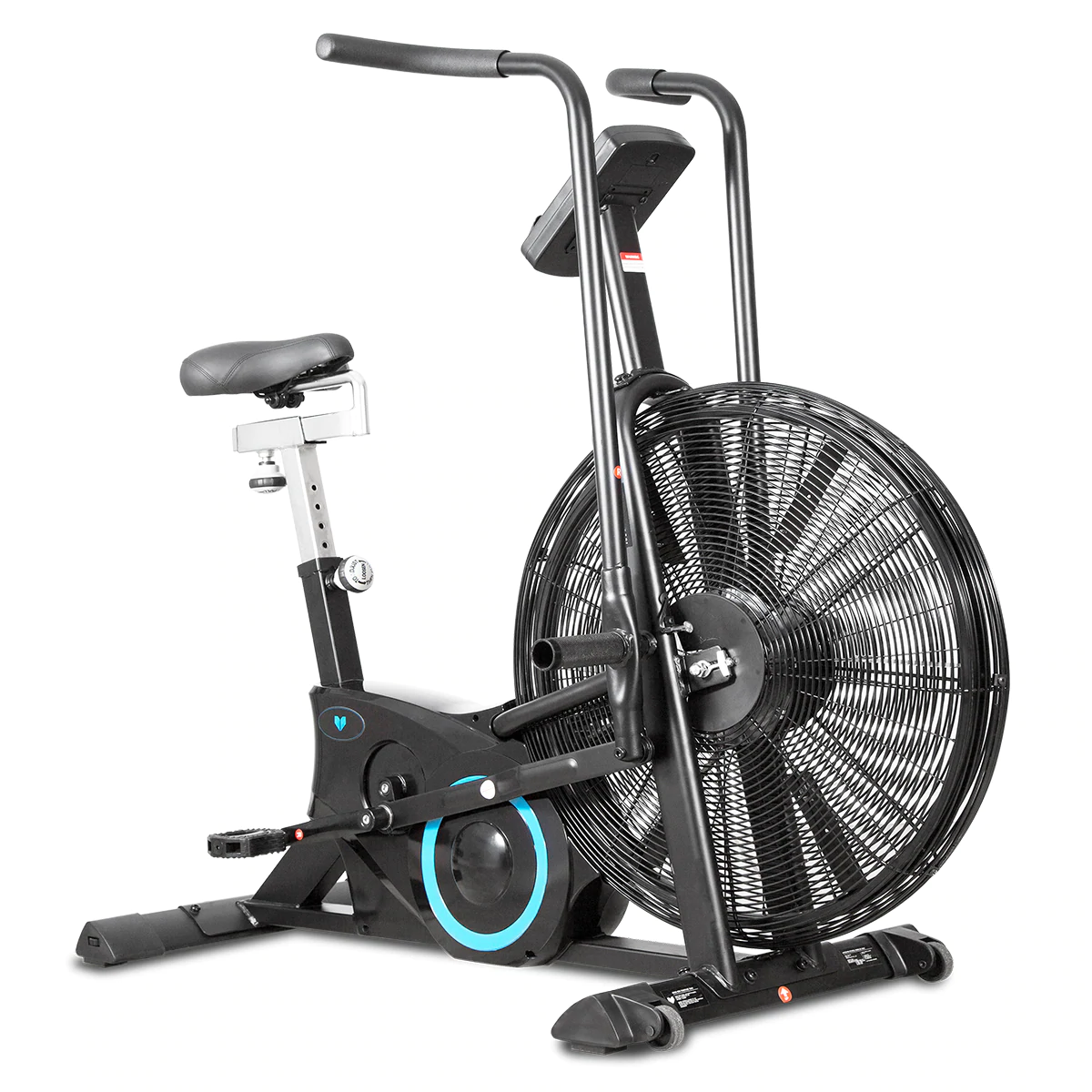 If you're living with family members who don't appreciate the relentless drone of an air bike fan, the Lifespan Fitness Exer-90H is one of the quieter options on the market.
It has everything you'd expect, including an easily adjustable seat, comfortably designed handles and a 25-inch steel fan that offers increased resistance the harder you go. All of your workout information is displayed via an easy-to-read LCD panel, offering speed, distance, calories, and time, so you're able to track exactly what you've done that workout.
---
---
It's not the cheapest air bike on the market, nor is it the most expensive, instead offering a slightly more considerate workout in terms of noise, without breaking the bank.
---
Schwinn AD8 Aidryne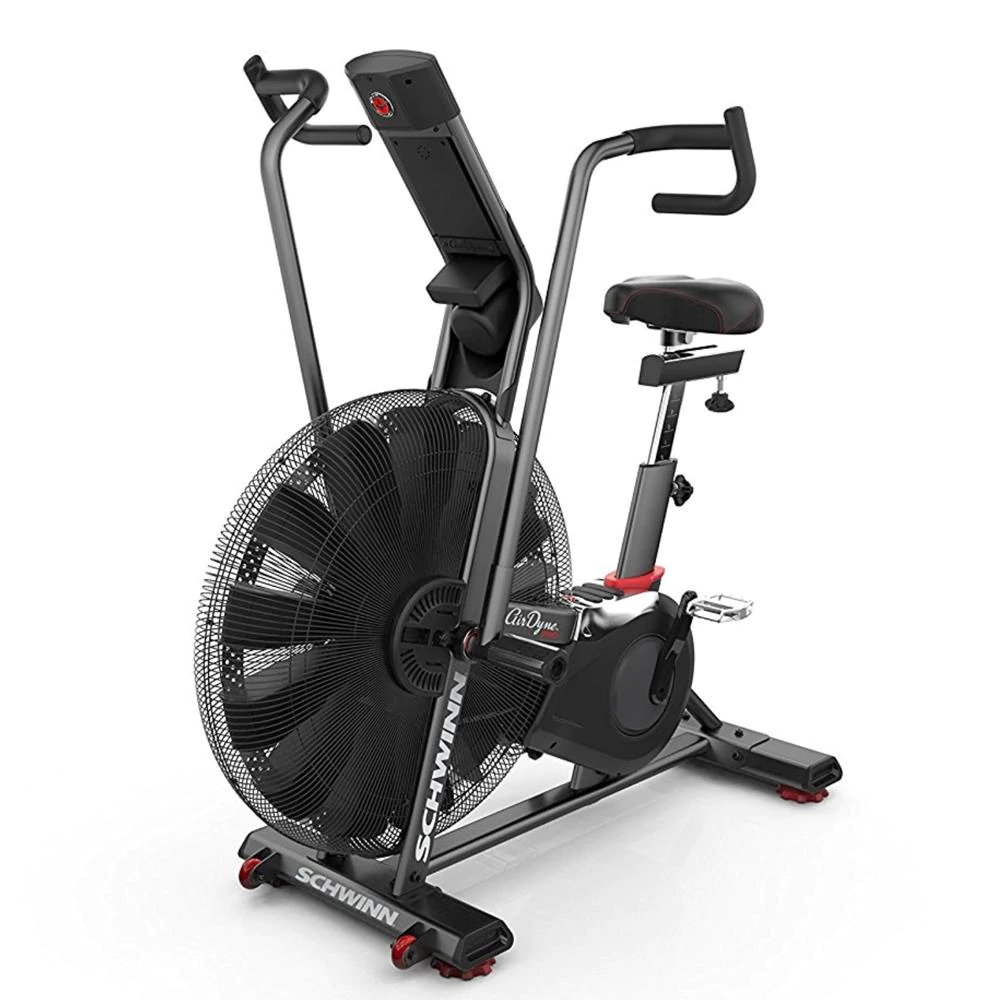 For some looking to add an air bike to their home gym setup, it's important to have an exercise bike that can do it all. The Schwinn AD8 Aidryne is exactly that, as a commercial-grade bike that is the choice of many gym owners around the country.
With a quiet belt-driven system that powers the large air resistance fan, durably designed upright frame and effectively infinite different resistance settings, it's a bike that will offer a solid workout to all the key muscle groups. The Schwinn AD8 Aidryne also features a high-resolution LCD screen display that will tell you your workout time, distance, RPM, calories, power and pulse.
Boasting a very decent maximum weight of 160kgs, it's a compelling bike that promises a full range of workout options.