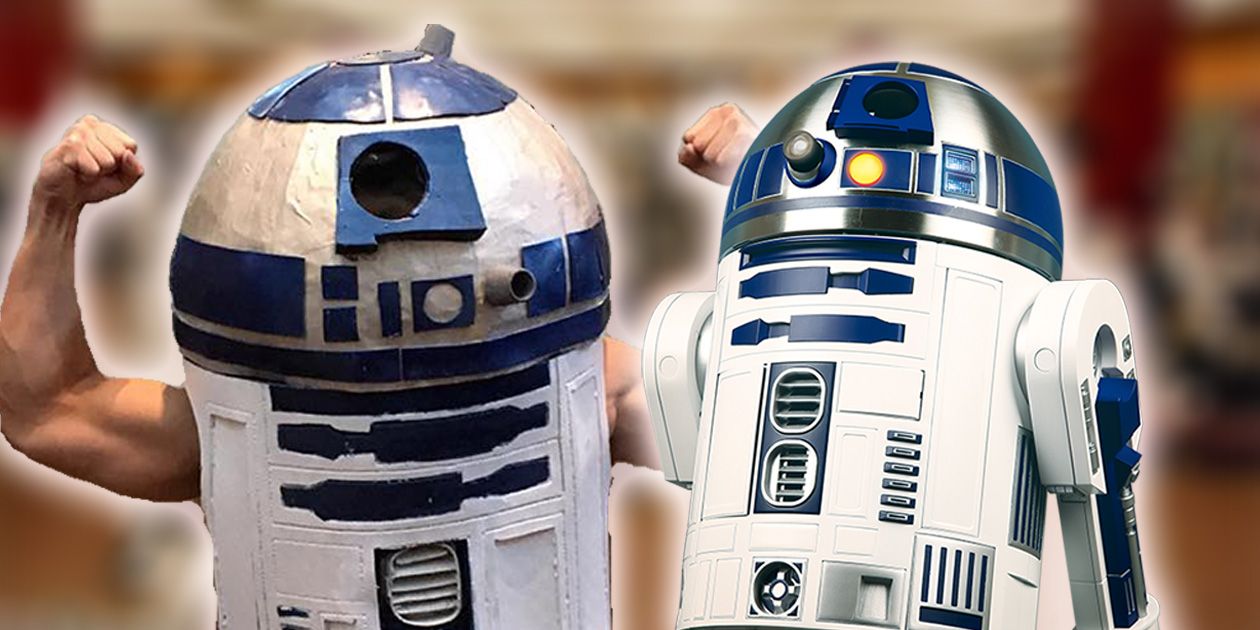 A confusingly muscular version of R2-D2 packs a punch in a Star Wars fan's inventive cosplay of Luke Skywalker's much-loved droid companion.
An oddly handsome R2-D2 cosplay gives the droid a leg up on all other Star Wars fan ensembles.
The cosplay, first posted in 2016, recently began trending again on social media. The image shows the cosplayer — known as Ostrich Eggs — in a charmingly homemade R2 costume with his shapely arms and legs protruding from the sides and bottom in a gym-ready pose.
Related: Star Wars Cosplayers Gender-Swap Han Solo and Leia's ROTJ Escape From Tatooine
Ostrich Eggs is well known for his cosplays involving decidedly non-sexual or unappealing fictional characters from various properties paired with his buff physique. The cosplayer has taken on the guises of Minoru Mineta from My Hero Academia, SpongeBob SquarePants and Pepe the Frog, along with several creatures from Pokémon such as Pikachu, Piplup, Sudowoodo and Magikarp.
In his natural, non-ripped form, R2-D2 appears as a main figure across all nine mainline Star Wars films, from A New Hope to The Rise of Skywalker. The beloved droid and his longtime friend C-3PO also have a cameo appearance in Rogue One. He features in several television shows, video games, books, comics and more in the Star Wars universe, and even outside of it — R2 cameos can be seen in Star Trek and Star Trek Into Darkness, Close Encounters of the Third Kind, Raiders of the Lost Ark, Transformers: Revenge of the Fallen, Ready Player One and Ralph Breaks the Internet.
Related: Japan's Top Cosplayer Shows Off Her Massive Costume Warehouse
R2-D2's lasting impact isn't just relegated to the world of Star Wars — his likeness has made its way into the real world on many occasions. The droid was inducted into the Robot Hall of Fame in 2003, and an R2-D2 replica was made a fixture at the Carnegie Science Center in Pittsburgh, Pennsylvania. In 2018, the telescope dome of Germany's Zweibrücken Observatory was painted to resemble the droid.
R2's most recent Star Wars appearance was in two episodes of The Mandalorian spinoff series The Book of Boba Fett. In the final episode, after facing Grogu with a difficult choice, Luke Skywalker tasks the droid with returning Grogu to Tatooine to reunite him with Din Djarin (Pedro Pascal). Considering R2's continuing popularity, chances are good he'll appear again in one of Star Wars' many spinoff series and films coming in the near future.
All episodes of The Mandalorian and The Book of Boba Fett are currently available to stream on Disney+.
Keep Reading: Marvel Proved Star Wars' Most Important Savior Isn't a Skywalker – Again
Source: Instagram
The Best Batman Movies & TV Series on HBO Max Right Now
About The Author