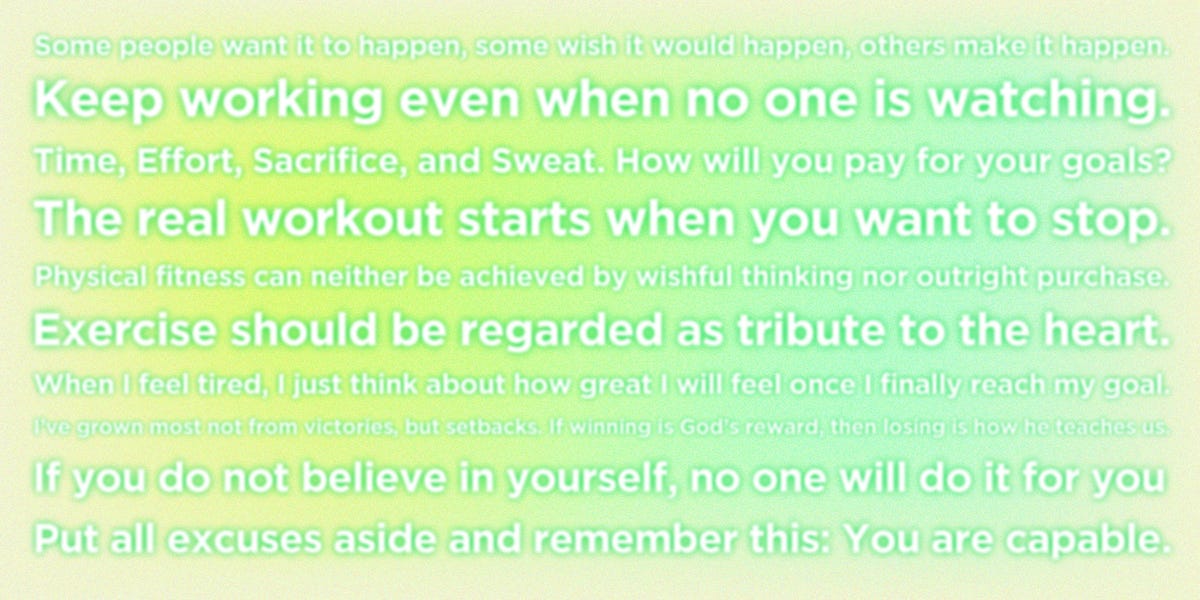 Let's be honest, finding the motivation to workout is not always easy. We all know how important it is to prioritize your fitness, but sometimes you need that little extra push get you through your last set, which is where these motivational workout quotes come in handy.
From famous athletes, admired coaches, and verified trainers, these words are perfect for the when you need some extra encouragement to keep going. So the next time you feel like stopping halfway through your at-home workout or you just can't find it in you to do one last burpee, check out this list of motivational workout quotes to help you reach your fitness goals.
"Some people want it to happen, some wish it would happen, others make it happen."— Michael Jordan
"If you don't find the time, if you don't do the work, you don't get the results."—Arnold Schwarzenegger
"The vision of a champion is bent over, drenched in sweat, at the point of exhaustion, when nobody else is looking."—Mia Hamm
"If something stands between you and your success, move it. Never be denied."—Dwayne "The Rock" Johnson
"It's going to be a journey. It's not a sprint to get in shape."—Kerri Walsh Jennings
"Today I will do what others won't, so tomorrow I can accomplish what others can't."—Jerry Rice
"The real workout starts when you want to stop."—Ronnie Coleman
"The hard days are the best because that's when champions are made, so if you push through, you can push through anything."—Dana Vollmer
"Motivation is what gets you started. Habit is what keeps you going."—Jim Ryun
"The difference between the impossible and the possible lies in a person's determination."—Tommy Lasorda


"Every champion was once a contender who refused to give up."

"We can push ourselves further. We always have more to give."—Simone Biles
"Exercise should be regarded as tribute to the heart."—Gene Tunney
"I know that if I set my mind to something, even if people are saying I can't do it, I will achieve it."—David Beckham
"A champion is someone who gets up when they can't."—Jack Dempsey
"The difference between try and triumph is a little 'umph."—Marvin Phillips
"The harder you work and the more prepared you are for something, you're going to be able to persevere through anything."—Carli Lloyd
"Put all excuses aside and remember this: You are capable."—Zig Ziglar
"When I feel tired, I just think about how great I will feel once I finally reach my goal."—Michael Phelps
"Confidence comes from discipline and training."— Robert Kiyosaki
"The resistance that you fight physically in the gym and the resistance that you fight in life can only build a strong character."—Arnold Schwarzenegger


"A goal is just an awesome way to force growth on yourself"

"You should never stay at the same level. Always push yourself to the next."—Marnelli Dimzon
"Keep working even when no one is watching."—Alex Morgan
"I've grown most not from victories, but setbacks. If winning is God's reward, then losing is how he teaches us."—Serena Williams
"Physical fitness can neither be achieved by wishful thinking nor outright purchase."—Joseph Pilates
"It's hard to beat a person who never gives up."—Babe Ruth
"If you want to be the best, you have to be willing to do things other people aren't willing to do."—Michael Phelps
"A goal is just an awesome way to force growth on yourself"—Deena Kastor
"Time, Effort, Sacrifice, and Sweat. How will you pay for your goals?"—Usain Bolt
"If you do not believe in yourself, no one will do it for you" — Kobe Bryant
"Every champion was once a contender who refused to give up."—Rocky Balboa
Madison Douglas is Brooklyn based, Virgina raised writer and photographer. When she is not working you can catch reading in bed.